Create a free account to unlock this article!
Get Started
Already a subscriber? Log In
Top women's teams Stanford and Washington meet for the third time this season, while a loaded men's field features three teams in the top 10. Here's what to watch at Friday's West Regional meet in Colfax, Washington.
Watch The 2019 DI NCAA West XC Regional Live On FloTrack
Women
Teams To Watch: Stanford (#3), Washington (#4), Boise State (#20), Oregon
Projected Qualifying Teams: Stanford, Washington, Boise State, Oregon
Individuals To Watch: Fiona O'Keeffe, Stanford (#6); Ella Donaghu, Stanford (#8), Jessica Lawson, Stanford (#12); Katie Rainsberger, Washington (#13); Melany Smart, Washington (#14); Susan Ejore, Oregon (#28)
Stanford and Washington will meet again, just two weeks after Stanford ran away with a dominant Pac-12 win. Fiona O'Keeffe, Ella Donaghu and Jessica Lawson went 1-2-3 in that race, leading Stanford to a 27 point score.
It was O'Keeffe's first Pac-12 title of her career, and the performance of the team cemented Stanford as a title contender. The gap from O'Keeffe to Lawson was just six seconds. And while they have some vulnerability in the rest of their scorers, a top-three that good makes them capable of challenging Arkansas and BYU at NCAAs.
Washington didn't run poorly at Pac 12s. Their 55 point total was far behind Stanford, but they were comfortably in front of the rest of a very competitive conference. Earlier this season, Washington ran just behind Stanford at the John McNichols invitational, 54-66.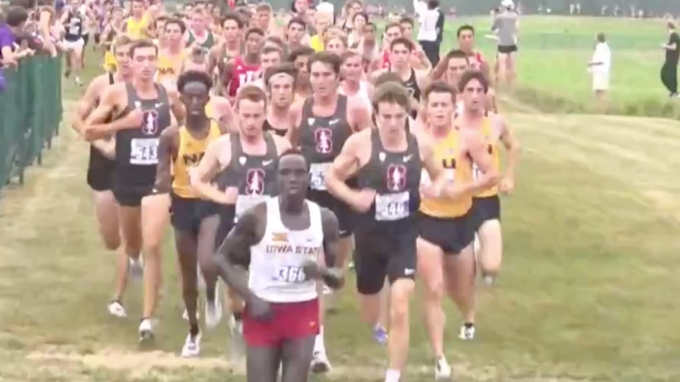 Unlock this video, live events, and more with a subscription!
Get Started
Already a subscriber? Log In
Katie Rainsberger and Melany Smart comprise a sound 1-2 for the Huskies and right now their top seven depth is the best in the nation. At Pac 12s, Washington's seventh runner (Haley Herberg) finished ahead of third-place Utah's fourth runner and fourth-place Colorado's fifth runner. Smart skipped the Pre Nationals meet, but looked sharp at the conference meet.
This region isn't as deep as it was last year so there shouldn't be much pressure on either Stanford or Washington to advance. The latest projections have four teams in with Boise State and Oregon expected to join Washington and Stanford in Terre Haute.
Boise State was third at the Mountain West Conference Championships and finished ahead of Oregon at the Bill Dellinger Invitational. Oregon was just fifth at Pac 12s, but should have enough points accumulated from the regular season to earn an at-large bid.
Men
Teams To Watch: Stanford (#4), Oregon (#6), Portland (#8), UCLA (#11), Washington (#14)
Projected Qualifying Teams: Stanford, Oregon, Portland, UCLA, Washington, Boise State
Individuals To Watch: Alex Ostberg, Stanford (#11); Cooper Teare, Oregon (#13), Robert Brandt, UCLA (#14); Thomas Ratcliffe, Stanford (#15); Andrew Jordan, Washington (#16)
Outside of the Mountain Region, this is the men's race to watch on Friday. Five teams are ranked in the top 14 and despite the fact that qualifying is the ultimate goal, several of them have something to prove.
Stanford entered the season expected to be the top rival to NAU. But after a pair of sound defeats to the Lumberjacks this fall, they find themselves closer to BYU and Colorado than the three-time champions. That's still not a bad place to be. Alex Ostberg and Thomas Ratcliffe have both been the top runner for the Cardinal this year and the potential still exists behind them to put together a spectacular top five.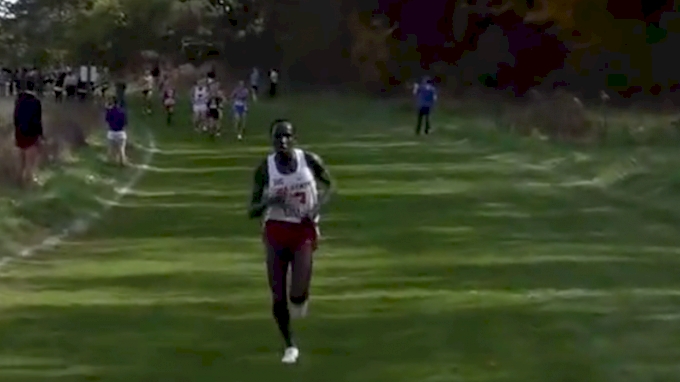 Unlock this video, live events, and more with a subscription!
Get Started
Already a subscriber? Log In
Both Colorado and Oregon finished ahead of Stanford at Pac 12s--the latest in an up-and-down Oregon season.
They opened up with an upset victory on their home course against BYU at the Bill Dellinger Invitational with James West and Cooper Teare leading the way. Two weeks later, they struggled at the Nuttycombe Invitational, placing 10th. But they rebounded at Pac 12s. Teare took second, West placed ninth and the team finished second to Colorado.
UCLA was fourth in that race and their big three of Robert Brandt, Garrett Reynolds and Colin Burke should carry them to Terre Haute. Washington hasn't shown podium potential yet, but Andrew Jordan's third-place finish at Pac 12s was a positive sign for the Huskies.
Then, there's the perpetually under-the-radar Portland. Their best runner, Emmanuel Roudolff-Levisse ran the Berlin Marathon in September and then came back to place eighth at the West Coast Conference Championships.