2019 DI NCAA XC Championships
Arkansas Goes For Calendar Sweep, Monson/Kelati Battle
Arkansas Goes For Calendar Sweep, Monson/Kelati Battle
Can Arkansas deliver the program their first women's cross country title and complete a calendar sweep for the Razorbacks?
Nov 23, 2019
by Kevin Sully
Unlock this video, live events, and more with a subscription!
Get Started
Already a subscriber? Log In
In his 30 years at Arkansas, women's head coach Lance Harter has won four national championships in track. He's won 15 SEC Cross Country Championships. The program has finished in the top 10 at NCAAs on 10 occasions. But the team has never won an NCAA cross country title, and it's been two decades since they finished in the top four.
"It's been that long? Damn," Harter said. "I've been doing a really bad job."
He hasn't. Arkansas has stayed relevant throughout his tenure, only missing the NCAA Championship meet three times since 1990. Program-wide, the emphasis has always been on track. That's where they've thrived, particularly last season where they won both the indoor and outdoor titles.
Watch the 2019 DI NCAA XC Championships Live on FloTrack
But there have been disappointments. Last year, they entered the NCAA Championships with a decent shot to finish on the podium and an outside chance at winning. They ran poorly across the board and placed 14th. That proved to be a catalyzing moment for the team. During the indoor and outdoor seasons, the distance runners turned in big performances at the most crucial times.
"The difference this year is the maturity factor," Harter said.
A front pack of four seniors have led Arkansas to an undefeated season, and now an opportunity at history. Taylor Werner embodied the shift. "I had a mental block, and then finally, I was able to switch my mindset going into track this past year," Werner said.
Sixteenth her freshman year at the NCAA Cross Country Championships, Werner was in a car accident her sophomore year that impacted her sophomore and junior seasons. Last year, she placed 81st.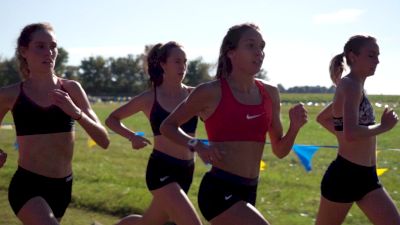 Unlock this video, live events, and more with a subscription!
Get Started
Already a subscriber? Log In
But she quickly responded in the winter, placing second in the 3000m at the NCAA Indoor Championships and running the fastest split on the mile leg of the distance medley relay. Her points in the 3000m were crucial for Arkansas' team hopes. Outdoors, she was fourth in the 10,000m and runner-up in the 5000m. Again, she was clutch when it counted, as her 5000m performance evened up the team score heading into the final event.
"If there is a go-to person, she's that person. She has that personality and thrives with the idea that it could be blood and guts out there but I'm going to give it my best shot because I'm not going to let myself down and I'm definitely not going to let my teammates down," Harter said.
Werner opened the year with at wins at the John McNichols Invitational and Chile Pepper Cross Country Festival. At the Nuttycombe Invitational, she placed third behind Wisconsin's Alicia Monson and Weini Kelati of New Mexico.
Last year, Werner said the team had the tendency to be "competitive when it didn't need to be," Werner said.
This year it's been more collaborative."
"We all want each other to do well," Werner said. "On my best day, if all my teammates beat me, I'm going to be a happy girl."
The addition of Katie Izzo has made that particularly important. A graduate transfer from Cal Poly San Luis Obispo, Izzo has been the revelation of the season. In 2016, she broke her tibia and fibula during the West Regional race (she now runs with a titanium rod in her leg). She made one NCAA final during her time at Cal Poly, where she finished one place behind Werner at last year's NCAA Cross Country Championships. Harter, who coached at Cal Poly from 1981-1990, saw her race last track season and was struck by her resilience.
"Man, this kid's gotta be tough, 'cause I know she's running minimal miles—like less than 20—and she's cross training until her heart's content. I knew there was some talent there; it was just a matter of getting to where she's physically capable of training. She's as tough as anybody I've ever had," Harter said.
This season, they've kept the mileage low (35-40 miles per week), fitted her with orthotics and prescribed corrective exercises to keep her healthy throughout the season.
"She's been under duress as far as one setback or another for her entire college career. What we are seeing now is the iceberg," Harter said.
At SECs, Izzo beat Werner to take the title. At the regional meet, Arkansas' top four ran as a group, leading the way for a perfect score of 15. Izzo and Werner together give Arkansas a pair of low scorers at the national meet.
"Every time I'm on a run with her (Werner) I think this could be the national champion," Izzo said.
Behind those two, Devin Clark and Carina Viljoen comprise the best top four in the country. Clark, a three-time All-American in the steeplechase, has been exactly what you want in your pack. Viljoen was fifth last indoor season in the mile and runs ahead of every other team's fourth woman. At the Nuttycombe Invitational, she ran without her shoe for a portion of a race and still took ninth.
Clark and Viljoen will be counted on to provide some cushion, in case there is a gap to the fifth runner. Junior Lauren Gregory suffered a stress reaction in her third metatarsal during August--an injury that pushed back her racing debut. She opened up at the Chile Pepper meet and then raced at Nuttycombe and SECs. As a precaution, she sat out the regional meet (the course in Fayetteville was especially soft after rain caused a pond to spill over onto the course in the lead-up to the race). If she's in form on Saturday, Gregory can run with Clark and Viljoen and be the deciding runner for the Razorbacks. Indoors, she made the NCAA finals in the mile and the 3000m.
Then there are the factors out of their control. The weather (forecasted to be better than the snowy conditions last year that hampered them in Madison), the other teams (Arkansas has beaten Stanford twice this year, but has never raced BYU) and the pressure of the moment.
This team has a chance to complete a track/cross country calendar sweep, and to achieve a first for the program. Any bad experiences at this meet have to be counterbalanced by all the times Werner and others delivered on the track when there was little room for error.
"We've been in a 20-year drought," Harter said. "Maybe it's our turn."
Can BYU Cap Stellar Season With Title?
Before the spring track season even ended, BYU women's coach Diljeet Taylor knew this fall would be special. In April, she went to her administration to ask for permission to take an August trip to Hawaii after their fall training camp. Taylor's first recruiting class was now seniors, a group she'd groomed since taking the job in 2016. They would run a race in Hawaii, but the trip was also about team bonding and creating memories. After a seventh-place finish in 2018, there was great potential for this team, but the expectations were light.
Taylor's maxim all season was to get the team to November "happy and healthy," avoiding burnout along the way.
Instead of being "all in," Taylor suggested a milquetoast, "mostly in."
That didn't fly with the team. "They came to me a week later and they said 'no, no—we have to be all in.' I said, 'ok, let's be all-in, but kind of loosely all in.'"
It's worked. BYU quickly evolved into a team capable of placing on the podium for the first time since 2003 and, perhaps, getting the program's first national title since 2002. They rolled through the season, picking up wins at the Bill Dellinger Invitational, the West Coast Conference Championships and at last week's Mountain Regionals.
Their only loss came at Pre Nationals when they rested junior Whittni Orton. Orton hasn't made many appearances this season, but she's been superb when she does, winning all three meets. In each, she's beaten All-American teammate Erica Birk.
"I don't really have a number-two runner. I have two number-one runners," Taylor said.
That seems to be bearing out. When Orton didn't race at Pre Nationals, Birk won the race. Both have the capability to finish in the top five on Saturday. Orton is the lone undefeated woman in the NCAA. Her pared-down racing schedule is done out of caution. She's never run a full season of NCAA cross country. Last year, she ran two races and in 2017 she debuted at the NCAA Championships because of injuries.
As expected, Birk has been rock-solid. Seventh last year at the NCAA Championships, she took fifth in the steeplechase outdoors. Senior Courtney Wayment is one of the best number three runners in the NCAA. She was fourth at regionals, third at conference and fourth at Pre Nationals. "You will see Courtney keying off that top pack. She's consistently tough. I know on that given day she's going to be relentless," Taylor said.
"I'm hoping she can sweep up a lot of points in that last 800 to 1000 meters just with strength and toughness."
Olivia Hoj and Anna Camp have been the Cougars fourth and fifth runners throughout the season. Camp rested at the regional meet, while Hoj finished just behind Wayment in seventh.
Between the line-up changes and the scaled-back race plan (they tempo-ran their conference meet), we haven't seen a fully optimized BYU. In the last two meets, the top runners didn't even race in spikes.
"We haven't really set ourselves up to really be perfect," Taylor said.
After the conference meet, they upped the focus. Taylor had a team meeting where they discussed a "20-days-and-20-nights plan," heading into the final stretch of the season.
The transition to "all-in" was complete.
"It was, 'Here's a list of 10 things we can do to be really all-in,' and I think it made it easier on them and it also made the focus, 'Ok, we're now in the championship part of the season,'" Taylor said. "Little things like recovery and eating healthy, meditation and yoga, and all the little things that make a big difference."
They haven't raced Arkansas and Stanford this year, but they match up well with both. Birk and Orton can run with Werner and Izzo and Wayment give them a third person capable of a top-15 finish. Birk's familiar with the course after winning Pre-Nationals. Orton hasn't raced in Terre Haute, but did a hard workout on the course the day before Pre-Nationals.
"I don't think there's one racing style that's advantageous to us. We have to be tough and be ready," Taylor said.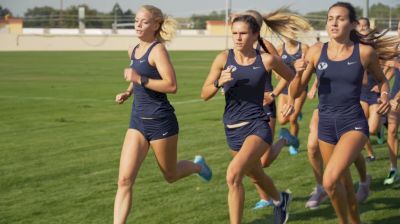 Unlock this video, live events, and more with a subscription!
Get Started
Already a subscriber? Log In
Stanford has a similar construction to Arkansas and BYU. They're experienced (one senior and four juniors) with a clear top five. Senior Fiona O'Keeffe leads the way. She finished one spot behind Werner at the John McNichols and Nuttycombe Invitationals before going on to win the Pac 12 Championships—the first conference title of her career.
At Pac 12s, she led a 1-2-3 finish, with teammates Ella Donaghu and Jessica Lawson close behind. It was the Cardinal's most impressive race of the year, beating Washington 27-55. Donaghu and Lawson will need to align closely with BYU and Arkansas' second and third runners if they want to have a chance at the title. At Nuttycombe, Donaghu was five seconds behind Izzo and Lawson finished behind Clark and Viljoen. Jordan Oakes and Julia Heymach have rounded out Stanford's scorers. Both ran well at the West Region meet, placing fifth and 12th to help Stanford beat Washington despite not racing O'Keeffe.
Washington is still in a great position to podium with an outside chance at the title. They have a strong top two in senior Katie Rainsberger and freshman Melany Smart, but what separates them is their depth. Shona McCulloch, Allie Schadler, Lilli Burdon, Camila David-Smith and Haley Herberg comprise the best 1-7 in the country. They can absorb a bad day without it turning into a catastrophe.
New Mexico's path to the podium is quite clear. They need stellar days from Weini Kelati, Ednah Kurgat and Adva Cohen and will hope that their fourth and fifth can deliver. At the regional meet, Hannah Nuttall and Juanita Johnson filled those roles and helped New Mexico place second behind BYU.
Can Kelati Turn The Tables On Monson?
At the risk of oversimplifying, the individual race is shaping up to be a two-woman battle between Wisconsin senior Alicia Monson and New Mexico junior Weini Kelati.
Over the past year, the two have split their eight meetings in cross country, indoor and outdoor track (though Monson ran last year's Pre-Nationals as a workout, finishing well off the pace). During that time, both have won national titles as well, Monson in the indoor 5000m and Kelati outdoors in the 10,000m.
This fall, they've raced twice. Kelati won the first meeting at the Joe Piane Notre Dame Invitational by 12 seconds, the season opener for both women. Two weeks later, Monson evened the score with a convincing win at the Nuttycombe Invitational on her home course.
In Madison, Kelati made a strong move mid-race to separate from Monson and the rest of the field. Monson absorbed it, brushed it off, and dropped Kelati in the final mile to win by nine seconds. Monson looked very comfortable and said after the race her improved strength this season gives her the ability to not rely on her finishing speed.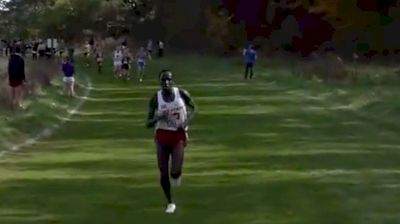 Unlock this video, live events, and more with a subscription!
Get Started
Already a subscriber? Log In
It was the type of win that would have shaken a lesser runner. But Kelati responded. Not against Monson, because the two haven't raced since. Instead, she took a sledgehammer to the next two courses that she ran, first at the Mountain West Conference Championships where she won by 49 seconds and then the Mountain Regional where she followed the same game plan of thorough domination and finished 57 seconds ahead of second place.
It was inspired running—enough to at least make you forget, at least partially, about her loss at Nuttycombe.
A fast pace is Kelati's best strategy. Last year, the snow on the ground at the NCAA Championships reined in Kelati's expected fast pace. Colorado's Dani Jones was able to keep it close enough when Kelati surged during the middle of the race. Kelati hung on for second.
This year, she will get a second chance at figuring out the same problem. The course, weather and competition will be different, but it's essentially solving the 2018 riddle all over again. How do you beat a fast closer like Monson? Monson's ability this year leaves few possible solutions, but Kelati's best path to victory seems clear.
Waiting to go is playing directly into Monson's hands and also invites others into the race like Arkansas' Werner and Izzo, BYU's Orton and Birk and O'Keeffe from Stanford. In a race this deep, the risks of going out over your head and redlining are clear. A collapse in the final 400m could mean sliding from second all the way out of the top ten. In short, Kelati's best path is also the riskiest.