2019 BU Sharon Colyear-Danville Season Opener
An XC Post-Script & An Indoor Teaser At BU
An XC Post-Script & An Indoor Teaser At BU
Weini Kelati headlines a superb field in the women's 5000m at the BU Sharon Colyear-Danville Season Opener on Saturday.
Dec 6, 2019
by Kevin Sully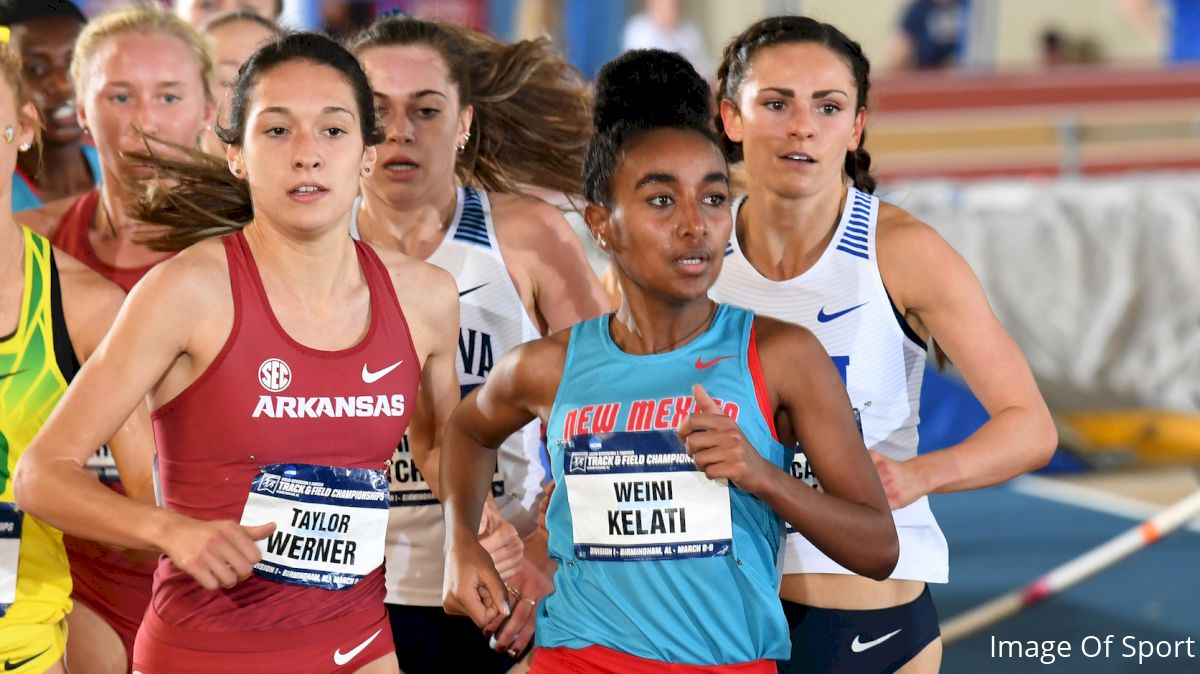 Just two weeks after she ran away with the NCAA Cross Country Championships, Weini Kelati has an opportunity to add to her legacy. This time, it will come on the indoor track at Boston University and the Sharon Colyear-Danville Season Opener where the New Mexico junior has a chance at the collegiate record in the 5000m.
Last year, she ran 15:15.24 to finish just behind her teammate, Ednah Kurgat, who ran 15:14.76. The times were the third and fifth all-time and within shouting distance of Emily Sisson's record of 15:12.22 from 2015 (Jenny Simpson ran 15:01.70 in 2009, but it came on the oversized track at the University of Washington).
Watch the 2019 BU Sharon Colyear-Danville Season Opener Live On FloTrack
Last year's race was incredibly deep. In addition to Kurgat and Kelati, Sharon Lokedi and Allie Ostrander ran the sixth and seventh best times in history.
Expect more of the same this year. Eight of the top 10 from the NCAA Cross Country Championships are in this race--all hunting quick times and qualification marks for the NCAA Indoor Championships. The pace is scheduled for 15:10 for the first 3000m. Based on how strong Kelati finished the year, and her success in prior seasons at this meet--that seems manageable.
Arkansas' Taylor Werner (fourth in cross country) will be running unattached and should be able to lop time off her 15:38 personal best. Katie Izzo of Arkansas (3rd in cross country) and BYU's Courtney Wayment (5th in cross country), have yet to break 16 minutes on the track in their careers. That will change in a big way. In addition to Wayment, BYU will also run Erica Birk and Whittni Orton. Birk and Wayment are competing unattached, while Orton is running for BYU.
New Mexico will have a strong contingent with Kelati, Kurgat, Adva Cohen and Charlotte Prouse. NC State's Elly Henes is coming off a 10th place finish in cross country. Oregon's Carmela Cardama Baez didn't run cross country, but was runner-up to Kelati last year outdoors in the 10,000m.
The men's 5000m is scheduled for 13:35 pace, which is right at NCAA cross country champion Edwin Kurgat's personal best of 13:34. The Iowa State senior went through the fall unscathed. Saturday will be a great test of how fit he really is. He looked sublime all fall, cruising to victories against the nation's best.
Pro Charles Philibert-Thiboutot has a lifetime best of 13:33 and should be at the front of the race along with fellow pros Sam Prakel, Amos Bartlesmeyer and Donn Cabral.
But the NCAA runners will be race-sharp. Campbell's Athanas Kioko just finished 19th in Terre Haute and Ezra Mutai won the Division II title in Sacramento. Then there are the collegians seeking a bounce back from the end of their cross country season. Jacob Choge and Kigen Chemadi of Middle Tennesse State are much better than their 137th and 171st places at the NCAA Cross Country Championships. Hofstra's Alex Masai was 127th in Terre Haute, but won the Northeast region meet the week prior.