High School Junior Tamari Davis Signs With Adidas
High School Junior Tamari Davis Signs With Adidas
Prep sprint phenom Tamari Davis from Clermont, Florida, has turned professional.
Jan 31, 2020
by Cory Mull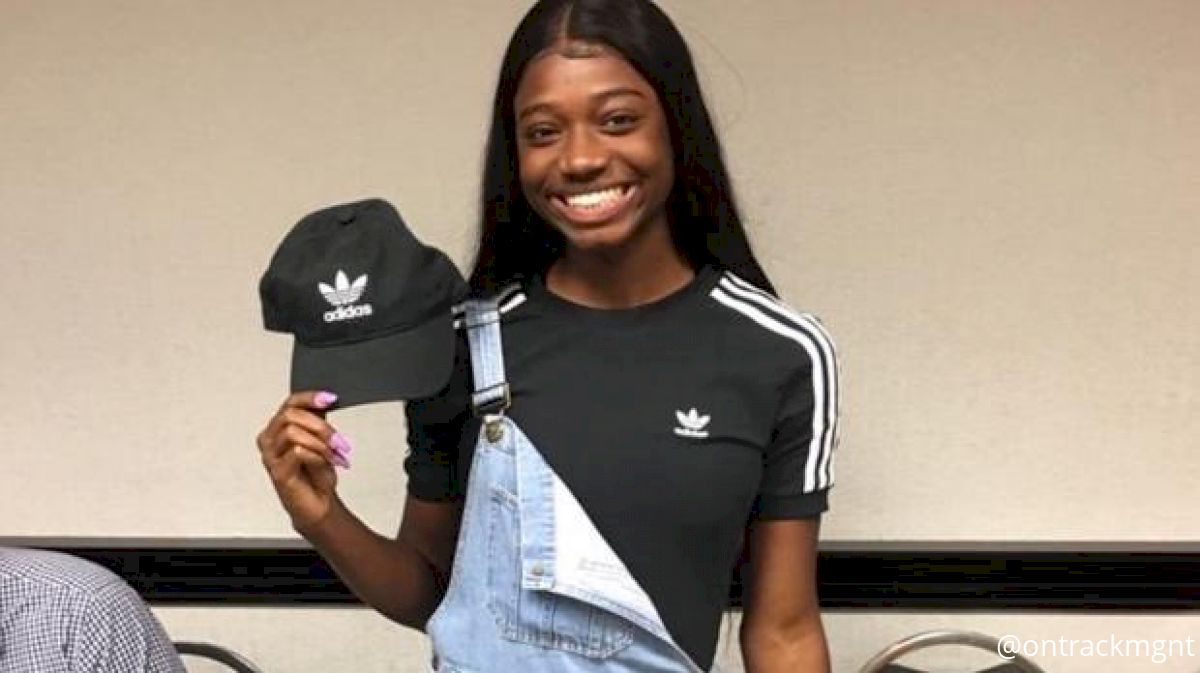 Tamari Davis officially turned the page on her high school track and field career on Thursday, signing a professional contract with adidas.
On Track Management's Claude Bryan, who negotiated the deal on behalf of Davis, will represent the 16-year-old at the professional level. While financial deals were not disclosed, Bryan said Davis received a 'very lucrative' contract that affords her the ability to continue her education past high school.
"Tamari's talent speaks for itself," Bryan said. "It's a good union with adidas and ourselves. Adidas has had good success with young athletes. We go all the way back to Veronica Campbell Brown, who we represent, and Allyson Felix and Shanaue Miller-Uibo. It's a good fit."
Bryan said Davis, who turns 17 in February, is the youngest athlete his management team has signed in its history. But she won't be the first teenage sprinter to go pro.
Less than two weeks ago, Oakland Park Northeast's Briana Williams, a 17-year-old Jamaican international who won two golds at the World Athletics U20 Championships in 2018, signed with Nike after breaking the national high school record in the 100m in June.
Davis countered that decision by tying the national high school 60 meter indoor record on Jan. 18, just one day later, at Clemson University.
The youngest high school sprinter to turn pro came in 2015, when Rockdale County graduate Candace Hill signed with Asics. That move was prompted, in part, when Hill broke what then-was the national high school record in the 100m, becoming the first high school girl to go under 11 seconds in 10.98.
It's official!!! Tamari Davis is now a professional! Welcome to adidas and the On Track Management family...@adidasrunning @SpencerNel pic.twitter.com/dBHBMGIDl6

— On Track Management (@ontrackmgnt) January 30, 2020
The next step for Davis, a high school junior at East Ridge High School, will be to un-enroll and begin taking virtual classes online, said Gary Evans, who will continue coaching her. Evans said Davis' family begun talks with the agency on her potential professional status recently and that "it kind of hit me by surprise" but that he knows she will continue to excel.
"I'm still going to not rush things," he said. "She's still growing. She's . Just because she's a professional, we won't go from 0 to 100. She'll train in the professional group. But she's been doing that off and on. Her transition will be easier than other people."
Evans said he's been working with Davis since she was 7, and she'll now train among the likes of professionals Steven Gardner, Chrisann Gordon and Jessica Beard.
Bryan said the next goal for his client is to secure an Olympic qualifying time in the 100m ahead of the USA Track and Field Trials in June. Davis will need to run a wind-legal mark of 11.15 seconds in the 100m and 22.80 in the 200m.
"We will be very deliberate," he said. "We will be trying to find her competition to gain experience against the young ladies she will compete against in Eugene, but we will try not to overburden her. We're cognizant that we're dealing with a teenager."
Evans echoed those thoughts. While Davis has made a pivotal decision in her career, he says he's still going to carry her along as planned.
"We were going to go to the USATF Indoor Trials," Evans said, "but since they postponed World Indoors, there's no need to go out there. We'll maybe do one or two more indoor meets.
"The biggest thing dealing with these young kids in high school and college," Evans added, "is that they're used to running more often than a professional athlete. Sometimes these professionals run once a month. I won't break her down to that quite yet. She'll run a little bit more than the average pro professional because I still want to make sure she gets that same rhythm she's used to."
Evans remains hopeful Davis will continue to improve. She holds wind-legal outdoor PRs of 11.13 seconds in the 100m and 22.48 seconds in the 200m, both from 2018.
Davis has won three outdoor state championships in Florida and has five national titles across indoor and outdoor competition at New Balance. Davis also holds eight age group World Records spanning from age 12 to 17, including her latest in the 60m. She holds national freshman class records in both the 100m and 200m
She has yet to compete on an international stage.