2020 BU Last Chance Meet
2020 BU Last Chance Preview: Houlihan, Chelimo, Lomong, Centro & More
2020 BU Last Chance Preview: Houlihan, Chelimo, Lomong, Centro & More
The biggest names from the Bowerman Track Club, along with Paul Chelimo and plenty of other distance stars, will be in Boston this Thursday and Friday.
Feb 25, 2020
by Lincoln Shryack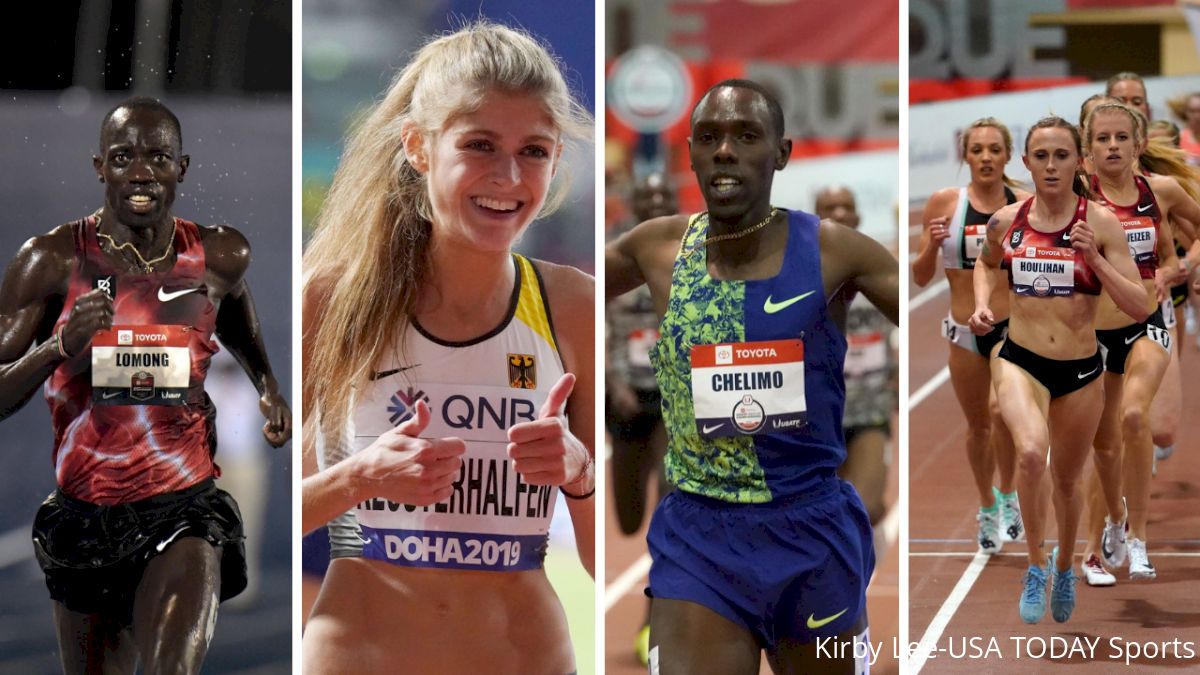 The championship portion of the 2020 indoor season has come and gone, but that doesn't mean the pros are ready to head outdoors just yet. On Thursday and Friday in Boston, the best of Bowerman Track Club and several other top U.S. pros will take to the BU track in pursuit of records and standards at the BU Last Chance Meet. Multiple American records could fall in the final hurrah on the famed Boston surface in 2020.
Watch the 2020 BU Last Chance Meet Live on FloTrack
Here are the five events to watch:
(Note: all times listed in central time (CT)
Women's 3,000m
When: 5:50pm, Thursday
Who: Shelby Houlihan, Karissa Schweizer, Colleen Quigley, Kate Grace
It's highly likely that Shelby Houlihan breaks Shalane Flanagan's indoor 3,000m American record (8:33.25) on Thursday. She came close two years ago in running 8:36.01 in Boston, and since then all the 27-year-old has done is set U.S. records at 5,000m (14:34.45) and 1500m (3:54.99) and won 10 national titles.
.@Shelbo800 Houlihan has wanted to be an Olympic Gold Medalist since she was five.

That dream may be realized. She dominated today for her 13th national title! #ToyotaUSATFIndoors ?
? NBCSN
? https://t.co/So8zdjbw6X pic.twitter.com/OPlHcLNKFe

— #TokyoOlympics (@NBCOlympics) February 15, 2020
Houlihan's Bowerman teammates Karissa Schweizer and Colleen Quigley ran very well in each finishing top three in the 1500m and 3,000m at U.S. indoors, and Schweizer in particular seems primed for a big one after running 14:45 for 5,000m in 2019. But this race is set up for Houlihan no doubt, and I'll be shocked if she doesn't have the record when 15 laps are complete.
Men's 5,000m
When: 3:50pm, Friday
Who: Paul Chelimo, Edward Cheserek, Paul Tanui, Eric Jenkins, Hillary Bor
The American record watch is on as Paul Chelimo has a great shot to break Galen Rupp's 13:01.26 mark from 2014. Since the 29-year-old already has the 2020 Olympic standard, record-chasing would seem to be his primary motivation for racing in Boston. Chelimo owns a 12:57 outdoor best, and on the famously-fast BU surface he could come close to that even with double the turns. Coming off a U.S. indoor 3k title on Feb. 14 in which he closed in 25 seconds, it's clear that the two-time global medalist is very fit. (For what it's worth, he ran a 400m repeat workout shortly after in Albuquerque in which split 56 seconds for his final rep.)
.@Paulchelimo dominates in the men's 3000m to win his sixth U.S. title!#ToyotaUSATFIndoors pic.twitter.com/xj2kayrqAc

— #TokyoOlympics (@NBCOlympics) February 15, 2020
Chelimo is the clear man to beat, but another Paul (Tanui) is a potential threat. The four-time 10,000m global medalist is much better suited to the longer distance, but he did run 13:15 on the Boston track in January with a 27-second last lap. His overarching goal is hitting the 13:13.50 Olympic standard that he missed last time, and what better way to eclipse that than by chasing one of the world's best 5k runners.
Former Oregon teammates Edward Cheserek and Eric Jenkins are also entered. Cheserek ran 13:08.05 in Boston at this very meet last year, but the 26-year-old hasn't been quite as sharp to start 2020. Jenkins, meanwhile, has run even faster than Cheserek at BU as his 13:05 from 2017 is the second-fastest ever by an American indoors. But he only managed 13:22 last time out, so a similar outcome seems unlikely. Like his training partner Tanui, Jenkins needs the 13:13.50 Olympic standard.
Men's 3,000m
When: 5:36pm, Thursday
Who: Lopez Lomong, Evan Jager, Matthew Centrowitz, Grant Fisher
Picture this hypothetical scenario: the reigning 1500m Olympic champion, an 8:00 steepler and a 27:04 10,000m man all meet in the same race. Now picture the BU men's 3,000m on Thursday, as Bowerman teammates Matthew Centrowitz, Evan Jager and Lopez Lomong will headline a star-studded field featuring six members of BTC.
Centrowitz has yet to race in 2020, but 3,000m is right in his wheelhouse as a 13:00 5k guy. Jager has looked good in his return from injury, as he has run a 3:56 mile and 7:46 3k so far this season.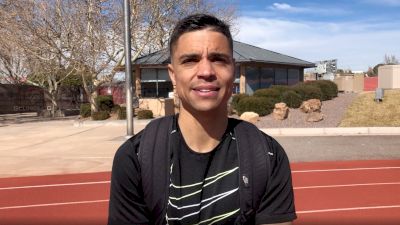 Unlock this video, live events, and more with a subscription!
Get Started
Already a subscriber? Log In
But my money is on Lomong, the reigning 5k/10k U.S. champion who has been on fire for the last two years.
Women's 5,000m
When: 5:00pm, Thursday
Who: Konstanze Klosterhalfen, Emily Infeld, Marielle Hall, Courtney Frerichs, Vanessa Fraser
The 14:47.35 indoor European record could be in danger with Germany's Konstanze Klosterhalfen as the 2019 5,000m bronze medalist owns a 14:26 outdoor PB. Koko was outkicked at Millrose, but her 4:17 mile was still the fourth-fastest ever run and now she'll step up to her preferred distance.
It will be interesting to see if any of the Bowerman women can hang with Klosterhalfen if the tempo truly is in the 14:40s. Infeld owns a 15:00 indoor PB, but that was four years ago and she's dealt with numerous injuries since. But the 2015 10,000m bronze medalist looked good two weeks ago in her first track race in two years. Her goal, along with the rest of the field, will be the 15:10 Olympic standard.
Men's 1,500m
When: 6:10pm, Thursday
Who: Josh Thompson, Abraham Alvarado, Brannon Kidder, Sam Prakel
Newly-crowned indoor 1500m U.S. champion Josh Thompson would love to get the 3:35.00 standard out of the way now, as would fellow 3:35 runners Brannon Kidder and Sam Prakel.
Thompson is the clear favorite here, but the pacing will have to be better on Thursday than it was the last time for him to run sub-3:35. The 27-year-old ran 3:37.21 just three weeks ago in Boston in a race that came through 800m in 1:58.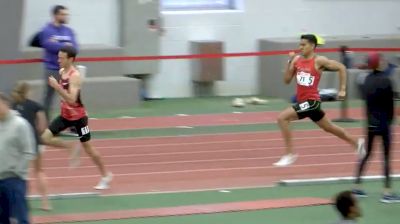 Unlock this video, live events, and more with a subscription!
Get Started
Already a subscriber? Log In
Also keep an eye on Abraham Alvarado, who finished just a breath behind Thompson in that Boston race earlier this month.