Watch: High Schooler Matt Strangio Chases Sub-4
Watch: High Schooler Matt Strangio Chases Sub-4
After his high school track season was canceled, California's Matt Strangio took a shot at breaking four minutes in the mile.
Apr 7, 2020
by FloTrack Staff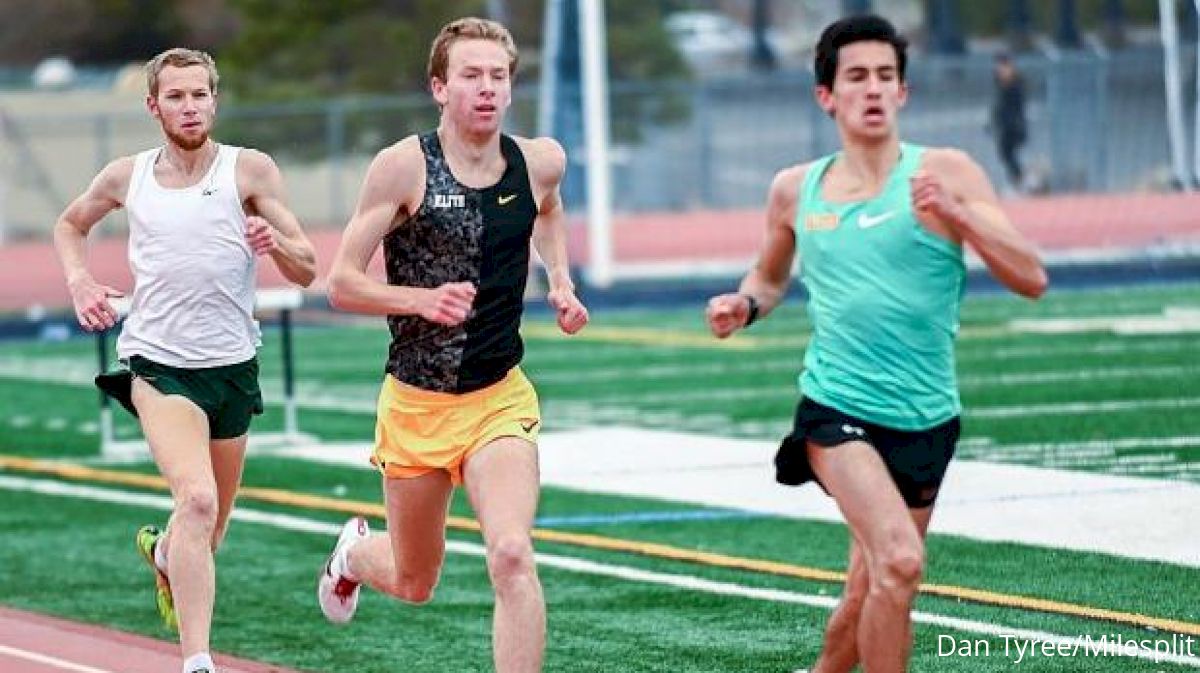 By Daniel Tyree for CA MileSplit

EL DORADO HILLS -- Four years ago, Matt Strangio emerged onto the high school track and cross country scene as a precocious freshman with big goals. One of the first conversations we shared, he said his goal was to win a state championship by his sophomore year and run under 4 minutes in the mile while still in high school.
As we all are too well aware, COVID-19 has put life as we know it on hold. Initially meets were being postponed and then canceled. As of Friday, the CIF confirmed that the 2020 spring sports season would not resume nor would public school.
Entering his senior track season, Strangio was already a three-time NXN All-American, a state champion in both the 1600m (2019) and 3200 (2018) as well as a two-time CIF-State Division I champion in cross country.
His senior track season was to be his victory lap.
Though Strangio is a young man, he is aware that his disappointment pales in comparison to the challenges that others are facing, so it was important to him that if he found a way to chase his dream, it would be in accordance with the social distancing guidelines we are all under.
He has continued training with his teammate Chase Gordon since the team could not safely do so as a whole. Strangio got the idea to do a time trial; just fire off a clock and see what time he could throw down.
That would be fine to get in a good workout session. But absent a screaming crowd, top level competition and visual splits, how could he do it?
Strangio enlisted the help of his teammate Gordon -- a USC signee who was runner-up for 800m at the 2019 CIF-State Championships -- and former Granite Bay standout Jake Ritter to pace him. But beyond that, Strangio would be on his own chasing sub-4 minutes for 1600m.
According to state records, only three CA high schoolers have ever run that fast:
Tim Danielson (Chula Vista/SD/1966) ran 3:59.4 for a mile (which converts to 3:58.1 for 1600m)
Cooper Teare (Alameda St. Joseph Notre Dame/NC/2017) ran 3:58.76 (converted from 4:00.16 for a mile)
Austin Tamagno (Brea Olinda/SS/2016) ran 3:59.65 (converted from a 4:01.04 mile) in 2016
Strangio ran his personal record for 1600 meters of 4:08.07 to win the 2019 CIF-State Meet title. That was the end of last May. About a year ago, he ran 4:14.40 to place second at the Stanford Invitational. This season, in the only meet he was able to run before the 2020 outdoor season was shut down, Strangio ran 4:12.23 on a wet and cold March 7 at the Sacramento State High School Classic.
On Saturday, at nearby Oak Ridge High School (selected because the track was open to public and close to his home in the Sacramento area), Gordon and Ritter took the line with Strangio for a 1600m time trial.
They used a timing app called Sprint Timer, which is described on its website as "a unique sports timer and photo finish app that employs the same techniques as the fully automatic timing equipment (FAT) used at the Olympics. Start the clock and point the camera towards the finish line. You will get a photo finish image that you can scroll to get the time for each competitor with 0.01 s accuracy."
The morning ended up cold and breezy, but Matt still wanted to take his shot. So, he lined up and when the gun went off, he put all his effort into going after that elusive sub-4.
When all was said and done, the clock stopped at 4:03.57!!
While not quite sub-4, it is a 4.50-second PR and a time, if considered official for the state records, that would rank No. 16 all-time!! It's also, if it were official, it would be the fastest run by a high school boy in the U.S. this spring surpassing the 4:05.16 run by Thomas Boyden (Skyline, Utah) on the weekend of March 14.
Strangio ran alone the last half mile and if anything, the experience left him with the feeling that under better circumstances, he could become a member of one of the most elite clubs in high school track: Those who have run four laps around the track in less than four minutes.
We don't know what the future will hold, but if he gets another chance to chase his dream, I would not bet against him.
Watch Matt's sub-4:00 mile attempt here: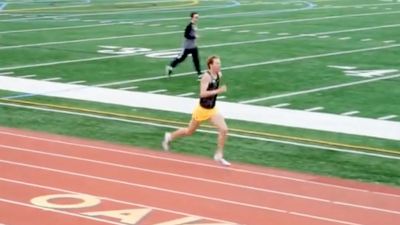 Unlock this video, live events, and more with a subscription!
Get Started
Already a subscriber? Log In