FloTrack 24/7
How To Watch Track & Field During Quarantine This Week (5/18-5/24)
How To Watch Track & Field During Quarantine This Week (5/18-5/24)
What to watch, listen to and read this week on FloTrack as you're stuck at home.
May 18, 2020
by Lincoln Shryack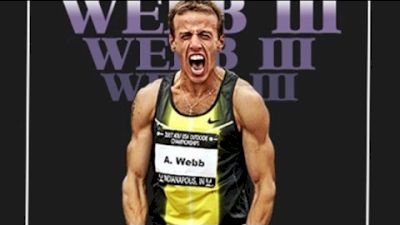 If you're as bummed out by all the COVID-19 cancellations as we are, you're in luck, because FloTrack is going to do something about it! FloTrack, and the entire FloSports network, have a plan to continue bringing high-quality, relevant and timely content to subscribers and fans while showcasing our incredible archive of live sporting event broadcasts.
Want to watch track in 2020? Check out FloTrack 24/7 to get your running fix any time, any day.
The upcoming track and field programming will include featured races, new editorial, studio shows, podcasts, short-form video series, the premiere of never-before-seen complementary content from past films and documentaries and more. FloTrack subscribers have access to all of the upcoming coverage, as well as access to all 25 sites in the FloSports network.
Sign Up For Access To All Of This Week's Exclusive Content
Monday, May 18
Miler week on FloTrack begins with Part I of our three-part Alan Webb documentary. Episode I covers the rise of the high school phenom and his short-lived time at the University of Michigan. Sticking with America's fastest miler, we'll re-run Webb's 3:46.91 U.S. record race from 2007 as well.
Tuesday, May 19
The second part of Driven: Alan Webb delves into 2007, the best season of the miler's career but one that came with pitfalls in the following years of his career.
On Tuesday we'll also have a new release in our Ultimate Rankings series, an update on the 1500/mile list to suss out the 20 best athletes in that discipline regardless of gender.
Wednesday, May 20
The conclusion to the Alan Webb doc follows the former miler's attempt at a career in the triathlon. We follow the fastest American ever in his day-to-day training on the bike, roads and water as he tries to make an athletic comeback anyway he can.
Thursday, May 21
From one U.S. mile great to another, Thursday we'll re-air our documentary with world champion Jenny Simpson. Transcend goes inside Simpson stunning gold in Daegu in 2011 after a stellar career at the University of Colorado.
Friday, May 22
The finale of Transcend: Jenny Simpson takes a look at her 2016 season that culminated in a bronze medal at the Rio Olympic Games, her third global outdoor medal of her career.
And if all that isn't enough, we have track and field on a nonstop, 24/7 loop on our FloTrack 24/7 stream. We'll also have a daily podcast, The FloTrack Podcast, Monday - Friday, each week.
Get The FloSports Apps