Noah Lyles Makes His 200m Season Debut At Inspiration Games
Noah Lyles Makes His 200m Season Debut At Inspiration Games
Noah Lyles, Shaunae Miller-Uibo, Allyson Felix and Christian Taylor will all be in action at Thursday's Inspiration Games.
Jul 8, 2020
by Kevin Sully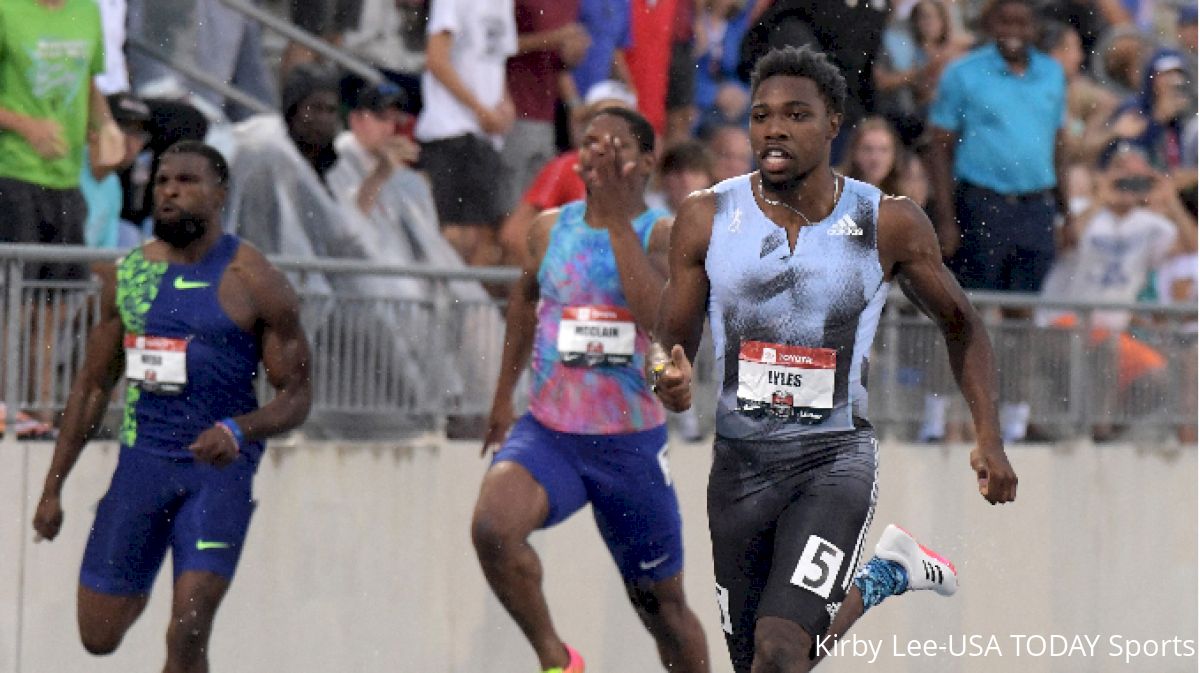 Unlock this article, live events, and more with a subscription!
Get Started
Already a subscriber? Log In
The fast times across the United States last week showed that despite the limitations on the running world in 2020, athletes are still in good shape. This week's premier sprint meet, the Inspiration Games, is primarily a remote competition with athletes competing virtually across a variety of venues throughout the world.
Here's a rundown of what to expect on Thursday:
Men's 200m
The 200m has been Noah Lyles vs. the clock for two years now and Thursday will be no different. Lyles will run in his best event in Bradenton, Florida against Christophe Lemaitre and Churandy Martina. Lemaitre will race in Zurich, Martina is running in the Netherlands.
Lyles has run three hard efforts that we know of. Two times trials (one in the 150, the other in the 300m) and a 9.93 wind-aided win in the 100m last weekend. All are signs that he's still in great form. Obviously, Lyles had raced more at this point in his 2019, but it is worth mentioning that he ran his personal best of 19.50 a year ago this week.
Women's 150m
Shaunae Miller-Uibo is fresh off a 22.61/50.52 double in Orlando, a clear indication that she's ready to run fast, despite the lack of racing opportunities. She's run 16.23 for a straight 150m before. I'm not sure what that converts to with a bend, but she's the favorite against Munjinga Kambundji and Allyson Felix. Miller-Uibo is racing from Bradenton, Florida, Felix will be running in the brand new Mt.SAC facility and Kambundji is running at home in Zurich.
Men's 100 Yards
Goodbye metric system. The shortest race on the schedule is the men's 100-yards. Odd distance aside, this is the only event in the competition that features all of the competitors in the same location. Andre De Grasse, Jimmy Vicaut and Omar McLeod will all race in Florida. No split-screen necessary.
The fastest automatically recorded time for the distance is Asafa Powell's 9.07, though Usain Bolt has covered the distance much quicker when he was never officially recorded with a mark.
De Grasse ran last week in Clermont, Florida and put up two times in the 10.1s. McLeod is a hurdler, but has broken 10 seconds for 100 meters.
Women's 300m hurdles
Dalilah Muhammad is no longer on the start list, taking one of the biggest stars out of the meet. It also means that a world record is likely off the table. The current record holder, Zuzana Hejnova (38.16), is entered and will compete against Lea Sprunger and Georganne Moline.
Women's 3x100m
Not entirely sure why we couldn't get a fourth person involved here, but the U.S., Switzerland and the Netherlands are running a women's 3x100m to close out the meet. I'm sensing a world record.
Field Events
The triple jump includes three of the best in the world. Six-time gold medalist Christian Taylor is set to jump against Omar Craddock and Pedro Pablo Pichardo. Taylor dusted off some of the cobwebs last weekend when he jumped 16.75 in Orlando.
In the pole vault, Sam Kendricks will compete against Valentin Lavillenie and Piotr Lisek in the men's competition, while the women's field features Sandi Morris taking on Katerina Stefanidi and Angelica Bengtsson.