Noah Lyles Nearly Breaks Track Internet With 18.90* Clocking
Noah Lyles Nearly Breaks Track Internet With 18.90* Clocking
Noah Lyles allowed us to entertain the thought of an 18.90 200m before reality came crashing down.
Jul 9, 2020
by Lincoln Shryack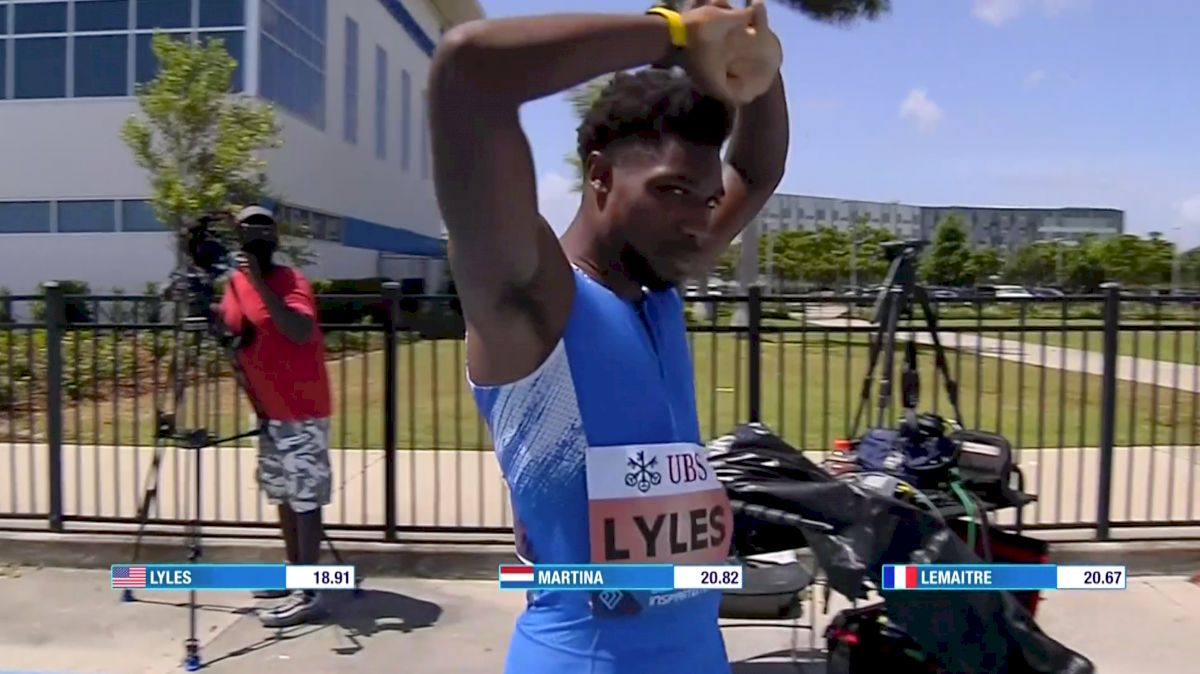 Unlock this article, live events, and more with a subscription!
Get Started
Already a subscriber? Log In
The second of two Diamond League exhibition events in 2020 went off on Thursday in various locations across the world as Zurich played host to the Inspiration Games. Like the Impossible Games in Oslo back in June, this iteration featured athletes spread across the globe competing against each other simultaneously. Unlike the Impossible Games, however, Thursday's action featured a significant American presence as stars like Noah Lyles, Allyson Felix and Sam Kendricks competed at different spots in the U.S.
What the meet lacked in stakes it more than made up for in drama. In a year where sporting events have been touch and go since March, the Inspiration Games proved that drama can be a fun substitute for normal track and field.
Noah Lyles Creates Brief Frenzy With 18.90* Clocking
For about three minutes following the conclusion of the men's 200m competition, the track and field world worked hard to suspend its collective disbelief that the 18.90 Noah Lyles was said to have run was real.
"That cannot be right," screamed commentator Steve Cram as the time populated on the screen. "That cannot be right, can it?"
Cram's "can it?" comment reflected exactly what the rest of us were feeling. The 200m world champion has created enough magic in his wildly entertaining career thus far that we were willing to consider, albeit briefly, that the 22-year-old had somehow just destroyed Usain Bolt's world record running all alone.
Of course, it was astronomically unlikely that Lyles, for as talented as he is, had lowered the world record by nearly three-tenths of a second, particularly in a race by himself. A gale force supporting Florida wind was initially cited as a potential cause, but when that wasn't the case it was clear something was amiss. When Cram announced that Lyles' blocks were incorrectly placed at 185 meters, reality crashed down on all of us that we hadn't just witnessed supernatural track and field.
You can't be playing with my emotions like this....
got me in the wrong lane smh ??‍♂️

— Noah Lyles (@LylesNoah) July 9, 2020
But boy, was it fun while it lasted. So then, who actually won the race between Lyles, Christophe Lemaitre and Churandy Martina? Ah, who cares. In the middle of a pandemic with no end in sight, we just saw something that will probably never happen again.
Allyson Felix Surprises In Defeat Of Miller Uibo
At the risk of overanalyzing a 150m race being contested on three separate tracks, Allyson Felix's upset victory over Shaunae Miller-Uibo and Mujinga Kambundji felt like a strong endorsement of the 34-year-old's fitness ahead of the 2021 Olympic year. Felix, running in Walnut, California, ran 16.81 to Miller-Uibo's 17.15 and Kambundji's 17.29.
Allyson Felix FTW! pic.twitter.com/sz61ZogEnP

— FloTrack (@FloTrack) July 9, 2020
Miller-Uibo, competing in windy conditions in Florida, was the favorite on paper having run the fastest 200m in the world last season (21.74). But a strong crosswind did the 26-year-old no favors as she ran the unfamiliar distance.
Kambundji, running in Zurich, also appeared to have an edge on Felix after winning the 200m bronze medal at the world championships last fall. Their recent success and youth compared to the American further underscored the magnitude of the upset as Felix has raced sparingly since having a child in late 2018.
But Felix, the most decorated female track and field Olympian of all-time, showed on Thursday that she still has more to give as she seeks to make her fifth Olympic team next summer. Or to put it another way:
To put @allysonfelix's 16.81 in context: back in 2013 (the year in which she ran 21.85w), she clocked 16.36 for 150m on a straight.
To be just half a second off that in her first race of the year and on a bend and with no competition (and seven years older!) is not bad at all.

— Jon Mulkeen (@Statman_Jon) July 9, 2020
In other events…
Competing in her first outdoor race in nearly two years, 30-year-old American Georgeanne Moline scored a nice comeback win in the 300m hurdles over 2019 400m hurdles world championship finalists Léa Sprunger and Zuzana Hejnova. Moline ran 39.08 to Sprunger's 39.25 and Hejnova's 40.97.
Portugal's Pedro Pablo Pichardo defeated reigning world and Olympic champion Christian Taylor in the men's triple jump, 17.40m to 17.27. Both jumpers dealt with powerful tail winds throughout the competition , PPP in Portugal, Taylor in Florida.
It was an American sweep in the men's and women's pole vault as Sam Kendricks (5.81m) and Sandi Morris (4.66m) won their competitions easily.
Andre de Grasse won the throwback 100yd. race in 9.68 over Jimmy Vicaut (9.72) and Omar McLeod (9.87). Their competition, which took place in Florida, was the lone race to feature every competitor in the same venue. A strong headwind (-3.4 m/s) was the cause for the modest times.