2020 Under Armour Sunset Tour
2020 Under Armour Sunset Tour Preview: Coburn, Ches, Klecker & More
2020 Under Armour Sunset Tour Preview: Coburn, Ches, Klecker & More
A strong collection of pros will assemble at an undisclosed location on Saturday for a five-event meet.
Aug 20, 2020
by Lincoln Shryack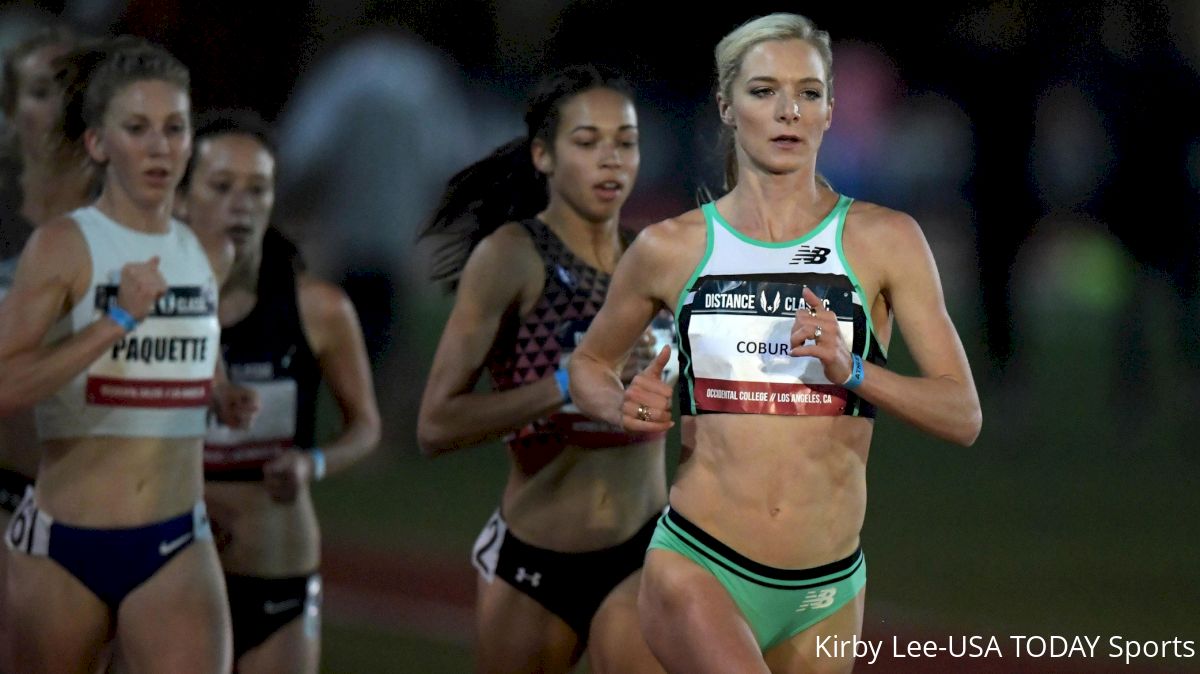 A year after its inception, the Under Armour Sunset Tour will once again bring together a strong collection of U.S.-based professionals on Saturday night in an undisclosed location in California. You may not know where the meet is being held, but you can watch it live on FloTrack starting at 8:20pm PT.
Watch the 2020 Under Armour Sunset Tour Live on FloTrack on Aug. 22
The competition will have just five events, and we break down each of the matchups below:
Men's 5,000m
Edward Cheserek will make his 2020 outdoor debut at Sunset against former PAC-12 foe Joe Klecker. King Ches is the overwhelming favorite with his 13:04 personal best, but Klecker is coming off a 3:37 1500m PB last week at Music City and should be in line to dramatically lower his 13:30. Klecker's On Running teammate and new 3:34 man Ollie Hoare is also entered in what is an unfamiliar distance for the 2018 NCAA 1500m champ. Hoare holds just a 14:07 best, but should smash it.
On a side note, check out the killer 'stache Cheserek is sporting these days:
Women's 800m
Steeplechase world champ Emma Coburn will step down to the 800m for the first time in over a decade as she faces world medalist Brenda Martinez, U.S. finalist Rebecca Mehra and teammate Cory McGee. The 32-year-old Martinez opened her season with a strong 2:02 on July 31, her first 800m in over two years. McGee, who just set a 1500m PB of 4:03.64 last week, is a strong 800m runner with a 2:01.61 best.
Women's 5,000m
Nine women in this field have a PB faster than 15:20, including a sub-15:00 performer in Dom Scott-Efurd of South Africa. Marathoner Kellyn Taylor will have a good shot to win after beating four of the women in a 5,000m in July, including Scott-Efurd. New pros and recent NCAA 5,000m champions Dani Jones and Alicia Monson are also entered in a race that should net some big PBs.
Women's 1500m
2019 NCAA 1500m champion Sinclaire Johnson will run her first race at the distance since placing fourth at USAs in 2019. Her 4:03.72 personal best gives her a huge edge against Leah Falland, who has the next fastest PB at 4:11.04.
Men's Mile
Carlos Villarreal will target the 3:57.34 Mexican national mile record with the help of 2020 U.S. Indoor 1500m runner-up Nick Harris. Villarreal has run faster indoors (3:56.77 PB), but he'll need to be a little sharper than the 3:42 1500m he ran last week in Nashville to break the record. The same goes for Harris, who only managed a 3:45 in the same race. 8:28 steepler Obsa Ali is also entered.