Erriyon Knighton Forgoes High School Eligibility, Goes Pro
Erriyon Knighton Forgoes High School Eligibility, Goes Pro
16-year-old sprinter Erriyon Knighton has signed a professional contract with Adidas.
Jan 13, 2021
by FloTrack Staff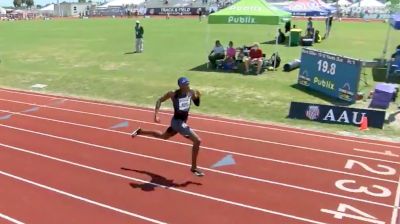 Unlock this video, live events, and more with a subscription!
Get Started
Already a subscriber? Log In
By Adair Lyden/Milesplit
Teenage sprint phenom Erriyon Knighton, the sophomore national class and AAU Junior Olympic 200m record holder, announced on Wednesday he has signed with Adidas, Track and Field News first reported.
The 16-year-old from Tampa, Florida, will forgo his final two outdoor track and field seasons for Hillsborough High School and My Brother's Keeper Track Club. He turns 17 on Jan. 29.
Knighton's decision marks the third time in a year that a high school sprint athlete has turned pro. He followed the decision made by Tamari Davis, a then-16-year-old who also turned pro in January of 2020. Fellow Florida athlete and Jamaican international Briana Williams, then 17, went with Nike in January of 2020.
Knighton, however, will be the fifth high school athlete since 2015 to make that move. Former Georgia standout Candace Hill signed with Asics in 2015 and Florida jumper Kaylin Whitney inked went with Nike the same year.
"More athletes, they're trying to make that jump early," said Gary Evans, a professional coach for Adidas who oversaw Knighton for a spell ahead of the AAU Junior Olympics this summer. "As of right now, we're 0-for-2 on that. So now we have the next three: Tamari, Briana and Erriyon. I'm hoping one of these athletes can change that, that they can come straight out of high school and be pro. I'm hoping one of these next three can change the perspective."
Evans currently works with Davis in Clermont and oversees 20 professionals, including the likes of Steve Gardiner and Jessica Beard.
This past August, the track and field world watched as Knighton made a massive statement with his wind-legal time of 20.33 seconds in the 200m at the AAU Junior Olympic Games, along with a wind-legal 10.29 100m mark, making him arguably the best U18 sprinter of all-time in the state of Florida. He finished the 2020 season with the No. 11 best time in the world, while his 100m time was among the top 100 performances.
"Erriyon, he's very talented," Evans added. "As you see, he had a lot of room for improvement, just the time he ran."
According to Track and Field news, the 6-foot-3 and 170-pound Knighton will keep his high school coach, Jonathan Terry, as he looks ahead toward the U.S. Olympic Trials, for which he is just 0.09 seconds away from qualifying in the 200m. His agents are reportedly former professional sprinters Ramon Clay and John Regis at Stellar Athletics.
Prior to his record-breaking 200m performance, Knighton had run only one other sub 21 second 200m -- clocking a 20.89 at the V12 Summer Games just one month prior to his breakout race.
The one-time FHSAA state medalist in both the 100m and 200m, was a freshman sensation on the track and on the football field. As he enters the spring semester of his junior year, he will not only forgo a regular high school track and field career, but his football endeavors as well.
Knighton told Track and Field News' Jeff Hollobaugh, that he was already receiving a lot of D1 offers for football, but the decision to focus on track was a "no-brainer."
The now-former Hillsborough wide receiver and track star will take a detour off the NCAA route as he looks towards the possibility of making the 2021 Olympic team.