2021 West Coast Relays
7 Events To Watch At West Coast Relays
7 Events To Watch At West Coast Relays
Fast races are on tap this Friday at the West Coast Relays in Fresno, California.
Apr 28, 2021
by Kevin Sully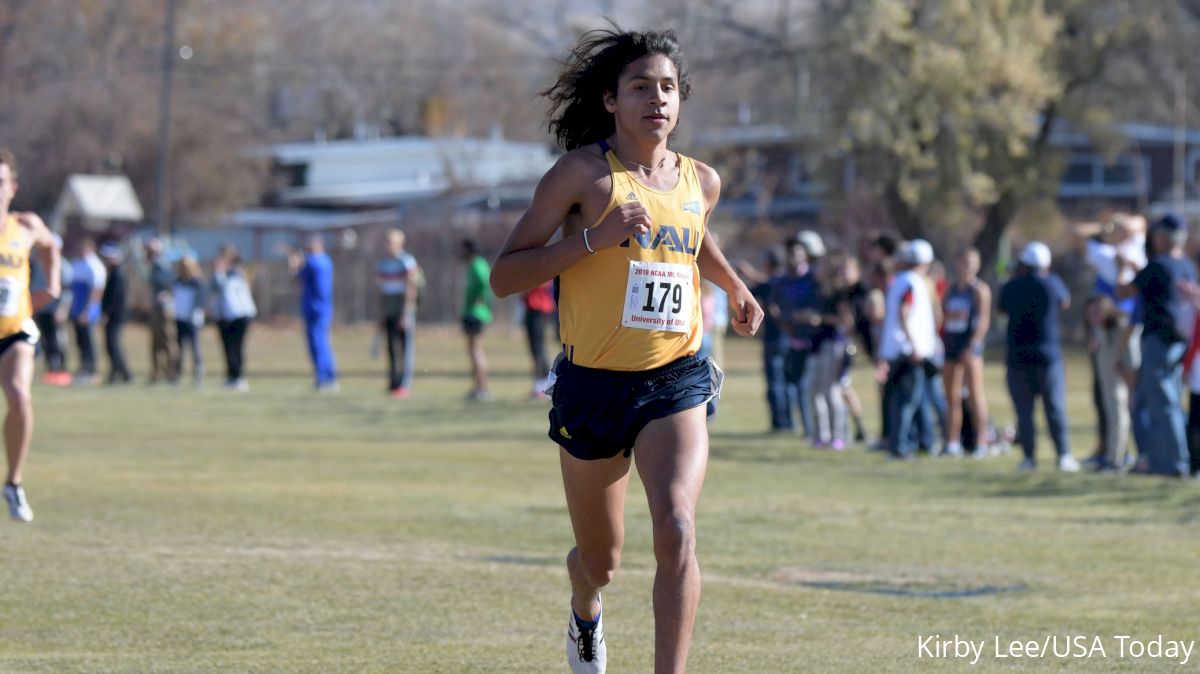 Many of the top distance programs in the NCAA will compete on Friday in Fresno, California at the West Coast Relays. NAU, BYU, Stanford, NC State, Arkansas, New Mexico, Colorado and Washington are all entered and will be chasing fast marks with just over a month left in the season.
Here are seven events to watch on Friday.
Watch the 2021 West Coast Relays live on FloTrack.
Women's 5000m
The deepest event top to bottom and a race that is without a clear favorite.
Arkansas is represented by Katie Izzo, Lauren Gregory and Devin Clark. Izzo has a 15:13 personal best and finished fourth in the 3000m at the NCAA Indoor Championships and ninth in the 5000m. Gregory was second in the 3000m at the indoor meet and will be making her outdoor debut.
Elly Henes of NC State lowered her 5000m personal best to 15:27 last fall, but is flying a bit below the radar because she didn't have cross-country eligibility this winter. Her teammates Kelsey Chmiel and Dominique Clairmonte will join her on the start line in Fresno.
Stanford's Ella Donaghu is running the second 5000m of her collegiate career. Her first one went well, a 15:36 at the Stanford Invitational at the beginning of April where she won by 24 seconds. With competition this time, can she go under 15:30?
Taryn O'Neill had a big cross country season where she placed sixth at the national championships. The NAU sophomore should lower her personal best of 15:49. Charlotte Prouse of New Mexico is known as a steepler but has a personal best of 15:26. Her teammate, and fellow steepler, Adva Cohen is also entered.
Outside of the collegiate runners, Sarah Lancaster is the name to watch. The former collegiate tennis player turned distance runner ran 15:34 last winter and held her own in the Trials of Miles 5000m in Austin this year.
Men's 5000m
The men's 5000m has been red hot this NCAA season and now one of the best in the nation will get his chance to run the event. NAU's Luis Grijalva took a huge chunk of time off his personal best when he ran 13:16 last December.
At the time, that positioned Grijalva as the favorite but the event has gotten so good, so quickly that several others have now factored into the title picture. It's unclear what the objective will be for this race. With warmer temperatures, the goal could just be to earn a qualifying time. Colorado's John Dressel, Washington's Andrew Jordan as well as NAU's Drew Bosley and Brodey Hasty should ensure that the pace doesn't get too slow, even in tough conditions.
Men's 10,000m
In order to race in milder temperatures, the 10,000m races have been moved to Friday morning with a 7:30 AM PST scheduled start for the men's race. NAU's Abdihamid Nur has been cranking out solid performances for over a year now. His latest, a 13:26 5000m at the Drake Relays to place fifth. His teammate, Blaise Ferro, ran 13:31 at Drake. Judging by their cross country performances for the most recent NCAA Championships (Ferro was sixth and Our was 7th), both men should be better with the longer distance. Brandon Garnica of BYU has already run under 13:30 for 5000m this year and will be looking for a quick 10,000m to match.
Women's 3000m Steeplechase
Two-time NCAA Indoor champion, Courtney Wayment will run her first steeple since 2017 on Friday. Her personal best of 10:04 will surely go by the wayside and this race will indicate is she's a title contender. NC State's Hannah Steelman will provide a good benchmark for Wayment. Steelman already ran 9:46 this year and placed third at the 2019 NCAA Outdoor Championships. Washington's Katie Rainsberger ran 10:00 in her steeplechase debut and her presence means she's putting significant consideration into running this event.
Women's 1500m
Whittni Orton's personal best of 4:12.34 looks like it will be broken this weekend as the BYU senior runs her first outdoor 1500m since 2019. This race will have a strong BYU/Arkansas flavor, with Orton, Olivia Hoj and Anna Camp entered for BYU and Arkansas countering with Kennedy Thomson, Carina Viljoen and Krissy Gear.
NC State freshman Katelyn Tuohy also looks primed for a personal best. Tuohy ran 4:16 last month in her outdoor debut, two seconds back of her 4:14.45 PB from 2018.
Men's 1500m
Sam Tanner of Washington will run his first 1500m since he was eliminated in the first round at the NCAA Indoor Championships. Tanner was one of the favorites entering that meet by virtue of his 3:34.72 performance in mid-February that broken the New Zealand national record. But the incredible time didn't help Tanner in the championship portion of the season. Outdoors, he's run only one race—a 1:48.63 800 in Seattle. Sam Prakel finished two spots behind Tanner during that race in February and will be hoping for another fast one here. Prakel, a pro, ran 3:37.74 for fourth last week in Eugene.
BYU mid-distance aces Talem Franco and Lucas Bons are entered for the Cougars along with their teammates Conner Mantz and Casey Clinger. This might be too short of a distance for Mantz, but it will be a good race-within-a-race between him and Nico Young of NAU. (Mantz's personal best is 3:45, Young's is 3:44).
Women's 800m
NCAA mile champion Sage Hurta of Colorado is the top seed after her 2:00.62 three weeks ago in Phoenix. Hurta showed her endurance last week finishing eighth in the 1500m at a pro-heavy field at the USATF Grand Prix. On Friday, her best competition will likely come from Carley Thomas of Washington and Anna Camp of BYU.