2021 FHSAA Outdoor Championships
This State-Record 4x1 Had Three Future NFL Draft Picks
This State-Record 4x1 Had Three Future NFL Draft Picks
Three years ago, future NFL draft picks Patrick Surtain, Tyson Campbell and Anthony Schwartz put down a 4x100m for the ages.
May 15, 2021
by Cory Mull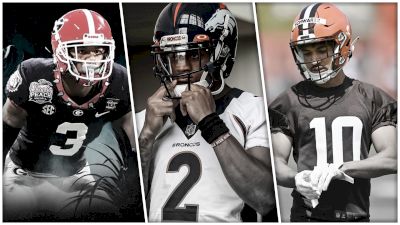 Video Credit: NFHS
Three years ago, around this same time in May, Patrick Surtain, Tyson Campbell, Ja'Den McBurrows and Anthony Schwartz put down a 4x100 for the ages.
The foursome at Plantation American Heritage (FL) High School, a group of three seniors and a freshman, captured a meet record at the FHSAA Class 2A State Track and Field Championships at the University of North Florida in Jacksonville, securing a Florida No. 2 and a U.S. No. 14 all-time effort of 40.14 seconds.
Three years later, three of their paths converged over two fateful nights in Cleveland, Ohio.
Surtain, Campbell and Schwartz were selected in the NFL Draft's first three rounds on April 29-30, with Surtain going No. 9 to the Denver Broncos, Campbell going No. 33 to the Jacksonville Jaguars and Schwartz being picked No. 91 by the Cleveland Browns.
McBurrows, meanwhile, signed with the University of Michigan men's football program in 2021.
No other high school relay has ever had the same professional symmetry: Three future NFL football players -- with a chance for one more.
That relay, however, was a timepiece that will good down in the books.
It would also be the last time that many of them would step foot on a track competitively.
While Schwartz would go on to continue his final high school track and field season all the way to the World Athletics U20 Championships in Finland, eventually earning a World Junior runner-up finish in the 100m and a gold medal in the 4x100, the Florida State Championships marked the last time all four athletes would compete together as a team.
Campbell, Surtain and McBurrows never ran in another championship meet.
But for good reason.
Surtain, a 6-foot-2 and 200-pound recruit who was rated as a five-star cornerback, enrolled at the University of Alabama shortly after his final race with the Patriots, stepping foot on the Tuscaloosa campus in June.
Campbell, another 6-foot-2 and 185-pound five-star cornerback, chose the same path, joining the University of George Bulldogs that same month.
McBurrows, meanwhile, ran just two more seasons with American Heritage.
Schwartz, a four-star wide receiver who eventually enrolled at the University of Auburn in August -- after his bid at the World U20 Championships -- ran one season with the Tigers and finished sixth at the SEC Outdoor Track and Field Championships in the 100m. He never made an NCAA Championship.
For some, the relay was a question of what-ifs -- what if it had been run with better conditions, or on a different track, or with a similarly-talented 40-point squad.
Either way, though, the relay will go down as arguably the most talented in Florida history, just a shade shy of Boyd Anderson's 40.09 state record in 1998 at the Golden South Classic.
On any other day, perhaps, the group may have been destined for a sub-40.
But just getting there was a story, too.
McBurrows was a late addition who hadn't ran an open 100m that season. He ran the final curve -- regarded as the hardest leg of the relay.
Surtain, meanwhile, led-off. Prior to states, he had competed in just a few meets, finishing with a wind-assisted PR of 10.77 at districts.
American Heritage's sprint coach Greg Barnes said recently that, despite all of this uncertainty, the squad had trained in 2018 like champions.
"You kind of saw it. If they wanted to be the fastest track guys in the country, that's what they acted like. That's the way it felt sometimes," he said.
Campbell and Schwartz were the anchors of the performance.
Campbell ran the second leg, often considered the longest. His stride length and explosion made a huge difference after taking the hand-off from Surtain.
He later finished with a wind-assisted season 100m best of 10.39w in the state final race, recording a runner-up performance right beside his teammate.
Schwartz, of course, was the closer. He saved his best for last.
He ran a blitzing anchor leg that flourished at the end, proving no doubt.
Like Campbell, he would run his best in the open 100m. He claimed a wind-assisted 10.07 in the championship, his fastest 100m performance ever.
Nearly a month later, he would go on to run 10.09 at the Great Southwest Classic, the fourth-fastest performance in high school history, and then would finish second at the World Athletics U20 Championship in 10.22.
The trio of Surtain, Campbell and Schwartz would all go on to have exemplary college careers.
Surtain, the son of former Miami Dolphins legend Patrick Surtain, won a national title with Alabama in 2020.
Campbell was Georgia's best CB this fall, while Schwartz was Auburn's top receiver.
The Ringer's Danny Kelly most praised Campbell's speed in his 2021 mock draft, writing of the cornerback, "Campbell's high-end speed and twitchy change of direction skills are the first traits that jump off the tape, and he uses both to his advantage in coverage."
All three, fittingly, were drafted to teams in the AFC.
And all three, at some point or another, might matchup side-by-side on the line of scrimmage in the years to come.