2021 AAU Junior Olympic Games
The 12 Boys Events You Can't Miss At The AAU Junior Olympics
The 12 Boys Events You Can't Miss At The AAU Junior Olympics
A fast 400m hurdles and all the other best events from the boys competition at this week's AAU Junior Olympic Games.
Jul 27, 2021
by Cory Mull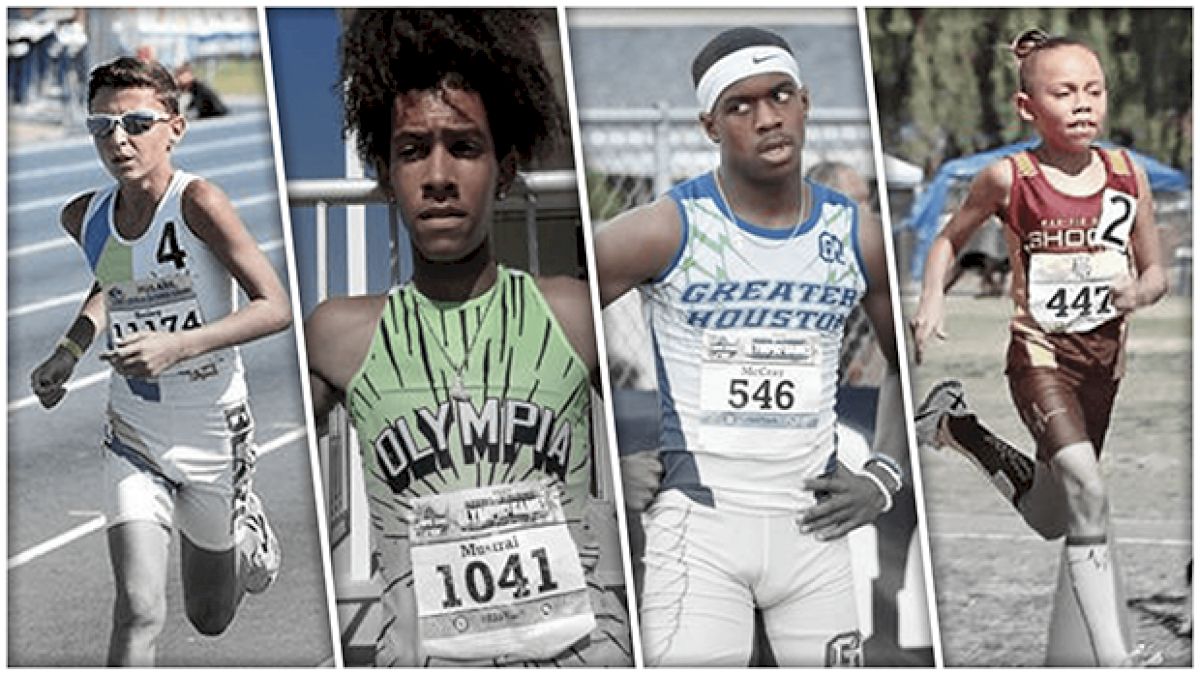 The AAU Junior Olympic Games begin this week!
Previous national champions and All-Americans will have an opportunity to step into the ring, track and pit to defend their titles or redeem themselves.
There will be just over 10,000 athletes competing this year in various events. Throughout the summer, athletes competed in their respected regions to claim one of the top six spots to qualify for the Games in Humble, Texas.
MileSplit has broken down the top performances to watch between July 31 through August. 7. Check out the top 12 events to watch in the boys races over the next eight days below.
12. Watch Out For Prentice Jones
11yo 200m/400m
The Games are often a showcase for young talent.
And 11-year-old Prentice Jones could be one of the event's best young stars. He enters as the top seed in both the 100m (25.12) and 400m (55.92) in his age group and remains within an earshot -- at least with his seed times -- of the AAU National Records in both events.
Jones will have stiff competition next to him.
And so we're betting we could see some special races from Prentice in Houston at the AAU Junior Olympic Games.
11. Greater Houston vs. Track Houston vs. The Wings
Is there any better matchup in the relays than these Texas club powerhouses?
All week long at the AAU Junior Olympic Games, we'll see the colors of these three indistinguishable groups going at it.
And what we could see unfold, yet again, are some wonderful performances, some epic races and perhaps even a record or two.
But if we had to bet on it, Great Houston has something special brewing in the 4x400 with Bryce McCray, David Foster, Khamari Terrell and Gage Hensey.
Don't miss the 17-18 age groups.
10. Bryan Hailey Going For Distance Double
12yo 1,500m-3K
Small school standout Bryan Hailey, of Clyde, Texas, is the kind of athlete who wants not only wants to win but wants a race while he's at it, too.
And that spirit and ability to grind through those race conditions ultimately could serve Hailey well as he contends for wins in the 14-year-old 1,500m and 3K.
Hailey is seeded No. 1 in both races, with entry times of 4:28.46 and 9:25.50.
He'll understand just what it takes to win in this heat, too.
9. Jonathan Simms continues to shine
Jonathan Simms is back, and he's once again a top seed. The long-time AAU star has six age group records across various categories.
Next week, he enters the 14-year-old category as the top seed in the 400m (49.87), is the fourth-seed in the 200m (22.53) and is the fifth-seed in the 800m (2:07.61).
As Simms gets older, the marks get faster -- and the efforts needed to win get harder.
But if we know anything about the Plano, Dallas-based athlete, it's that he's a gamer. And at this point in his career, he's learning how to compete with the best of 'em.
8. Jackson Cantwell is back for more
13yo shot put, discus
Jackson Cantwell has been a star-in-the-making for several years now -- which isn't surprising, considering he's the son of two Olympians.
But sooner or later, Jackson's efforts will start to create their own histories, and this year he's moving into the ranks of teenager.
The 13-year-old enters as the AAU Junior Olympic Games top seed in the shot put (55-10.75) and discus (150-7), and it isn't really close.
Cantwell's mark in the shot put is 14 feet farther than the next closest competitor, and his discus entry is nine feet farther.
His shot put efforts could once again yield new AAU Junior Olympic records.
7. Could this race be a foregone conclusion for a national record?
12yo Boys 400m
Sometimes, athletes enter the AAU Junior Olympic Games with decent opportunities to break records.
But with Pearland, Texas native Lewis Murphy, it seems like it could be a foregone conclusion.
The young athlete enters the 400m with a seed time of 51.96 seconds, which is blisteringly fast for his age group and already swaths ahead of the AAU national record of 53.17 seconds, which was set in 2019 by Jonathan Simms.
These things aren't always cut in stone.
But Murphy seems like a solid bet for this one: In May, he ran 53.42 seconds at a local meet, too.
Murphy is also ranked No. 1 in the 200m, where he enters with a time of 24.09.
6. The Miles Brown Show
17-18 yo 400m/800m
If you're looking for sleeping giants this week, look no further than Miles Brown.
The Novi graduate and University of Michigan signee has done wonders over the last two months performing, setting a new personal best in the 800m at The Outdoor Nationals in a US No. 16 time of 1:50.95.
He also is coming off an AAU Club Championship in the same event in 1:52.83. In the 400m, Brown was eighth at The Outdoor Natoinals and first at the AAU Club Championships in his age group.
What this all means is that Brown could be the mid-distance star to watch at the AAU Junior Olympic Games, following in the footsteps of Brandon Miller, Cameron Cooper and many others.
5. Samuel Baker Is Eyeing The Distance Triple
12yo 800m, 1,500m, 3K
One of the absolute hardest feats to pull off at the AAU Junior Olympic Games is the distance triple.
And this year, in the Houston heat, it may seem impossible.
But if anyone can do it, it might be Samuel Baker.
The 12-year-old is ranked No. 1 in the 800m (2:13.24) and seeded five seconds ahead of his next-closest competitor. He comes in with a 1,500m best of 4:35.42; that's 13 seconds better than No. 2.
And in the 3K, he's the only athlete seeded under 10 minutes.
So can Baker do it?
If he can hold on amid this crazy heat in Houston, he might leave with one of the event's most impressive accomplishments, and a potential MVP-like performance.
4. Following Up Erriyon's Record Run
17-18yo Boys s200m
If nothing else, this was the beginning of a new Olympian's journey last year.
Precisely a year ago, Erriyon Knighton blew up in the most spectacular of ways, producing an AAU national record time of 20.33 seconds, which was just 0.20 seconds shy of the 16-year-old world age group mark that Usain Bolt set in 2003.
Of course, we know how Knighton followed up with that performance. He went pro, broke 10 seconds in the 100m, qualified for the U.S. Olympic Trials and then set a World U20 Record in the 200m, becoming the first American high school teenager ever to break 20 seconds in the 200m and qualify for the Olympic Games.
What a way to follow up with that.
But looking at the start list, there's some verified talent.
From Justin Braun, to Anthony Smith, to Torrence Walker, Jekovan Rhetta and others, we could see multiple sub-21 second performances go down on the final day of action at AAU.
Braun, in particular, may seem like the most parallel of versions to Knighton.
The Ohio native is just 17. He's a burgeoning star in his own right, having won three state championships this spring for Thomas Worthington High School.
And he's on the cusp of breaking 20 seconds, just like Knighton was in 2019.
If nothing else, don't look away in this final.
3. Will Victor Jaimez-Solorio once again be our star of the future?
10yo 400m, 800m, 1,500m
Over the last two seasons, Victor Jaimez-Solorio has won our hearts with his impeccable form on the track and his superb runs, a few of which went down in the record books.
But he's certainly got his hands full this year!
The 10-year-old enters as the top seed in the 800m (2:23.17), the second-seed in the 1,500m (5:06.24) and the ninth-seed in the 400m (1:02.55).
Sometimes, though, seeds are just that. Entry points.
While there's no pressure on Solorio to win this outright, he's shown us the last two years that you shouldn't count him out: He simply is a monster when it comes to competition.
And as one of the young stars of AAU, he's going to be hard to miss.
2. Leonard Mustari is racing for a purpose bigger than himself
17-18yo 110mH, LJ
Few athletes will run for a purpose greater than what Leonard Mustari has goine for him at the AAU Junior Olympic Games.
Just this month, Mustari's high school hurdle coach, Guy Thomas, died due to complications over COVID-19.
His passing was a tremendous loss for Mustari, his high school track team and the community for which Thomas impacted on a weekly basis in Florida.
Hardly a week went by before Mustari won two AAU Club Championships in the 110mH and the LJ in honor of his coach. He posted a wind-legal time of 13.77 and leapt to a mark of 7.08 in the long jump.
And now, Mustari will bring that same focus to Houston, where he has another opportunity to strike a delicate balance between the emotion carrying him and the performance he needs on the track.
1. The Best Race of the Games - Boys 400mH
17-18yo 400mH
This quite honestly might be the most loaded boys race of the Games.
Bryce McCray, the defending champion in the age group, enters with a US No. 9 time of 52.30.
He'll have to contest with US No. 4 Tamaal Myers, who beat McCray in 2019 while the pair were in the 15-16 age group; and US No. 5 Mario Paul, who went 52.27 in May at the. Henry Clay All-Comers Meet.
And then there's Christopher Brinkley, who's ranked No. 4 with a seed time of 52.74, and Denzel Hinds, who could quietly be a sleeper in this race. He finished second to McCray at the UIL Class 6A Track and Field Championships in the 300mH.
Hinds enters with a time of 53.68.
But really, what every athlete toward the top of this race should focus their sights on is that US No. 1 time of 51.90, which is currently owned by Malik Mixon.
Or even further, possibly a performance under 51 seconds.
Only 30 athletes in high school history have ever gone under that threshold. With four major talents lining up for this race, though, anything can happen.
And we're counting on it.