2022 AAU Junior Olympic Games
What Are The Longest-Standing AAU JO Meet Records?
What Are The Longest-Standing AAU JO Meet Records?
Check out five meet records that have remained intact since athletes first set them over four decades ago at the 1980 AAU Junior Olympics.
Jul 22, 2022
by Ashley Tysiac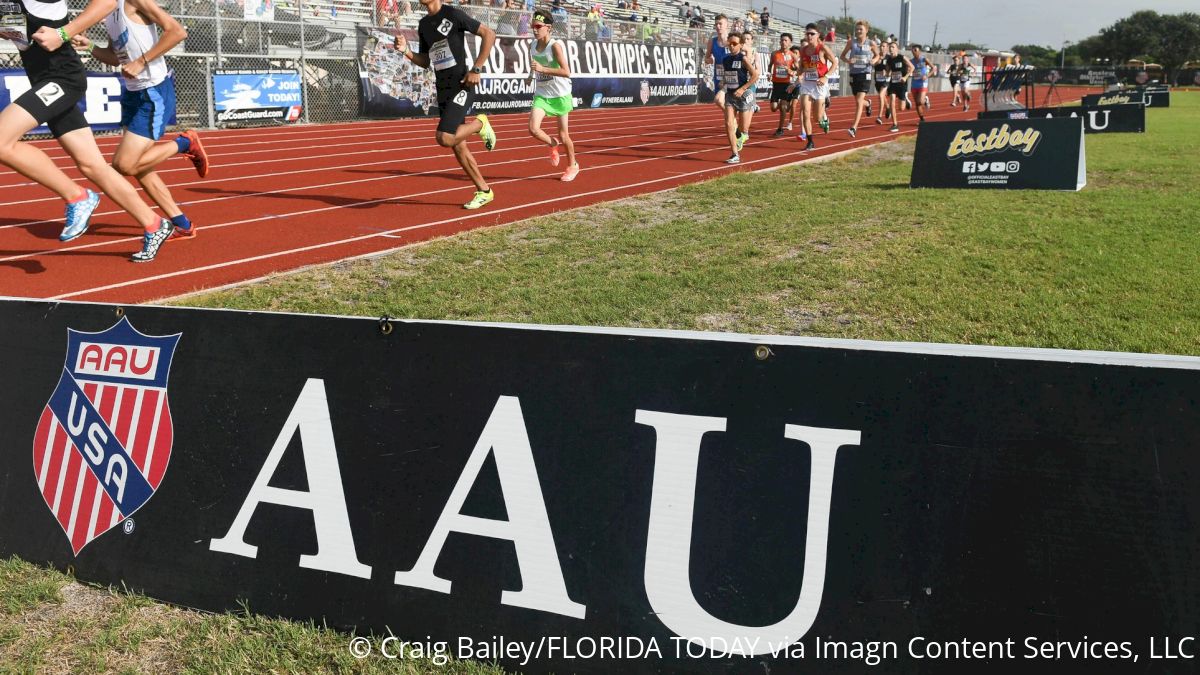 Without fail, each year of the AAU Junior Olympics features historic performances as athletes set new meet records in their respective age and event groups.
Some records may only last for a year. Others prove more challenging for athletes to tackle.
But which all-time meet bests have yet to be touched and have sat at the top of the Junior Olympic rankings for the longest?
A handful of the best performances in AAU Junior Olympic history date back to 1980 during the event's early history and haven't been surpassed in the many decades since.
Scroll below to see the five meet records that have remained intact since athletes first set them over four decades ago at the 1980 AAU Junior Olympics.
17-18YO MEN'S 1,500M -- 3:51.4h
The Tunstall (VA) senior won the 1,500m by a dominant four-second margin en route to a new AAU Junior Olympic record of 3:51.4h.
It made for just one of many accomplishments Hinton garnered in his prep running career. He set what was at the time the Virginia state record of 4:07.6 at the Class AA State Championships in 1980 before eventually transitioning to the collegiate level competing for the University of Virginia. He remains one of the top 800m and 1,600m runners to ever compete at the high school level in the state of Virginia.
But Hinton's career extended long past his AAU days and his record-setting performance in 1980. As a master's competitor, Hinton has set numerous age group world records at the same distance he excelled in at the AAU level decades ago -- the 1,500m.
17-18YO WOMEN'S 3,000M -- 9:39.7h
In a tight race that came down to the final meters, Marini edged out Ericson, Nebraska native Karlene Erickson to take both the Junior Olympic title and meet record.
Just fractions of a second separated the two high school seniors. Marini's 9:39.7h barely beat out Erickson's mark of 9:40.49 for the silver.
As a prep athlete, Marini competed for Padua Academy in Delaware, where she was a 3,000m state record holder and seven-time state champion across the 800m and 1,500m events. She would go on to compete for the University of Florida before later transferring to James Madison University, where she still holds school records in the 3,000m and two mile.
14YO BOYS HIGH JUMP -- 6-04
Mark Trujillo
(Reno, NV)
Trujillo's 6-4 high jump clearance remains a dominant meet record that no other competitor has come close to surpassing yet in the decades since.
At the middle school level, only a handful of AAU athletes have ever cleared a bar set at 6-0 or higher.
It marked the start of a successful jumps career for Trujillo highlighted by steady improvement with each passing year. He would go on to set various Nevada state and regional records for the 4A classification in the event.
17-18YO WOMEN'S HIGH JUMP -- 6-0
Susan Lind
(Albion, NE)
Six girls cleared the bar set at 5-9, but it was only Lind who moved on to reach a winning high jump clearance of 6-0 at the Junior Olympics in 1980.
Lind became a standard setter of sorts for the high jump by reaching the 6-foot mark as a top junior competitor in the country at the time. She also made history in Nebraska as the first athlete to win state titles in the same event each of her four years of high school, doing so in her premiere high jump event.
14YO BOYS SHOT PUT -- 60-05
Eclipsing the 60-foot mark as a 14-year-old made for a stunning performance at the 1980 AAU Junior Olympic Games and Campbell a name to remember going forward.
Campbell's national meet record marked just the beginning for his stellar youth career.
He remains one of just a handful of high schoolers to ever break the 70-foot barrier in the shot put. Campbell went on to set national age group records as a 14-, 15- and 16-year-old, improving his shot put best of 60-3 to 71-10.75 over the course of three years.