Highlighting the nastiest kicks of the track season every week!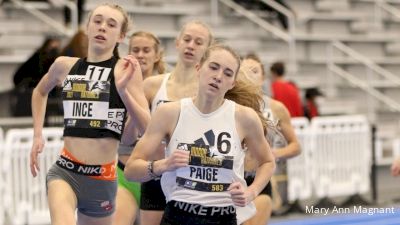 KICK OF THE WEEK: Freshman Upset At Indoor Nationals
Mar 2, 2021
Freshman Allison Ince of Bloomington Normal Community (IL) ran a time of 4:50.54 in the mile on Sunday at adidas Indoor Nationals, and then about an hour later ran in the championship final in the girls 800m.
Coming from behind in the half-mile, Ince surged to the front to grab her second victory of the day in 2:09.42. Her performance ranks US No. 5 all-time for the freshman class and US No. 7 this year.
She edged out seniors Makayla Paige and Jessica Edwards, who finished in 2:10.86 and 2:11.59, respectively.