Highlighting the nastiest kicks of the track season every week!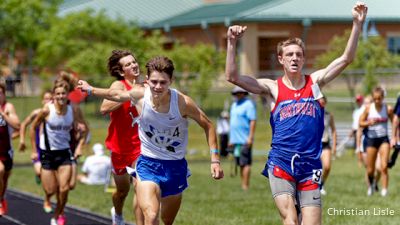 Premature Celebration Disaster
Jun 8, 2021
With 400m to go in the 1600m at the OHSAA Division II State Track and Field Championship, there was a pack of five guys all vying for the title. McDermott Northwest High School's (OH) Landen Smith made a push to take the lead.
At 200m to go, Smith had built a sizeable gap from the rest of the field. Even with 100m to go it looked like Smith would take home the gold. Then with 90 meters to go Cuyahoga Valley Christian Academy's (OH) Drennan Akins turned on the afterburners and took it to the next level
Smith, who thought he had won, started to celebrate a few steps before the line while Akins was barreling down the track behind him. Akins dipped like a sprinter at the line and would finish just a hair ahead of smith in 4:19.72. Smith would place second in 4:19.75.