M 3k steeple (Invite- Jager Debut BOMB, 2012 Mt SAC Relays)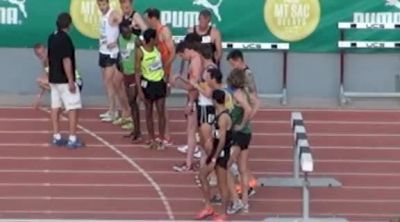 Watch the 2017 Mt. SAC Relays presented by Brooks, LIVE on April 13-15th!


How To Watch The 2017 Mt. SAC Relays
ON TV:
Now available on Roku and Apple TV 4 -- download the FloSports app today!
STREAMING
: Available only on FloTrack.
SIGN UP HERE
A yearly FloPRO subscription provides access to ALL FloSports sites.
LIVE EVENT SCHEDULE | ORIGINAL DOCUMENTARIES | WORLD CLASS TRAINING VIDEOS
Join The Conversation On Social
• Follow us on Twitter
@FloTrack
• Follow us on Instagram
@FloTrack_TrackIsBack
• Follow us on
Facebook



Archived Competition Footage
Video footage from the competition will be archived and stored in a video library for FloPRO subscribers to watch for the duration of their subscription.
---

MARCH 29th, 2017:
With news that
Boise State All-American Allie Ostrander is set to make her steeplechase debut
at the 2017 Stanford Invitational, it seemed only fitting to relive another steeplechase debut...
---
Evan Jager surprises many in his steeple debut as he beat the best steepler in the US, hit the Olympic B standard and broke a 19 year old Mt. SAC record with his mark of 8:26.14!
Event 119 Men 3000 Meter Steeplechase Invite Elite

====================================================
World Record: 7:53.63 // 2004 Saif Shaheen, Qatar
American Record: 8:08.82 // 2006 Daniel Lincoln, Nike
Meet Record: 8:26.6h 1993 Marc Davis, Footlocker
====================================================

Finals
1 Jager, Evan Oregon Track Club 8:26.14$
2 Pena, Jose Venezuela 8:30.01
3 Huling, Dan Reebok 8:33.03
4 Nowitzke, Corey Unattached 8:35.79
5 Winter, Chris Speed River TFC 8:36.04
6 Weese, Lyle Unattached 8:40.53
7 Heath, Kyle U.S. Army 8:42.56
8 Maiyo, Augustus WC Athlete Prog 8:43.83
9 Dentamo, Adu Brooks Team Indi 8:44.13
10 Bor, Hillary Unattached 8:44.34
11 Fife, Jordan Brooks Team Indi 8:47.80
12 Tyner, Justin U.S. Air Force 8:50.22
13 Magidi, Itay Nike Oregon Project 8:50.93
14 Kloos, Thomas adidas/BATC 8:59.78
15 Ricardi, John Club Northwest 9:01.76

Trailer for our two-part series on Evan Jager: WATCH EPISODE 1 | WATCH EPISODE 2