Katelyn Tuohy after breaking national 5K record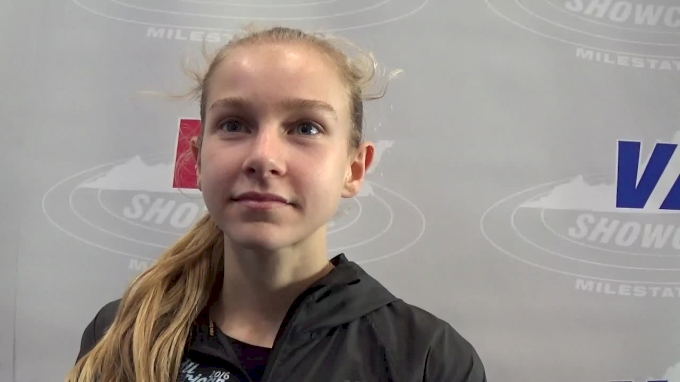 Create a free account to unlock this video!
Get Started
Already a subscriber? Log In
By Jim McGrath
In her first indoor 5,000-meter competition ever, North Rockland (NY) sophomore Katelyn Tuohy broke the American high school record with a well-paced time of 15:37.12, a mark that smashed the previous national HS mark of 15:55.75, set by Colorado's Brie Oakley at the Armory Track in New York last March.
But before she would allow herself to celebrate, there was some business to tend to.
"I need to go cool down," she told a photographer who wanted to get her picture in front of the race clock.
For Tuohy, common sense accounts for a great deal of her race preparation. She possesses the ability to compartmentalize situations that would turn into problems for others – a rare quality for an athlete of any age, much less a 10thgrader.
After "about a 20-minute" cooldown run, Tuohy was ready to describe her accomplishment.
"I went out a little fast and paid for it at the end," said Tuohy, who had never run a 5,000-meter race indoors before Saturday. "But, no risk, no reward."
"Actually, she was super consistent," added her coach Brian Diglio. "Since this her first time running this event on the track, our only plan was for her to be consistent through the first 4,000. And lap after lap, she didn't get more than a second or two off-pace."
In fact, after a 72-second opening 400, Tuohy split 4:54 for 1600 meters, 9:54 at the 3200, and 15:00 for 4800, before closing with a lap of 36.68. Making the effort more impressive is that Tuohy had to run the race unchallenged and alone, with the second-place finisher (sophomore Kaitlynn Wolfe of Virginia's Blacksburg HS) over two minutes behind in a normally impressive time of17:46.
Calling the track race "a different animal," from cross-country, there was no question that this record-breaking attempt was new for both coach and athlete.
Asked if her training regimen changed for Saturday's race, Tuohy, was matter-of-fact with her answer.
"I'm not doing anything different than from cross-country. The race is the same distance, 5,000 (meters), so we're running the same workouts."
However, illuminating a point shared by many coaches on the East coast, the elements can present a problem.
"I don't focus much on indoor track. For us, it's a chance to recover from cross-country and maybe add a bit of speed (work) at the end. But the plans get changed with all the snow and cold, and especially with an athlete the caliber of Katelyn, we have to be cautious."
However, with the help of Milestat.com webmaster Nolan Jez, a plan was hatched last December. Jez, who unsuccessfully tried to lure the North Rockland girls distance medley to his inaugural Showcase meet last year, "started up again," according to Diglio, who was happy that he brought the Black Panther team down from Westchester County.
"This is a good meet, the facility, first class, and everyone has been super helpful."
There is no plan for Tuohy to make another attempt at the record anytime soon, as she will gear up for a mile run at the Millrose Games (she ran a best of4:43in the Millrose trials as a freshman), and then "help my team get some points" at the sectional and New York state meets. Tuohy does have one more goal for the season.
"I'd like to go sub-4:40 at Millrose," and with Saturday's record-breaking run, it appears that the 10thgrader can accomplish anything she puts her mind to doing.