LIVE Houston 2012 Olympic Marathon Trials
Women's Mile by Mile Race Updates


Mile 1
Split: 6:11
Pace: 2:42:07
Leader: Camile Herron
Alex getting ready in the half tights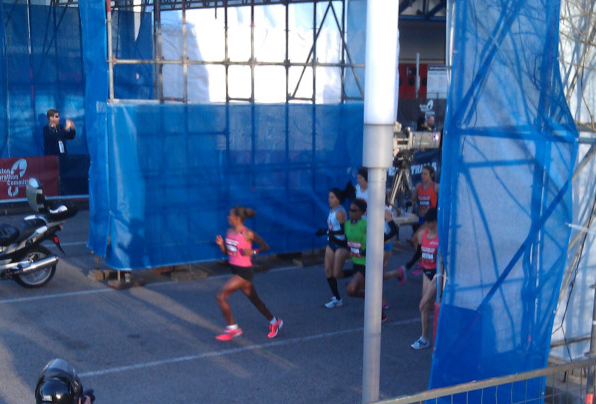 Women's race is out much slower than the men's race and none of the favorites leading. A completely different start to two wars!!
---
Mile 2
Split: 5:49 (12:00)
Pace: 2:37:18
Leader: Desi Davila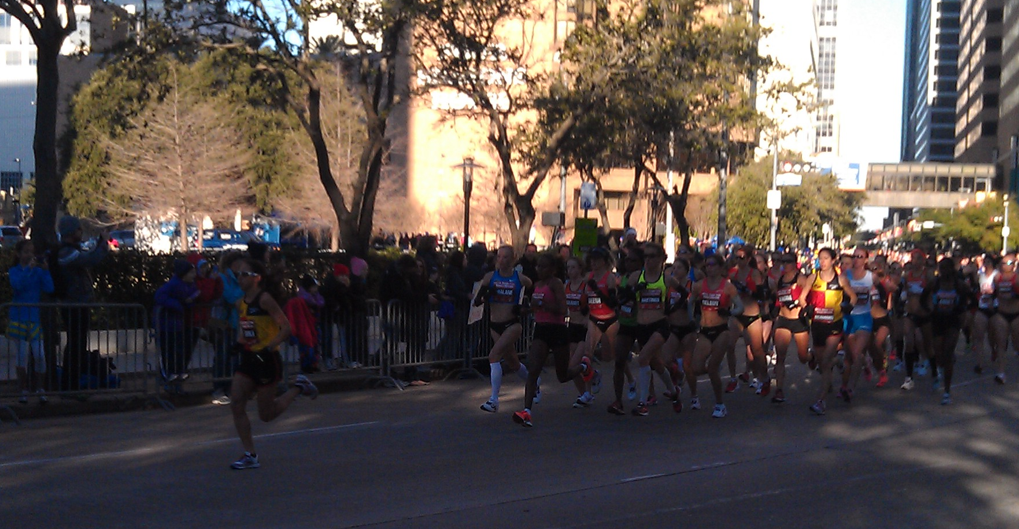 Desi has taken the lead but its a huge pack of women behind her, including her college teammate Amy Hastings. 22 second drop from mile 1 to 2.
---
Mile 3
Split: 5:34 (17:34 3m, 18:07 5k)
Pace: 2:33:22
Leader: Desi Davila
Desi continues to drop the pace as she begins to run "her race". However all the favorites are in the mix, about 12....all the names you'd expect.
---
Mile 4
Split: 5:30 (23:04)
Pace: 2:31:11
Leader: Desi Davila

pack is starting to break a little bit. Desi still leads with shalane in second next to hastings. deena in the group as well, the vet is rolling with the up and comers. kara in fourth and janet cherobon-bawcom looks like she might be starting to fade a little.

---
Mile 5
Split: 5:22 (28:26)
Pace:
Leader: Desi
There is a sick lead pack with 9 in it. Desi leads but barely. Others: Shalane, Deena, Serena Burla, Hastings, McMregor, Adriana, Kara and Janet
---
Mile 6
Split: 5:44 (34:10 6m, 35:23 10k)
Pace:
Leader: Desi Davila

No major changes from mile 5, still 9 ladies in a tight group.

---
Mile 7
Split: 5:40 (39:50)
Pace:
Leader: Desi Davila
The pack is together but looks like things could start stringing out. the pace as slowed a little since the 5:22. Desi looking strong and confident, Shalane just lurking over her shoudler.
---
Mile 8
Split: 5:22 (45:12)
Pace:
Leader: Serena Burla

Serena Burla took a little and a little surge around a fueling station. The cancer survivor is strong and she'll have to be with the field behind her. Still a big group.
---
Mile 9
Split: 5:42 (50:54)
Pace:
Leader: Amy Hastings
Hastings has been there the whole time and has now taken her share of leading. Pack still there and no one really looking in trouble yet. Hastings and Desi actually starting to talk and smile at 12.5
---
Mile 10
Split: 5:37 (56:31)
Pace:
Leader: Desi

Desi regains a slight lead right next to shalane. still smooth but the pace just dropped slightly, could it be a forshadowing a upcoming trends??
Desi killed 5x2 Miles 6 weeks ago average under 10:20 per interval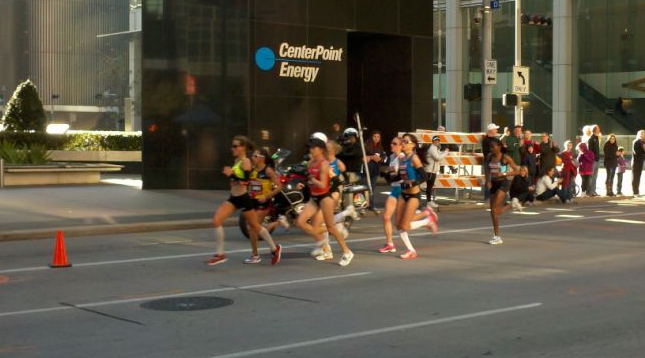 ---
Mile 11
Split: 5:35 (1:02:06)
Pace: 2:28:09
Leader: Desi Davila
Leaders remain but now starting to fade are Janet Cherobon-Bawcom and Katie McGregor starting to lose a few steps off the pack. Desi-Shalane-Kara-Deena-Serena-Hastings is the order
---
Mile 12
Split: 5:32 (1:07:38)
Pace:
Leader: Desi Davila/Shalane Flanagan

Katie McGregor has faded hard off the group. Janet is still off the leaders a little and Amy Hasting now fading a little bit. Shalane, Desi, Kara are the clear three leading. Deena in fourth a few steps off.

20k split is 1:10:02
---
Mile 13
Split: 5:25 (1:13:03, Half Marathon 1:13:30)
Pace: 2:27:00
Leader: Desi Davila
Desi now leads a dwindling pack, however Hastings has fought back to the front. Four remain, Desi-Shalane-Kara-Hastings
---
Mile 14
Split: 5:33 (1:18:36)
Pace:
Leader: Desi

No major reports, still four with each other. Wind reported to be picking up

---
Mile 15
Split: 5:31 (1:24:12)
Pace:
Leader: Desi Davila
Four looking strong, these ladies are no joke. Crazy to think someone's gonna be off this team!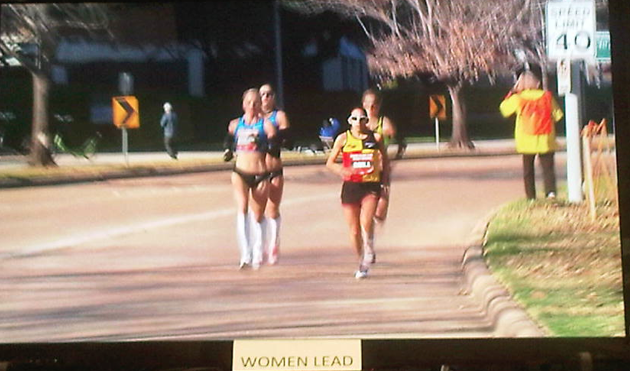 ---
Mile 16
Split: 5:20 (1:29:32)
Pace:
Leader: Desi Davila

And then there were 3. Kara, Shalane, Desi. Hastings only about 2 seconds back so there's a chance but man its going to be tough! 30 seconds behind Hastings you have Deena and Janet BC.

---
Mile 17
Split: 5:28 (1:35:01)
Pace:
Leader: Amy Hastings
Can you say foot in mouth....maybe spoke to soon. Amy Hastings hammers to the lead and makes a statement. She did this on the track this summer many times in the 5k. Sometimes she went to soon, lets hope today she timed it right!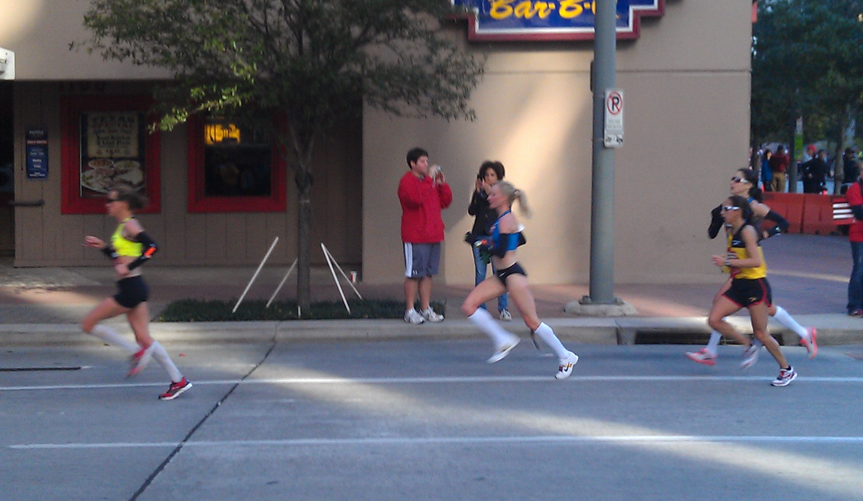 ---
Mile 18
Split: 5:25 (1:40:26m, 30k 1:43:54)
Pace:
Leader: Desi Davila

Desi now back in front with the four ladies still right there. Everyone looks surprisingly smooth for this late in the race.

---
Mile 19
Split: 5:32 (1:45:29)
Pace:
Leader: Shalane Flanagan
Shalane had a slight lead for a moment and is now side by side with Desi. Kara Goucher has not lead a step of this race but has been tucked in the whole way just being patient. She said she was going to be conservative in her approach and she had stuck to her word. Hastings is now falling back again.
---
Mile 20
Split: 5:33 (1:51:33)
Pace:
Leader: Desi Davila

"It's not how fast you are, it is how fast you are after 20 miles" - Desi
---
Mile 21
Split:5:25
Pace:
Leader:Desi
Desi is battling Shalane for the Lead. Shalane will not go away.
---
Mile 22
Split:5:21
Pace:2:26
Leader:Desi


Mile 22 more of the same, but Shalane now takes the Llead and Desi is faltering. Will this be a repeat of Boston for Desi?
---
Mile 23
Split:
Pace:
Leader:
Mile 23 Desi got back up with Shalane and Kara is moving stong from the BACK! Kara is going to pass them!
---
Mile 24
Split:5:24 (2:13:23)
Pace:
Leader:Shalane

They have not been goiving us paces here since the men won. Shalane adn Desi have been battling for the last 5 miles trading punches. It has been great! Kara made a move for the lead but Shalane and Desi countered and now Kara is back 15 mteres.

Desi looks smooth, but so does Shalane.


---
Mile 25
Split:
Pace:
Leader:
Shalane looks to be dropping Desi for the final time and I do not think Desi will respond. Desi looked at her watch at 25 miles but is looking weak, she is starting think 2nd is not that bad, but Kara is eying second so she has to respond.
Shalane has about a 15 meter lead enetering downtown!
---
Mile 26
Split:
Pace:
Leader:

SHALANE WILL WIN THE TRIALS!

Desi and Kara are battling for third place with Amy Hastings barely in site. The team will be Shalane, Desi, and Kara unless something crazy happens!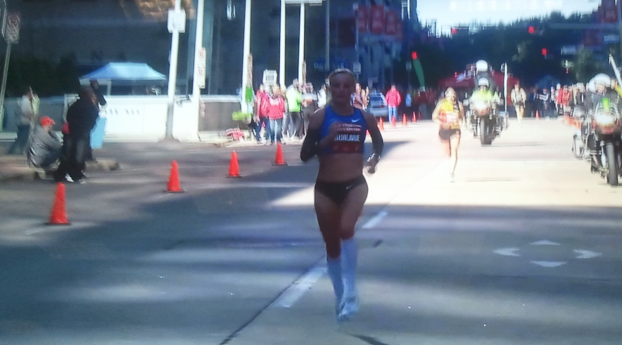 AMY Hastings gets 4th
---
FINAL NOTES:

The last couple miles were a blood bath between Shalane, Desi and Kara with Shalane doing most of the damage with move after move. Desi tried to respond and Kara gave it one effort but by Mile 25 Desi and kara were done, and they started thinking top 3 is pretty damn good!

Amy was a little over a min back and will finish 4th, just off the team

Stay tuned for interviews

WOMEN'S RESULTS
Men's Race Updates
Houston Video Coverage
More notes here
Updated on May 22, 2013, 6:13am