2023 Millrose Games
Oliver Hoare, Yared Nuguse Hope For Fast Wanamaker Mile
Oliver Hoare, Yared Nuguse Hope For Fast Wanamaker Mile
The men's Wanamaker Mile is shaping up to be one of the quickest in the history of the Millrose Games.
Feb 10, 2023
by David Monti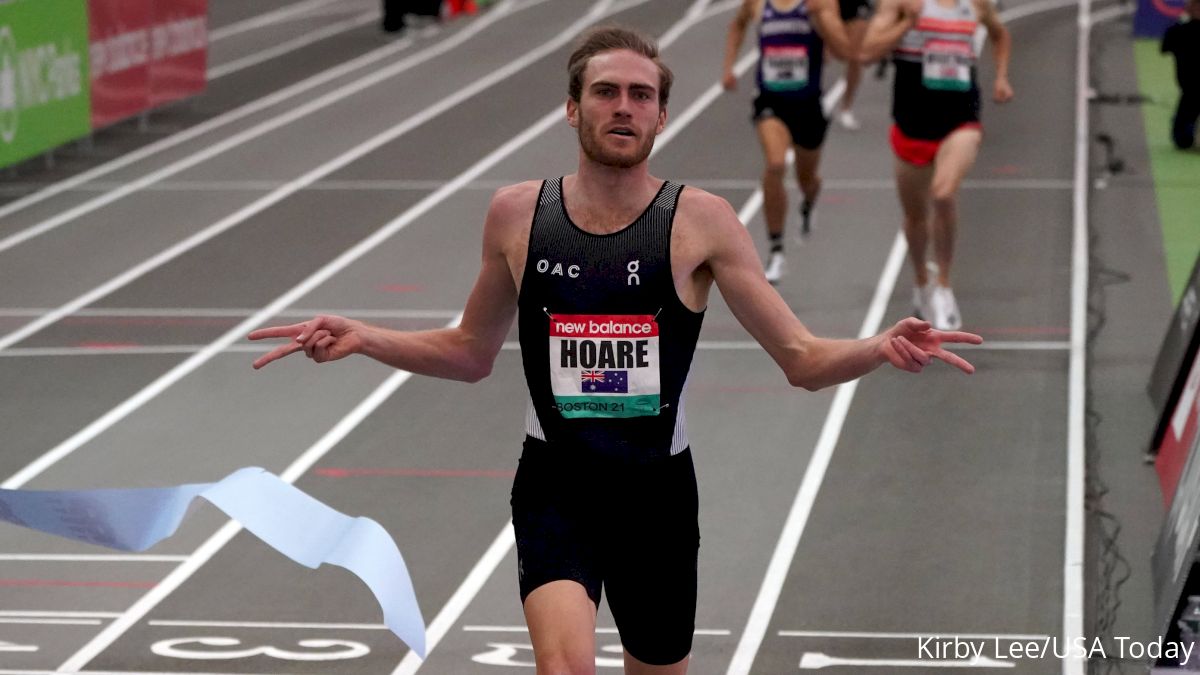 Only seven men have run sub-3:50 for the mile indoors, and it's only happened once at the Millrose Games when Ethiopia's Yomif Kejelcha ran 3:48.46 in the 2019 Wanamaker Mile, the #3 mark in history. But Oliver Hoare and Yared Nuguse of the Boulder-based On Athletics Club, coached by Dathan Ritzenhein, hope to change that at tomorrow's 115th edition of the world's oldest indoor track meet. Meet director Ray Flynn has asked pacemaker Erik Sowinski to take the field through halfway in an aggressive 1:53.0, hopefully launching the winner to a sub-3:50 time.
"I'd say the expectation is, definitely, get under that and just run a really fast race overall," Nuguse told reporters at a press conference yesterday. "I'd say Ollie would say the same thing. We're both here to win the race regardless of what happens. We're great teammates and good friends."
Nuguse, 23, who lowered the American 3000m indoor record to 7:28.24 just two weeks ago in Boston, has a personal best of 3:53.34, while his best indoor time is 3:54.46, albeit on an over-sized track. He passed through the one-mile point in the Boston 3000-meter race in about four minutes flat, so going sub-3:50 is definitely within his grasp.
For Hoare, 26, the race's defending champion who also won the Commonwealth Games 1500m title last summer for his native Australia, going sub-3:50 indoors is the next logical step in his career. He's already accomplished the feat outdoors (he ran a blistering 3:47.48 in the Dream Mile in Oslo last June), and when he won the Wanamaker one year ago he clocked 3:50.83 off of the pacemaker's halfway split of 1:54.6. Like Nuguse, he's keen to run fast but also wants to win again.
"Obviously, we're here in New York to run fast," said Hoare, who will head directly to Australia after the meet so he can be ready to compete in the World Athletics Cross Country Championships in Bathurst, New South Wales, next Saturday where he'll run in the mixed 4 x 2000m relay. "Yared just talked about how we're going to try to run extremely fast in that mile. Just really excited to be able to have that turnaround (before Bathurst). Very, very focused on Millrose and defending my title."
Nuguse and Hoare are just two of four On Athletics Club athletes entered in this year's Wanamaker which is being sponsored by the Rudin family. Spaniard Mario Garcia Romo, who finished fourth in the 1500m at the World Athletics Championships last summer, and Irishman Luke McCann, who has an indoor mile personal best of 3:53.87, are also in the field. American Joe Klecker, New Zealander Geordie Beamish, and Swiss Jonas Raess, three other club members, train with the four milers and are competing in the 3000m at Millrose. Besides the Nike-sponsored Bowerman Track Club, no other training group in the United States has so many high-level high-level middle-distance athletes training together. That's a potent formula for success.
"It's been a privilege to be able to train with Yared," Hoare said. "And that's the problem with training with him; he does look so good all the time. You just really worry that, like, he's never going to feel bad. We're very excited to go in and give it our best shot."
The Wanamaker Mile --named after Rodman Wanamaker who ran the John Wanamaker department store at the time the race was founded in 1926-- had never been won by an Australian until Hoare did it in 2022. Yesterday, he seemed completely at ease with coming into the meet as the race's defending champion.
"Everyone's watching at home now, so they're paying attention which is not great if you don't do very well, is it," Hoare said with a laugh. "But no, in general I'm pretty excited. It's always a pleasure to run indoors and in New York. When I was in college at Wisconsin I was able to run here at Millrose."
Hoare was seventh in 2019 and second in 2020 for Wisconsin before turning pro.
Unlike most American milers, Hoare had no experience with indoor running until he enrolled in college in 2017.
"You don't get to do that in Australia," he deadpanned. "We don't have any indoor tracks; we don't need them. It's always warm."