2023 Penn Relays presented by Toyota
Five Men's College Events To Watch At The 2023 Penn Relays
Five Men's College Events To Watch At The 2023 Penn Relays
Breaking down five events to watch in the college men's competition at the 2023 Penn Relays.
Apr 25, 2023
by Kevin Sully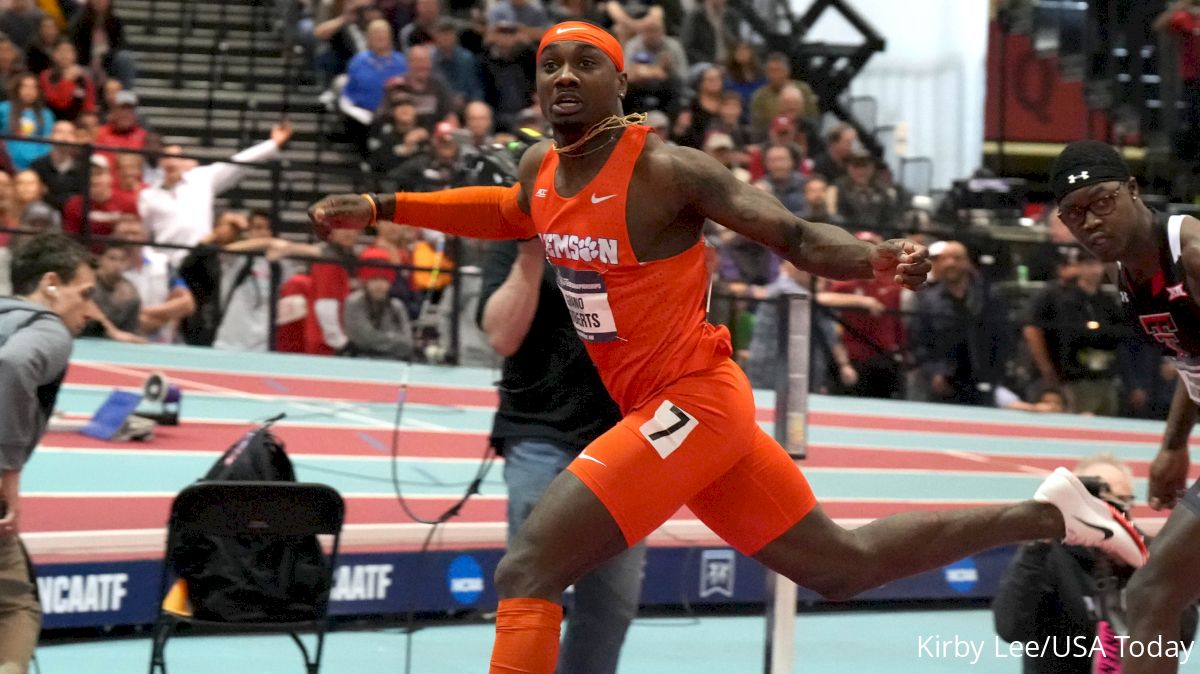 The men's collegiate competition at the Penn Relays is bringing together some of the nation's best teams with compelling narratives across distances. Sprint powers like Houston, Texas A&M and Auburn will look to claim a wheel (or two, or three) in the short events. Meanwhile, there's potential for history on the distance side as Washington, Iowa State and Oklahoma State have the chance to rewrite records in the 4xmile and 4x800m.
Watch the 2023 Penn Relays Live On FloTrack
In addition to the relays, there's a NCAA Championship preview in the 110m hurdles, an intriguing race in the 400m hurdles and so much more. Here are five men's college events to watch at the Penn Relays.
For coverage of the high school races at the 2023 Penn Relays, check out Milesplit.
Men's 4x100m Championship of America: Heats—Friday, 1:15 PM; Championship—Saturday 1:15 PM
Track fans from the '80s and 90s will be familiar with the Carl Lewis and Leroy Burrell rivalry. The two both attended the University of Houston and then became rivals, trading off ownership of the world record in the 100m.
They crossed paths again as coaches. In 2013, Lewis served as a volunteer coach on Burrell's staff at Houston. By 2014, he officially became a full-time coach with the Cougars. The two had great success and developed one of the best sprint programs in the nation. Last year, Burrell moved to Auburn, while Lewis stayed at Houston.
At the Penn Relays, their men's teams will meet at Franklin Field in the 4x100m and 4x400m (their women's teams are also set to square off). The Houston men's 4x100m currently ranks seventh in the nation with a mark of 39.00 and have intentions of going much quicker. Meanwhile, the Tigers have only run 40.60 this season, but should be much improved this weekend at Penn.
Men's 4x800m Championship of America: Saturday 3:06 PM
The NCAA men's 4x800m all-time list isn't common knowledge for most followers of the sport, but keep this number in your head for Saturday—7:08.96. That's the mark that Arizona State ran in 1984 that still stands as the NCAA record. There's a chance that mark could be broken.
Iowa State is the best candidate of putting together the average time needed of 1:47.2 to better Arizona State's 39-year-old record. Ole Miss also has the potential to get it done. Their freshman star Cade Flatt ran his personal best (1:46.48) at Franklin Field last June.
And then there's Washington. They are more known for their exploits in the mile but with the depth that the Huskies can offer they are certainly a threat for a victory, and a fast time. Traditional power Penn State can't be discounted, nor should Oklahoma State who is coming off a victory in the distance medley relay at the NCAA Indoor Championships.
Men's 4xMile Championship of America: Saturday, 1:20 PM
Washington will make the cross country trip with their fleet of exceptional milers to try an convert their unparalleled mid-distance depth into a Penn Relays wheel.
The Huskies have the reigning indoor mile and outdoor 1500m champion on their team (it's two different people!). They qualified four athletes to the final of the mile at the NCAA Indoor Championships and they placed 1-4-5-8. They have seven men who have run 3:55 or faster for the mile.
All of those accomplishments raise two questions: How fast can they run and who will they choose for the four spots on the relay?
Some historical context:
The Penn Relays record is 16:04.54 by Michigan. The NCAA record belongs to Oregon with a 16:03.24. The world record is Ireland's at 15:49.08.
Assuming good weather and a solid commitment to fast running, all of those are possible.
But it's the 4 x mile, which has enough tactical racing and mid-race slowdowns that you can't just assume this is going to be 16 laps and change of all gas. Which brings us to the issue of who will run. It's important to note that for world record purposes all of the relay team members need to be from the same country (World Athletics rules). Joe Waskom, Luke Houser, Sam Ellis, Nathan Green and Aidan Ryan are all American. Brian Fay is Irish and Aaron Ahl is Canadian. I'm not sure if that will factor into coach Andy Powell's decision of who runs. With a group this deep, you can't really go wrong.
In terms of pace, there's other teams that have the capability of moving it along. Oklahoma State is coming off of the DMR title indoors and could run Fouad Messaoudi. Messaoudi took Cooper Teare to the line in the 1500m at Bryan Clay and was the NCAA indoor champion in the 3000m.
The overall depth of men's distance running in the NCAA means that there's multiple teams capable of sub-16 minutes. After Washington and Oklahoma State, look for Virginia, Georgetown and Wisconsin to put together solid squads that can string together multiple legs of under four minutes.
Men's 110m Hurdles: Heats—Friday, 3:20 PM; Championship—Saturday, 2:11 PM
Relays will get most of the attention, but this race is stacked. Over half of the field at the NCAA finals could come from this race. Dylan Beard of Howard is second on the 2023 performance list with a time of 13.29. Deion Wilson of Houston is sixth (13.41), Giano Roberts of Clemson is tied for seventh (13.43), Syracuse's Jaheem Hayles is 10th (13.49), Connor Schulman of Texas A&M is tied for 14th (13.54) and Filip Demsar of South Carolina is 18th (13.57).
This doesn't include Kentre Patterson who was sixth at the NCAA Outdoor Championships and has a personal best of 13.39. The favorite is Roberts. He won the NCAA indoor title in the 60m hurdles and was fourth outdoors last year.
Men's 400m Hurdles: Thursday, 5:20 PM
Let's keep the hurdles going. The men's race is also stacked. There are four men currently in the NCAA top 20 schedule to run. Moitalel Mpoke (Auburn), Bryce McCray (Texas A&M), Rayan Holmes (Liberty) and Wellington Ventura (UConn)
James Smith II has run a top mark yet, but has a personal best of 49.38 and placed eighth at the NCAA Outdoor Championships.
Mpoke should be considered the favorite. The Texas A&M transfer has a lifetime best of 48.70 and was the SEC champion in 2022. He also competed at the 2022 World Athletics Championships for Kenya. His season best of 49.61 makes him the sixth fastest NCAA runner this season.