2023 Penn Relays presented by Toyota
Five Women's College Events To Watch At The 2023 Penn Relays
Five Women's College Events To Watch At The 2023 Penn Relays
The women's collegiate competition at the Penn Relays is filled with great races. Here's five of the best.
Apr 26, 2023
by Kevin Sully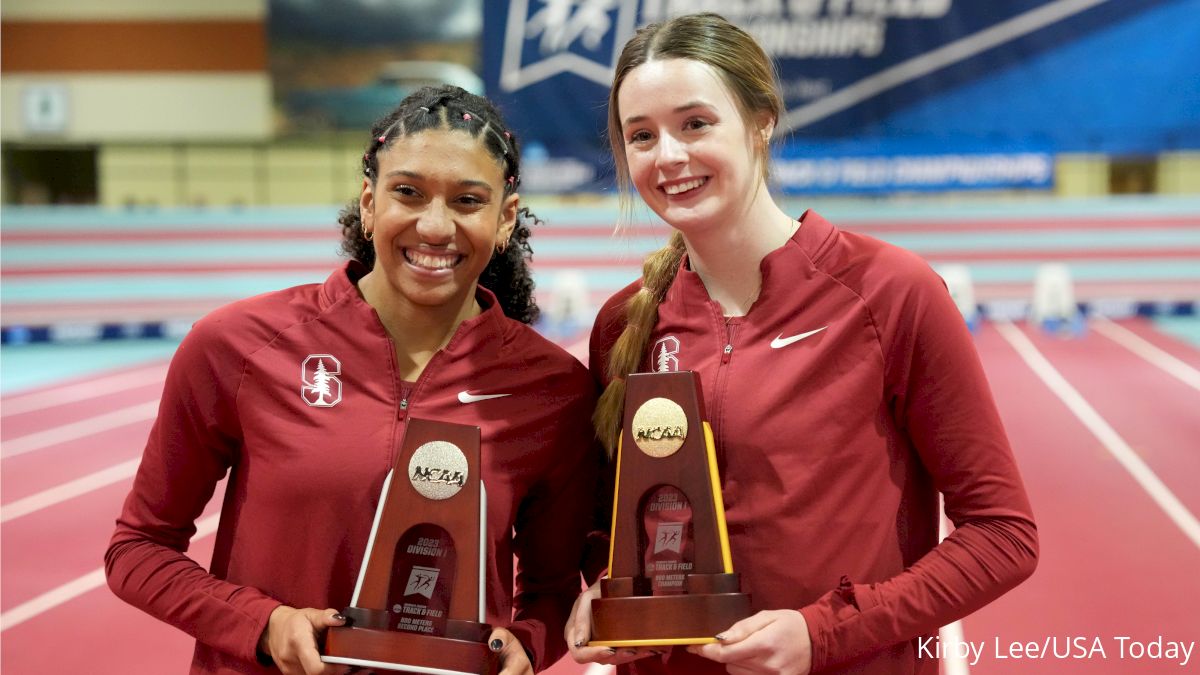 A potential NCAA record, power programs facing off in the sprints and a scintillating showdown in the high hurdles. The collegiate women's events at the 2023 Penn Relays will be must-watch. Here's a list of just five events that stand out.
Watch the 2023 Penn Relays Live On FloTrack
For coverage of the high school races at the 2023 Penn Relays, check out Milesplit.
Women's 4x100m Championship of America: Heat— Friday, 12:45 PM; Championship—Saturday, 1:10 PM
South Carolin almost ran the table at last year's Penn Relays in the women's sprint events. The Gamecocks won the women's 4x100m, 4x200 and 4x400m to take three wheels back to Columbia. They return in 2023 and will try to do it again. Their best competition will come from perennial sprint power Texas A&M and Clemson. Texas A&M is traditionally very strong in both short and long sprints and has deep winning roots at the Penn Relays.
Women's 4x1500m Championship of America: Saturday, 12:15 PM
Expect some high powered distance action in this race featuring teams with All-Americans and exceptional depth. Last year's race was an instant classic with North Carolina State and Arkansas going to the wire in a historically fast time. Arkansas got the victory and smashed the NCAA record in the process. That race set the bar extremely high for this event and also made the prospect of a NCAA record that much more difficult.
This year's edition is harder to forecast. Last year, most thought it would be between NC State and Arkansas the only question was the eventual winner and the time. In 2023, a more balanced field will come to Franklin Field led by Oklahoma State, Notre Dame, New Mexico and Washington. Notre Dame placed third at the distance medley relay at the NCAA Indoor Championships and will be led by Olivia Markezich, runner-up in the indoor 3000m. In that same DMR, Oklahoma State took sixth. Taylor Roe will keep Oklahoma State in the mix. She finished one place behind Markezich in the 3000m and was the champion in 2022 in the 3000m at the NCAA Indoor Championships.
And if we are talking DMR accolades, you have to include Washington. The Huskies broke the NCAA record in the event during the indoor season.
But with all those DMR stats it's easy to forget that this is a 4x1500m—800m legs aren't as relevant here. Enter New Mexico, who finished second at the NCAA Cross Country Championships and typically has a deep bench.
Outside of those four, look out for Virginia, Providence, Ole Miss and Wisconsin.
Women's Distance Medley Relay Championship of America: Friday, 1:50 PM
We could be on record watch during this event. Stanford was only three seconds off Washington's record of 10:46.62 during the indoor season and could be bringing their same quartet of Melissa Tanaka, Maya Valmon, Roisin Willis, Juliette Whittaker that won the NCAA indoor title. Freshman stars Willis and Whittaker went 1-2 in the 800m in that same meet and have versatility to thrive at other distances.
In order to run their fastest, Stanford might need some company and there should be at least a couple teams who can push the Cardinal. Notre Dame, with the aforementioned Olivia Markezich; Oklahoma State, with Roe; and Georgetown (who placed fifth indoors). Duke was tenth indoors and can have a dangerous anchor leg if Amina Maatoug gets the assignment.
Women's 4x400m Relay: Heats—Friday, 3:45 PM; Championship—Saturday, 3:29 PM
Depending on what happens earlier in the meet, this event could be a coronation for one of the power programs in the meet. Three teams entered finished in the top eight at the NCAA Indoor Championships--Texas A&M, South Carolina and Clemson. Those three should be in the mix to win on Saturday and jumpstart their push to the NCAA Outdoor Championships.
Texas A&M should be considered the favorite. They have three women who qualified for the most recent NCAA Indoor Championships--Tierra Robinson-Jones, Jermaisha Arnold and Kennedy Wade
Women's 100m Hurdles: Heats—Friday, 3:00 PM; Championship—Saturday, 2:03 PM
Like the men's high hurdle race, this should be one of the top individual events of the entire meet. Paula Salmon (NC A&T), Destiny Huven (Wisconsin), Darci Khan (Howard), Jaiya Covington (Texas A&M) are all All-Americans, or All-American candidates. Shaneylix Davila (Central Florida) and her teammate Hannah Connell make this a well-rounded field.