2023 World Athletics Continental Tour: Yokohama
Fred Kerley Makes His 2023 100m Debut In Yokohama
Fred Kerley Makes His 2023 100m Debut In Yokohama
Fred Kerley, the reigning world champion, will run his first 100m race of the year on Sunday at the Yokohama Continental Tour.
May 19, 2023
by FloTrack Staff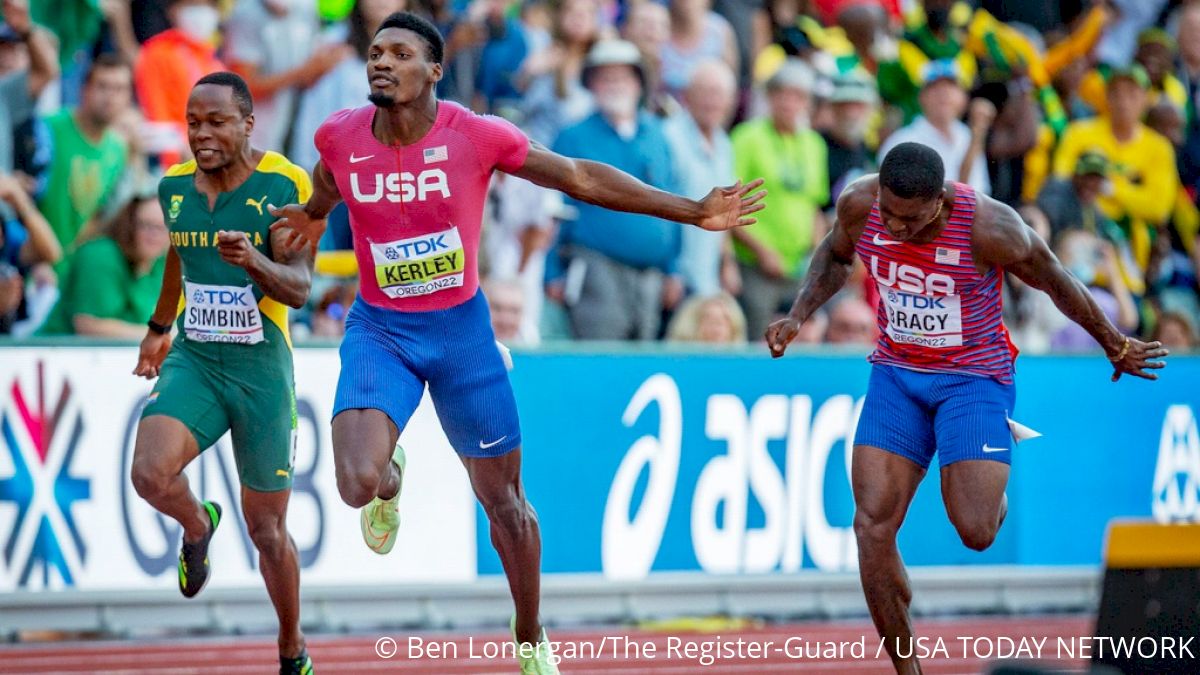 The Fred Kerley World Tour continues, this time with a stop in Japan. This will be the reigning world champion's first 100m race of the year and the highlight of the Yokohama Continental Tour on Sunday.
Kerley's season thus far has featured 200s and 400s, big celebrations and bigger wins.
Watch Continental Tour: Yokohama live on FloTrack
Winning is a expected here, there's only two men in the field who have run under 10 seconds, and neither has broken 9.98. This is Kerley vs. the clock. Despite the somewhat late debut to the 100m, Kerley has still maintained his status as top-ranked 100m man in the world. Some of the top contenders haven't debut yet either and others have run fast, but not fast enough to supplant Kerley. Ferdinand Omanyala came the closest last week in Nairobi. Omanyala ran 9.84 into a headwind and defeated Kenny Bednarek and Marvin Bracy-Williams.
Kerley will have plenty of time to issue a response (he has Diamond League races lined up in Rabat and Florence in the next few weeks) so there's no urgency in Yokohama to put up a scintillating time. But he will certainly aim to make a statement in some form or fashion on Sunday.
Steeplechase Showdown & Deep Men's High Jump
Also in Yokohama, there's a potential for a great race in the men's steeplechase. Amos Kirui is fresh off an 8:18.45 at altitude in Nairobi. With more oxygen at his disposal, can he challenge his personal best of 8:08.37?
He might need to run that quickly to get the win.
Ryuji Miura, just 21-years-old, holds the Japanese national record in the event with a time of 8:09.92. Miura was seventh at the Tokyo Olympics and fourth at the Diamond League final in Zurich. At that age he no doubt has medal aspirations for the upcoming global championships.
By season's end, this Kirui-Miura battle could end up featuring two of the best five steeplers in the world.
In the field events, Sanghyeok Woo has a season best of 2.33m and a lifetime best of 2.35m in the high jump. He was runner-up at the 2022 World Championships in Eugene and won the gold at the 2022 World Indoor Championships (the first gold for a South Korean athlete in any track and field event). Woo will get competition from a deep field. Joel Baden of Australia has jumped 2.33m, while Hamish Kerr of New Zealand finished third behind Woo at the World Indoor Championships last year. Kerr has a lifetime best of 2.31m
Other names and events to watch
-Jianan Wang of China is the reigning world champion in the men's long jump and has leapt 8.47 meters. Yuki Hashioka has jumped 8.36m.
-The women's 100m is headlined by Zoe Hobbs of New Zealand. Hobbs holds the Oceanian record in the event of 10.97 seconds.
-The women's 1500m features Japanese star Nozomi Tanaka. Tanaka was eighth at the Tokyo Olympics and has run 3:59. But the pace they are calling for isn't sub-four (2:10 through 800m), which could make this race wide open. Dani Jones of the United States has the next fastest PR.
-Kelsey-Lee Barber of Australia won the last two World championships as well as bronze in Tokyo and is the favorite in the women's javelin. Haruka Kitaguchi and Mackenzie Little make this a superb field.