2023 DI NCAA Outdoor Championships
Leo Neugebauer of Texas Leads Decathlon After Day 1 At NCAA Championships
Leo Neugebauer of Texas Leads Decathlon After Day 1 At NCAA Championships
Leo Neugebauer of Texas leads Kyle Garland of Georgia after the first five events in the decathlon at the NCAA Outdoor Championships.
Jun 8, 2023
by Joe Battaglia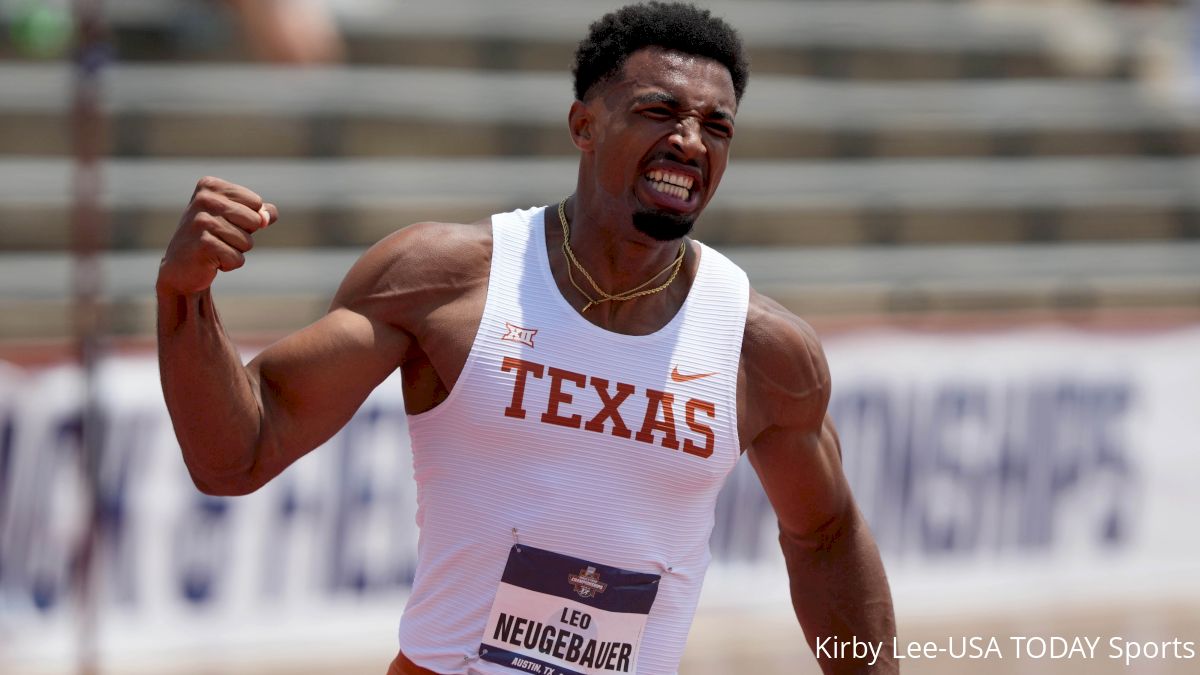 AUSTIN -- Leo Neugebauer of Texas won his heat of the 400m in a personal-best 47.08 to leapfrog Kyle Garland of Georgia back into the lead after Day 1 of the decathlon at the NCAA Outdoor Track & Field Championships at Mike A. Myers Stadium.
Neugebauer concluded the first five events with 4591 points and will carry a 21-point advantage over Garland into Day 2. Sophomore Till Steinforth of Nebraska sits in third place with 4291 points while Austin West of Iowa and Ariel Soto Torrado of Arkansas sit in fourth and fifth respectively, each with 4266 points.
"Being here and running almost 46 just means so much to me, especially because I've been putting a lot of hard work into running," Neugebauer said of his concluding 400m. "Then it finally pays off. It's just so relieving, especially because you die every single day. You don't get the results. It's really hard to keep going. Then finally seeing what I get from all this practice is so emotionally exhilarating."
Subscribe FloTrack For More NCAA Track and Field coverage
2023 NCAA Track & Field Championships Live Updates
Day 1 of the decathlon is complete ✅

NCAA Digital's @stan_becton caught up with the event's leaders, Leo Neugebauer (@TexasTFXC) and Kyle Garland (@UGATrack)🗣️#NCAATF pic.twitter.com/z4ndkk1QJV

— NCAA Track & Field (@NCAATrackField) June 8, 2023
Neugebauer got his competition off to a strong start, posting a personal-best of 10.61 in the 100m, the fastest time of the opening event, to earn 949 points. He then long jumped a season-best 7.68m/25-2.5 in the second round to push his two-event score to 1929.
Garland, last year's NCAA runner-up, opened the competition having maintained a second-place position with a victory in his heat of the opening 100m in 10.63 for 945 points, and a long jump mark of 7.72m/25-4 for 990 points. He then leapfrogged Neugebauer in the final round of the shot put with a toss of 16.39m/53.9.25 good for 875 points. The senior followed with a first-attempt clearance of 2.04m/6-8.25 for 840 points. He concluded his day with a personal-best finish in the 400m in 47.78, adding 920 points to his total.
Like Garland, Neugebauer cleared 2.04m/6-8.25 on his first attempt before missing three times at 2.07m/6-9.5. He took the early lead in the shot put, registering 16.27m/53-4.5 for 868 points on his opening throw.
Both Garland and Neugebauer are currently pacing ahead of the scoring totals from 2022's competition.
Day 1 of the Decathlon is complete ✅

Check out the current standings!

🔗https://t.co/KoQP60PSUZ#NCAATF pic.twitter.com/SPSjqgmraP

— NCAA Track & Field (@NCAATrackField) June 8, 2023
"This feels almost like a practice to me just because it's in my stadium and it's so familiar," Neugebauer said. "I think that's why I have a little advantage. I'm just taking all of that with me, and I'm trying to get more PRs tomorrow. So tonight, I'll take an ice bath and might do some TikToks. Who knows? Yeah, and then tomorrow morning, get back out on the track."
Steinforth slid from first to third place overall after managing just 725 points with his shot put throw of 13.94m/45-9, a position he held through the high jump, where he cleared 1.92m/6-3.5 for 731 points.
The sophomore, leapt out to 7.87m/25-10 on his first attempt in the long jump and never trailed that competition. His mark bettered his prior PR of 7.80m/25-7.25, earned 1027 points and pushed his two-event total to 1951 points. He had the seventh-fastest 100m time at 10.72, which was worth 924 points.
West made a surge up the standings with his heat victory in the 400m in 46.56, the fastest time of the three heats, picking up 980 points.
Soto Torrado had his best performance of the day in the long jump, where he registered the fourth-best mark at 7.66m/25-1.75 for 975 points.
Getting 𝒶𝒾𝓇

💻 ESPN+#NCAATF x 🎥 @RazorbackTF pic.twitter.com/oWBvWugKxk

— NCAA Track & Field (@NCAATrackField) June 7, 2023
Athletes will compete in five more events on the second day to conclude the competition. Things will resume Friday with the 110m hurdles.