2023 DI NCAA Outdoor Championships
Harvard's Kenneth Ikeji Wins Hammer On Final Throw At NCAA Championships
Harvard's Kenneth Ikeji Wins Hammer On Final Throw At NCAA Championships
Harvard sophomore Kenneth Ikeji won the men's hammer title with a personal-best final throw, setting a facility record at the NCAA Outdoor Championships.
Jun 7, 2023
by Joe Battaglia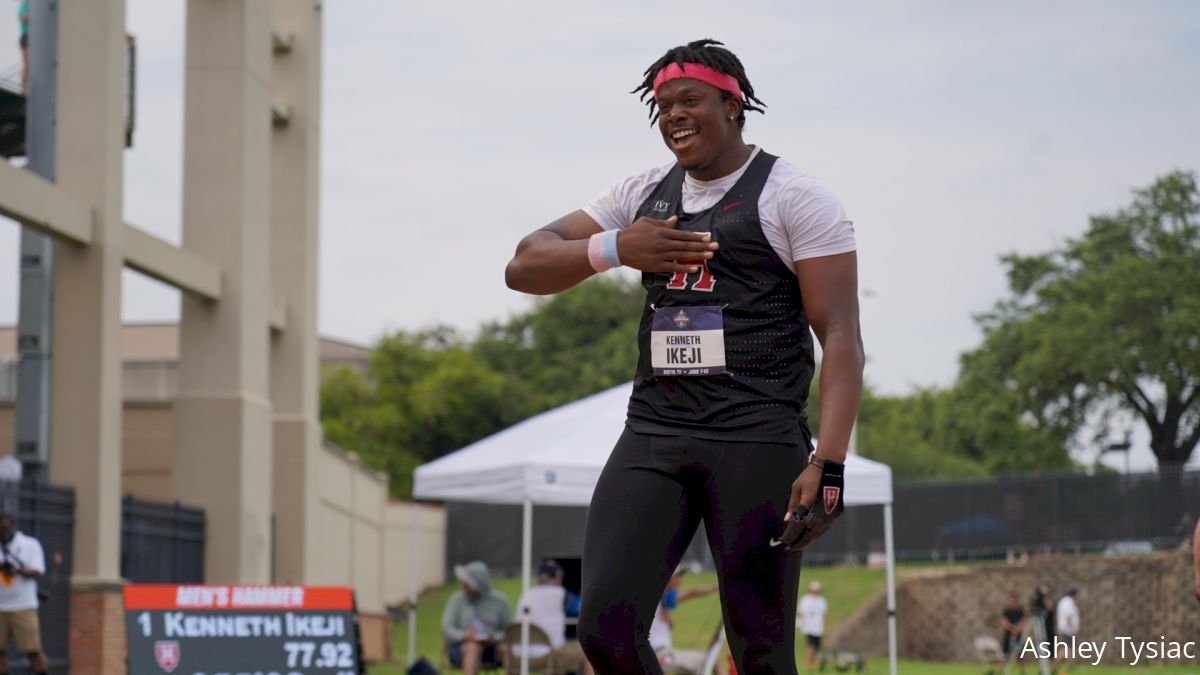 AUSTIN -- Harvard sophomore Kenneth Ikeji saved his best for last, unloading a personal-best throw of 77.92m/255-8 on his final throw to pull out the victory in a thrilling, see-saw men's hammer competition on Day One of the NCAA Outdoor Track & Field Championships at Mike A. Myers Stadium.
Ikeji sat in third place after the opening three rounds of the competition, carrying a 74.52m/244-6 mark into the finals. In the fourth round, he muscled a throw out to 75.97m/249-3. The throw equalled the leading mark at the time that Arizona senior Jordan Geist carried into the finals from the opening round, but a better-second mark (75.45m/247-6) put Ikeji in the lead on a tiebreaker.
The lead was short-lived as Minnesota junior Kostas Zaltos leapfrogged both Ikeji and Geist with a fifth-round throw of 76.33/250-5.
But Ikeji had one more Herculean effort in him in the last round, clinching the title while establishing a new collegiate leading mark and breaking the facility record of 77.12m/253-0 set by Canadian Ethan Katzberg of Kamloops TC at the Texas Relays in April.
"I visualized it so many times exactly how this happened," Ikaji said. "So, when I got to the last round, I was like now's the time. And you know, it came together. I still don't even have the words yet. Now's a good time to do it, so I'm just happy."
Subscribe FloTrack For More NCAA Track and Field coverage
2023 NCAA Track & Field Championships Live Updates
🏆𝐍𝐀𝐓𝐈𝐎𝐍𝐀𝐋 𝐂𝐇𝐀𝐌𝐏𝐈𝐎𝐍🏆

Kenneth Ikeji is the first national champion of the 2023 NCAA Outdoor championship meet, winning the hammer throw with a new Harvard and @IvyLeague record of 77.92m (255' 8")‼️#GoCrimson pic.twitter.com/lQG9NVqfAd

— Harvard T&F | XC (@HarvardTFXC) June 7, 2023
Ikeji's winning mark is the best at the NCAA Championships since 1996 and made him Harvard's third NCAA champion all-time and first since Edward Bailey won the hammer at the 1962 NCAA Championships. Samuel Felton won Harvard's first NCAA championship, also in the hammer, in 1948.
"It feels amazing," Ikeji said. "I never like to limit myself. So, when I saw it, my mind was blown. But at the same time, I believe I can do this, I believe I can do more and I keep having to believe that I can go further. I'm very, very happy, but hopefully my name will go higher on those rankings at some point.
"I'm just going to keep focused on my training. Everything is just training, training. I'm going to work hard and now I'm more motivated than ever. I'm going to keep pushing and building. You know next year is the Olympics, and I'm hoping to defend this title and get there. My head is down now and I just want to work. The goal is just to work hard."
Zaltos, who finished second with a new personal best, had entered the meet as the top seed among 12 qualifiers. He threw 74.42m/244-2 in the second round of the NCAA West Regional. Raised in a small village in Northern Greece, he played basketball until the age of 14 -- often pretending to be his idol Milwaukee Bucks star Giannis Antetokounmpo -- before switching sports altogether.
LIVE RESULTS ARE BACK JUST IN TIME FOR KOSTAS TO TAKE THE LEAD WITH A 76.33m (250-5)!!!

He is now No. 12 all-time in NCAA history with his fifth attempt in Austin! #ncaaTF pic.twitter.com/4efEagEjG7

— Minnesota Cross Country, Track & Field (@GopherCCTF) June 7, 2023
What Will Be The Most Memorable Event From NCAAs?
NCAA Track and Field Championship Schedule 2023
For Geist, his opening throw established a new school record. The Pennsylvania product is favored to win the men's shot put later in the night.
🚨𝐒𝐂𝐇𝐎𝐎𝐋 𝐑𝐄𝐂𝐎𝐑𝐃 𝐀𝐋𝐄𝐑𝐓🚨

On his first attempt of the hammer throw, Jordan Geist shatters his school record with a heave of 75.97m (249-3)! 🤯

That moves him up to 12th all-time in NCAA history and he currently leads the event!#BearDown | #BeLezoLike pic.twitter.com/g152syYQfh

— Arizona Track & Field/Cross Country (@ArizonaTrack) June 7, 2023