2023 DI NCAA Outdoor Championships
Tzuriel Pedigo Of LSU Throws Personal Best To Win Second NCAA Javelin Title
Tzuriel Pedigo Of LSU Throws Personal Best To Win Second NCAA Javelin Title
Tzuriel Pedigo of LSU unloaded the throw of his life in Round 3, a personal-best of 79.79m/261-9 to win the men's javelin at the NCAA Outdoor Championships.
Jun 8, 2023
by Joe Battaglia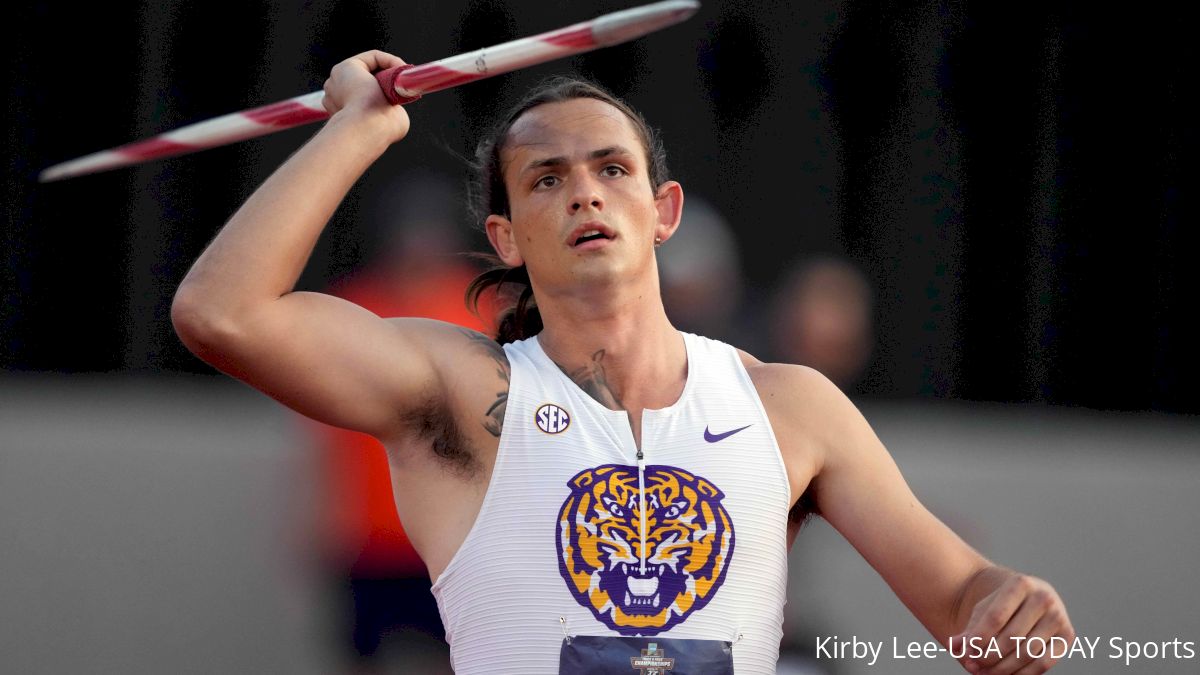 AUSTIN -- Tzuriel Pedigo of LSU unloaded the throw of his life in Round 3, sending the spear 79.79m/261-9 to break the school record and reclaim the men's javelin title at the NCAA Outdoor Championships at Mike A. Myers Stadium.
Pedigo, the junior out of Parkview Baptist in Baton Rouge, won the NCAA title as a freshman in 2021. He entered this meet coming off a victory at the NCAA East Qualifier, where he threw 76.49m/250-11. His previous personal best and school record was 78.90m/258-10 from his third-place finish at last year's NCAA Championships.
"It's about putting LSU on the map," Pedigo said. "This is what your job is as a collegiate guy, especially being that it's my own community. LSU is such a big part of Baton Rouge that it supplies so many resources to that area. It's great to do something that's a positive thing for LSU. We're trying to win a championship. We also have Sean Burrell, who is a Louisiana native from right outside of Baton Rouge. I think it's really awesome to make my city proud."
Subscribe FloTrack For More NCAA Track and Field coverage
2023 NCAA Track & Field Championships Live Updates
Nothing like a personal best to win the Natty 😏

💻 ESPN+#NCAATF x @LSUTrackField pic.twitter.com/pov4Eq4tJt

— NCAA Track & Field (@NCAATrackField) June 8, 2023
With the victory, Pedigo becomes LSU's 61st individual NCAA champion, the fourth most all-time and one shy of UCLA for third-most in history. Pedigo and Delmon McNabb (1963) are LSU's only NCAA champions in the javelin.
"It was an empty stadium (in 2021), and so you were running on fumes," Pedigo said. "The energy here is electric. Texas is one of the best places to have it. It's a world class stadium. You get a bunch of world class athletes together and put them in a world class stadium, and magic happens. It's just beautiful to be a part of this whole thing. It's surreal. It's amazing."
Despite having secured a second NCAA title, Pedigo feels like there is still work to be done, particularly as he continues to chase the 80-meter mark.
"Eighty meters is an absolute number," he said. "It's a set number, but it seems like it's getting further away the closer that I get. Seeing that number tonight (79.79m) just makes me feel comfortable that I'm doing the right thing. At the end of the day, I just have to keep working on what I've been working on."
Ethan Dabbs of Virginia made things interesting in fourth round when his first toss of the finals measured 79.27m/260-1, vaulting him from seventh place up to second. His fifth throw measured 79.19m/259-9 but was unable to improve in the final round.
.@dabbers29 brought the ENERGY 🔥🔥

💻 ESPN+#NCAATF x @UVATFCC pic.twitter.com/jmABG3cRJf

— NCAA Track & Field (@NCAATrackField) June 8, 2023
Chinecherem Prosper Nmandi of Baylor registered his best throw of the competition in the third round, throwing 78.36m/257-1 to take third place.
Marc Minichello of Georgia, who won last year's NCAA title while competing for Penn, was the competition's early leader with a second-round mark of 77.27m/253-6, but did not improve and wound up fourth.
Texas A&M junior Sam Hankins registered a personal-best of 76.18m/249-11 in the third round but fouled two of his final three throws and finished fifth.