2023 DI NCAA Outdoor Championships
Carey McLeod Of Arkansas Wins Men's Long Jump At NCAA Outdoor Championships
Carey McLeod Of Arkansas Wins Men's Long Jump At NCAA Outdoor Championships
Carey McLeod of Arkansas set a new facility record with an opening-round mark of 8.26m/27-1.25 that held up to win him the NCAA men's long jump title.
Jun 8, 2023
by Joe Battaglia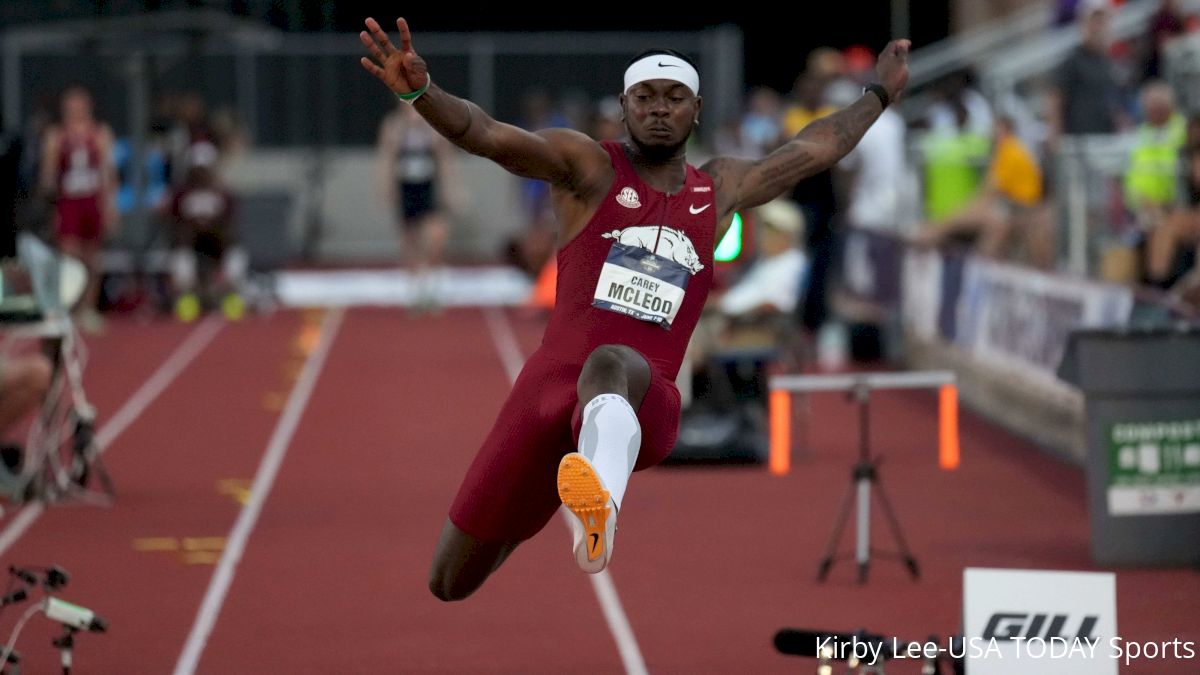 AUSTIN -- Carey McLeod of Arkansas made the most of fresh legs on a warm evening, establishing a new facility record with an opening-round mark of 8.26m/27-1.25 that held up, earning the senior a victory in the men's long jump at the NCAA Outdoor Track & Field Championships at Mike A. Myers Stadium.
The previous best jump ever at this track was recorded by Stefan McCarter of Texas in 2021.
"I just told my coach I'm not going to give him any more gray hairs," McLeod said of his big first jump. "I had a plan just come out here off the first jump and get it over with. I think I did a good job of that, as you can see the way everybody was thrown off. That's one of the things I said I'm not going to do, wait until late. So, I just did it on the first one."
Subscribe FloTrack For More NCAA Track and Field coverage
2023 NCAA Track & Field Championships Live Updates
June 8, 2023
McLeod, who competed at the Tokyo Olympics for Jamaica and won the NCAA Indoor long jump, becomes Arkansas' first NCAA outdoor long jump champion since Jarrion Lawson in 2016 and the schools' fifth in the event overall. He is also his school's 55th national champion in history.
"It's been a long, long, long time coming," McLeod said. "Coming out of high school, I'd signed with Arkansas, but you never know where life takes you. I'm happy that I'm back in Arkansas because I think this is where I was supposed to be. I definitely look at it as a blessing in terms of falling in the right place at the right time. I'm happy with that."
McLeod's teammate Wayne Pinnock finished second with a second-round mark of 8.15m/26-9. The sophomore just edged Kentucky freshman Jordan Turner, who jumped a personal-best 8.13m/26-8.25 on his second attempt.
"It's been good, because you know once you're in an environment where you're not worrying about competing, but you're in a safe place where you can be yourself, you can just be more relaxed," McLeod said of competing with Pinnock at Arkansas after beginning his career at Tennessee. "If you're trying to jump right, you can't jump far being intense all the time. So, it's just like a calm environment."
McLeod, who set his previous outdoor PR of 8.34m/27-4.5 to win the 2021 SEC Championships, entered the meet having finished second at the SEC Championships (8.14m/26-8.5) and fourth at the NCAA West Preliminary (7.80m/25-7.25).