2023 DI NCAA Outdoor Championships
Kyle Rademeyer Of South Alabama Scores Upset Win For NCAA Pole Vault Title
Kyle Rademeyer Of South Alabama Scores Upset Win For NCAA Pole Vault Title
Kyle Rademeyer of South Alabama used a late first-bar clearance to pull off an upset victory in the men's pole vault at the NCAA Championships.
Jun 8, 2023
by Joe Battaglia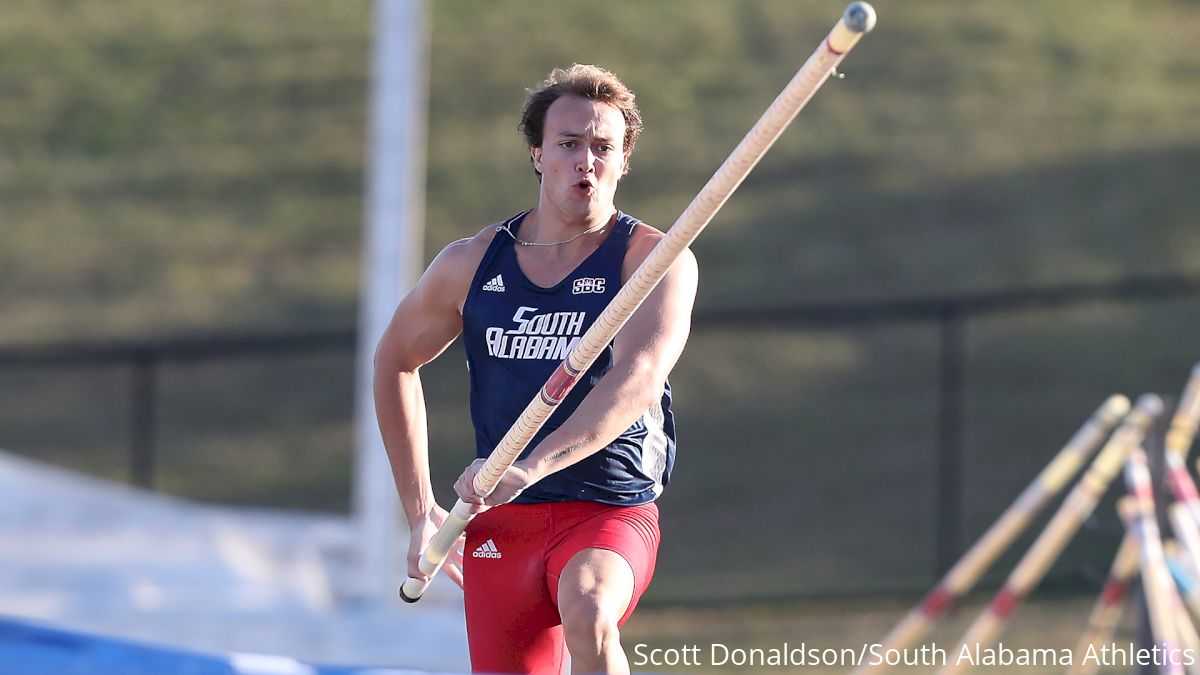 AUSTIN -- Kyle Rademeyer of South Alabama used a dramatic third clearance to stay alive and followed with a first-bar make at the next height to pull off an upset victory in the men's pole vault at the NCAA Outdoor Track & Field Championships at Mike A. Myers Stadium.
Rademeyer became South Alabama's second ever NCAA champion, joining Vincent Rono who won the 1500m title in 2006. After having each of his first two collegiate seasons negatively impacted by injuries, the South Africa-born junior relished his crowning achievement.
"Each of my first two years I struggled with injuries, so it's really good to see the hard work from my rehab and then training pay off," he said "I'm really proud of myself and very thankful to God for protecting me this season so far and allowing me the ability to reach good heights."
Subscribe FloTrack For More NCAA Track and Field coverage
2023 NCAA Track & Field Championships Live Updates
Mission accomplished ✅

💻 ESPN+#NCAATF x @SouthAlabamaTXC
pic.twitter.com/WBOcmnktMf

— NCAA Track & Field (@NCAATrackField) June 8, 2023
The competition began to sort itself when the bar moved to 5.60m/18-4.5, whittling the field to eight.
Jacob Englar of Washington, Zach Bradford of Texas Tech and Clayton Simms of Kansas cleared the height on their first attempts. Caleb Witsken of BYU, Sondre Guttormsen of Princeton and Hunter Garretson of Akron cleared the height on second attempts. Down to his last attempt, Rademeyer got over to remain in the hunt. Benjamin Conacher of Baylor and Christyan Sampy of Houston missed all three attempts at the height and were eliminated.
That moved the bar up to 5.70m/18-8.25. Rademeyer was the only one of the final six to clear the height on his first attempt. Garretson made it over on his second try. Witsken missed his first attempts before passing to the next height. Guttormsen passed directly to the next height. Englar, Bradford and Simms were unsuccessful on their three cracks.
Rademeyer, Garretson and Guttormsen all missed three attempts at 5.80m/19-0.25 and Witsken retired without taking an attempt, giving Rademeyer the victory on countback. Garretson finished second with Englar and Bradford tied for third.
"I've never jumped very well here at this track," Rademeyer said. "I can't say this is my favorite track, but I know it is a good track for other people."