2023 DI NCAA Outdoor Championships
How Florida Clinched The Men's 2023 NCAA Track & Field Championship Title
How Florida Clinched The Men's 2023 NCAA Track & Field Championship Title
The Florida Gators won the men's 2023 NCAA Division I Outdoor Track & Field Championships team title with a total of 57 points.
Jun 10, 2023
by Jennifer Zahn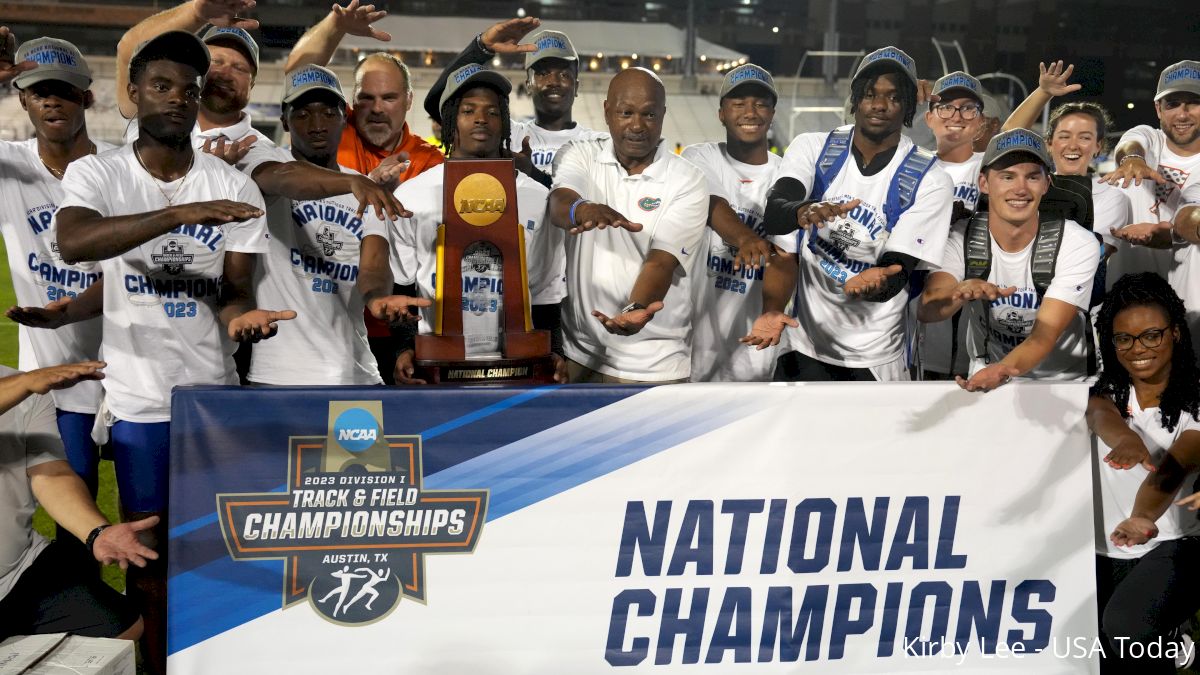 Among the top 10 teams, it really was anyone's title to win.
Although Arkansas entered the 2023 NCAA Division I Track & Field Championships as the slight favorite, fans and pundits alike figured the men's team battle would ultimately be hard-fought and likely down to the wire.
Those predictions became reality on Friday night in Austin, Texas, as the 4x400m relay set the stage for the deciding finale.
It'll all come down to the 4x4 (the way we like it!)

Here are the #NCAATF men's team standings with 1 event left:

1⃣ Arkansas, 52
2⃣ Florida, 47
3⃣ Stanford, 44
4⃣ LSU, 43
5⃣ Texas Tech, 34.5
6⃣ Arizona State, 33
7⃣ Washington, 26.5
8⃣ Georgia, 26
9⃣ BYU, 22.5
🔟 Alabama, 22

— FloTrack (@FloTrack) June 10, 2023
With one event left, Arkansas held the lead with Florida, Stanford, and LSU not far behind in a nine-point spread.
The Gators overdelivered, turning in an outstanding collegiate 4x400m relay record of 2:57.74, and Arkansas couldn't improve enough in the event (they finished eighth in the semifinals and eighth in the final) to preserve their team points lead.
The moment was an emphatic punctuation to a week that saw plenty of productivity for Florida across the sprints and jumps for a total of 57 points.
Here are all of the events that the Gators scored in:
Long Jump
5 points
Malcolm Clemons, 4th: 8.07m
Clemons' season-best effort in the long jump (7.96m / 26' 1.5") only placed him 12th overall in NCAA Division I before this meet, but that championship magic kicked in and helped him leap to a new PR that earned Florida their first five points of the week. Those were the only points they scored on Wednesday.
100m
4 points
PJ Austin, 4th: 9.97
Although Austin couldn't replicate his success from the semifinal, which saw him run 9.89 (the 2023 collegiate lead, and the same as Courtney Lindsey's winning time in the final), only four points separated the Gators from the Razorbacks in the end, so they were four critical points!
200m
5 points
Robert Gregory, 4th: 19.89
Robert Gregory made good on his fourth-overall projection, but it took a PR to do so, and he certainly delivered with a significant improvement to his 20.09 wind-legal former best, which he ran in the Prelims. (Gregory ran 19.78 earlier this year, but it was wind-aided)
400m
20 points
Emmanuel Bamidele, 1st: 44.24
Ryan Willie, 2nd: 44.25
This 1-2 performance was the linchpin to the Gators' overall team victory, providing almost half of their total points as a result of two PRs and the absence of a key frontrunner in Elija Godwin of Georgia, who was considered a favorite to win or at least place in the top three. Ryan entered the meet with the fastest time run in the regular season, 44.27, so he was expected to make it on the podium, but Bamidele's best time this season only placed him sixth overall. Seeing him claim gold alongside his teammate after they went stride for stride down the homestretch was a huge win for the Gators.
4x100m Relay
Florida had the second-fastest 4x100m relay time this season behind LSU, so everyone reacted with surprise when Texas Tech finished first in the final. But that was short-lived—an official review determined the Red Raiders committed an exchange violation, which led to their disqualification. This bumped the Gators' placement from third to second and took their 4x100m relay point haul from 6 to 8.
Triple Jump
5 points
Sean Dixon-Bodie, 4th: 16.61m
2023 marked Dixon-Bodie's first year competing for Florida after transferring from LSU, and I bet the Gators feel rather fortunate that he did! Although Dixon-Bodie only jumped 16.21m this season, he almost eclipsed his PR of 16.64m with a 16.61 effort for fourth place and five points.
4x400m Relay
This was the culminating coup de grâce for the Gators as they not only ended their title-winning meet with another event victory, but also stamped their name again in history by lowering their own collegiate record of 2:57.76 set at the SEC Championships last month, as well as the and meet and facility records of 2:58.82 they ran in the semifinals on Wednesday night.
TOTAL: 57 points
---
Final Men's Team Scores:
| Pl | Team | Pts |
| --- | --- | --- |
| 1 | Florida | 57 |
| 2 | Arkansas | 53 |
| 3 | Stanford | 44 |
| 4 | LSU | 43 |
| 5 | Arizona State | 41 |
| 6 | Texas Tech | 34.5 |
| 7 | Georgia | 28 |
| 8 | Alabama | 27 |
| 9 | Washington | 26.5 |
| 10 | BYU | 22.5 |