2023 DI NCAA Outdoor Championships
Parker Valby Of Florida Wins 5000m Title At NCAAs; Katelyn Tuohy Scratches
Parker Valby Of Florida Wins 5000m Title At NCAAs; Katelyn Tuohy Scratches
Parker Valby of Florida completed a wire-to-wire run to win the 5000m title as defending champ Katelyn Tuohy scratched beforehand at the NCAA Championships.
Jun 11, 2023
by Joe Battaglia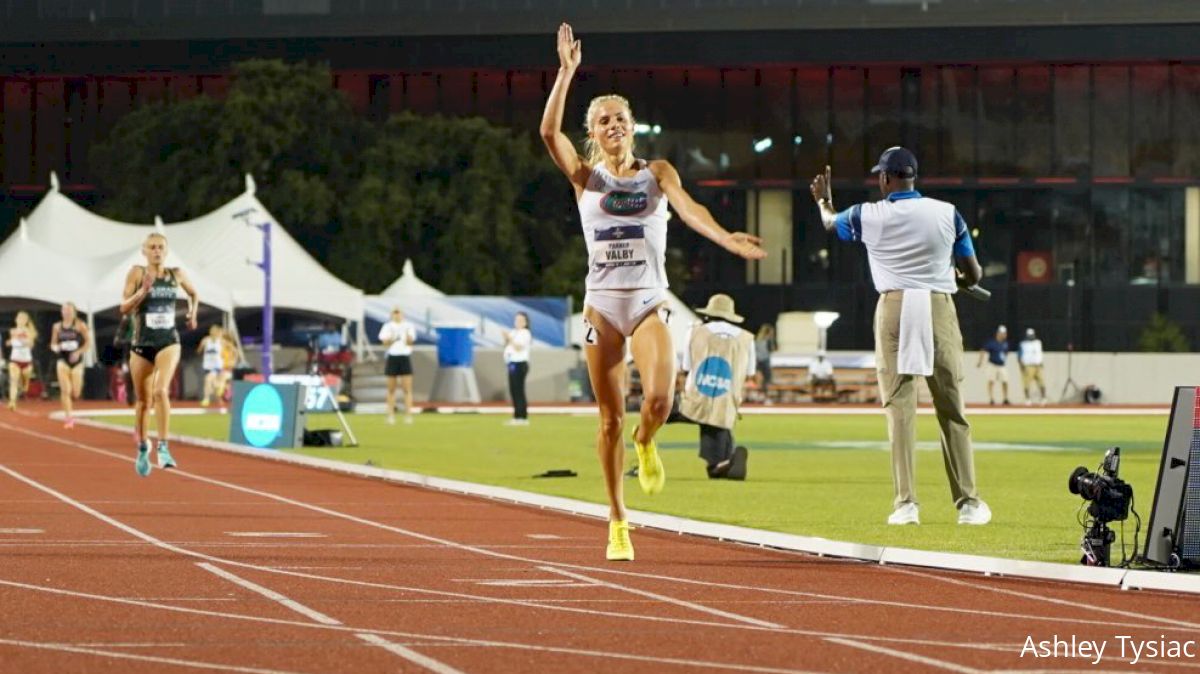 AUSTIN -- Sophomore Parker Valby of Florida completed a wire-to-wire run to comfortably claim her first 5000m title at the 2023 NCAA Outdoor Track & Field Championships at Mike A. Myers Stadium.
Valby, who finished runner-up in last year's race, finished in 15:30.57, breaking the facility record of 15:46.82 set in 2012 by Megan Goethals of Washington.
"Coach Palmer told me to trust my instincts, trust my gut, and I did. It worked out," Valby said. "I'm so excited. I've gotten second place one too many times, so this is awesome."
Defending champion Katelyn Tuohy of North Carolina State scratched before the race. Earlier in the night, she faded badly and was beaten by Maia Ramsden of Harvard in the 1500m, ending her bid for an unprecedented 1500m/5000m double on the same day at NCAAs.
Subscribe FloTrack For More NCAA Track and Field coverage
2023 NCAA Track & Field Championships Live Updates
PARKER. VALBY!!

📺 ESPN2#NCAATF x @GatorsTF pic.twitter.com/LGyAqT11sg

— NCAA Track & Field (@NCAATrackField) June 11, 2023
Valby led the race from start to finish. She opened up a lead of several meters on the field with about 1000 meters to go and continued to grind out the laps, casually looking over her shoulder as each one passed to gauge her position.
"I took a glance every lap, and they were with me for most of it," Valby said. "That's my strategy – just go for it, hold on and push and give it all I got."
Junior Everlyn Kemboi of Utah Valley, the 10,000m winner on Thursday, was never able to catch Valby. Venters, a senior, held off a late charge from Amaris Tyynismaa of NC State to claim the third spot on the podium.
Amina Maatoug of Duke, Cailie Logue of Iowa State, and Simone Ploudre of Utah rounded out the top five.