2023 DI NCAA Outdoor Championships
Katelyn Tuohy, Britton Wilson And The Fragility Of The Pursuit Of History
Katelyn Tuohy, Britton Wilson And The Fragility Of The Pursuit Of History
While Katelyn Tuohy and Britton Wilson's double attempts fell short, what shouldn't be taken for granted is how fragile the pursuit of history really is.
Jun 11, 2023
by Joe Battaglia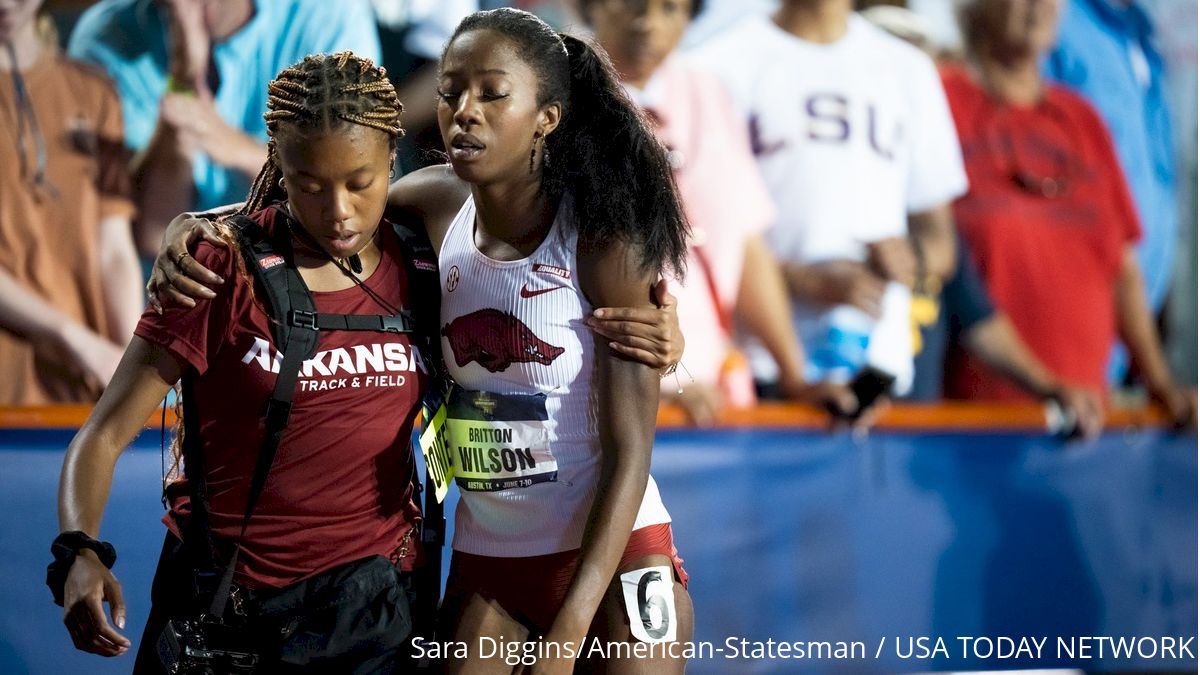 AUSTIN – As Katelyn Tuohy of North Carolina State raced to the lead in the 1500m, it was as if all had been righted in our little corner of the track and field world.
Sure, the sophomore had a rough go in the semifinals two nights earlier but let's chalk it up to an off day on the way to racing into the all-time annals of the sport.
When Tuohy's 10-meter lead was cut to a half-stride at the bell and then Maia Ramsden of Harvard rounded in front on her outside right shoulder you could all but hear a collective 'Oh no!' out of the crowd hoping to see something special.
When five more runners zoomed passed as Tuohy faded back to seventh over the final 50 meters, the only word to describe the emotion is saddening.
But if that wasn't bad enough, you could almost feel the balloon pop on the meet for every fan not wearing burnt orange at Mike A. Myers Stadium a mere 45 minutes later.
Seeing Britton Wilson of Arkansas throttle down coming out of the final turn of a pretty even 400m race, only to have the move covered, and then some, by Rhasidat Adeleke of Texas made the heart sink.
The final night of the of the 2023 NCAA Outdoor Championships was supposed to serve up a double helping of history – Tuohy becoming the first 1500m/5000m champion on a single-day and Wilson becoming the first to ever win the 400m/400m hurdles double – and instead we were left feeling like Oliver Twist wanting more.
Tuohy finished seventh in the 1500m in 4:11.40 and later scratched from the 5000m final. Wilson finished second in the 400m in 49.63 while Adeleke broke her meet record, and then 25-minutes later wound up seventh in the 400m hurdles in 55.92, clearly spent.
Subscribe FloTrack For More NCAA Track and Field coverage
A NEW MEET RECORD FOR ADELEKE!!!!

📺 ESPN2#NCAATF x @TexasTFXC pic.twitter.com/uBRKW7oUCD

— NCAA Track & Field (@NCAATrackField) June 11, 2023
There were a few things on full display for all.
Firstly, that two athletes could inspire a collective sport's fan base in such a bold way at the ages of 21 and 22 speaks to the remarkable level Tuohy and Wilson have risen to.
Secondly, the sport at the collegiate level is deep. Like, crazy deep.
Finally, and perhaps most importantly, what cannot and should not be taken for granted is how much planning and training goes into trying to make magic and, despite that incredible level of effort, how fragile the whole pursuit really is.
For Tuohy, the 1500m/5000m double was never going to be easy as evidenced by the depth that was showcased in the 1500m semifinals, where the top seven qualifiers for the final broke 4:09.
Tuohy showed in the NCAA East Preliminary that she could handle the load of doubling back in the 5000m, albeit in three hours and not two. After winning her 1500m race, she returned to take her heat of the 5000m with a 67-second kick
Just getting to that stage required a great deal of behind-the-scenes preparation and big-picture consideration.
After the indoor season concluded in March, Tuohy chose a slower rollout to the outdoor season – she skipped the Raleigh Relays, as an example – and then raced sparingly throughout the spring in the hopes of keeping her legs fresh for this weekend and beyond.
Tuohy figures to contend for a spot on the national team at the USATF Outdoor Track & Field Championships in Eugene in July, and if she makes it will then compete at the World Championships in Budapest in August.
"Indoors is like early March, and Raleigh Relays happens two weeks later," Tuohy told Race Results Weekly. "So, it's a quick turnaround. Coach (Laurie) Henes wasn't sure if she was going to race us.
"Then she kind of said, like, I could race if I wanted, but kind of decided that we were hopeful that my season would extend to July because I'll try to qualify for the U.S. Championships that we should try to hold off the early races and focus on having a good training cycle for then."
Katelyn Tuohy picks up First Team All-American honors after finishing the 1500m with a time of 4:11.40! #WolfpackTF | #PackRunning pic.twitter.com/RezQgBgK97

— Pack Track & Field and Cross Country (@Wolfpack_TFXC) June 11, 2023
For Wilson, the seeds for pushing the one-lap race boundaries were planted in high school.
On May 10, 2019, she ran a US #1 time in the 300m hurdles on a Friday night at the Southern Track Classic, and after a late night, got up the next day and ran the fastest 400m time in state history at the Highland Springs Invitational.
Then last year, Wilson completed the 400m/400mH double at the SEC Championships, winning both races with approximately one hour in between. She pulled off the same double at this year's conference championship. Unlike last year when she only opted to run the 400m hurdles at NCAAs, this year she was all in.
What she attempted tonight should just be considered a natural progression of greatness.
"I wanted to see how much I can challenge myself and how far I can push myself," she said before the meet.
Where Tuohy was going to face a tough road in both of her events despite being the collegiate record holder at both distances, Wilson was a clear favorite in both the 400m and the 400m hurdles.
She came into the meet as the reigning national champion and as the collegiate record holder in the 400m off her 49.13 run at the SEC Championships last month. In the semifinals, she breezed to new meet and facility records of 49.36.
She was also the defending national champion and fastest woman in the country in the 400m hurdles by a very comfortable margin. She clocked 53.71 seconds at the NCAA West Preliminary and cruised to a 53.23 victory in the semifinals on Thursday.
While credentials are great on paper, there is a reason why they run the races to determine the champions.
Tonight, Adeleke, Ramsden and Parker Valby of Florida were better and should rightfully be celebrated sans asterisks.
And what transpired should also take nothing away from Tuohy and Wilson, both of whom should feel secure in their accomplishments.
It's time for them to get over tonight and look ahead.
What that means for Tuohy is unclear. She has more than proven capable of competing at the professional level. She already has an NIL deal with adidas, so there is a clear path to make the jump if she so choses. She could also return to NC State and chase another NCAA Cross-Country title with her teammates. The rest of the summer could dictate that.
Meanwhile, Wilson has already said she will forego her final season of eligibility and turn pro with an eye on qualifying for the World Championships in Budapest in August and the Paris Olympics next summer.
Actively competing in both events is something Wilson wants to continue at the next level. While it is not uncommon for the best 400m hurdlers in the world, like Sydney McLaughlin-Levrone of the US and Femke Bol of the Netherlands, to race flat 400s to challenge their speed, no one has ever won a medal in both events at the same Olympics.
The only woman to ever win Olympic medals in both events is Natalya Antyukh of Russia, who won 400m bronze in Athens in 2004 and 400m hurdles gold in London in 2012. She was later found to have violated anti-doping rules and that gold medal was stripped and rewarded to American Lashinda Demus.
Wilson is not ruling out the possibility of attempting to be the first, just not right away.
"I definitely want to continue to do it," Wilson told The New York Times. "For one, I really love to do it. For two, I think I have something that a lot of other athletes don't have, that I'm able to do it."
And that, too, should be celebrated.