NCAA Recruiting
NAU's Success Funnels Down To Recruiting Wins Across U.S.
NAU's Success Funnels Down To Recruiting Wins Across U.S.
NAU's long-term success isn't just about a culture of winning. It also funnels down to how the Lumberjacks have recruited.
Aug 10, 2023
by Tim Casey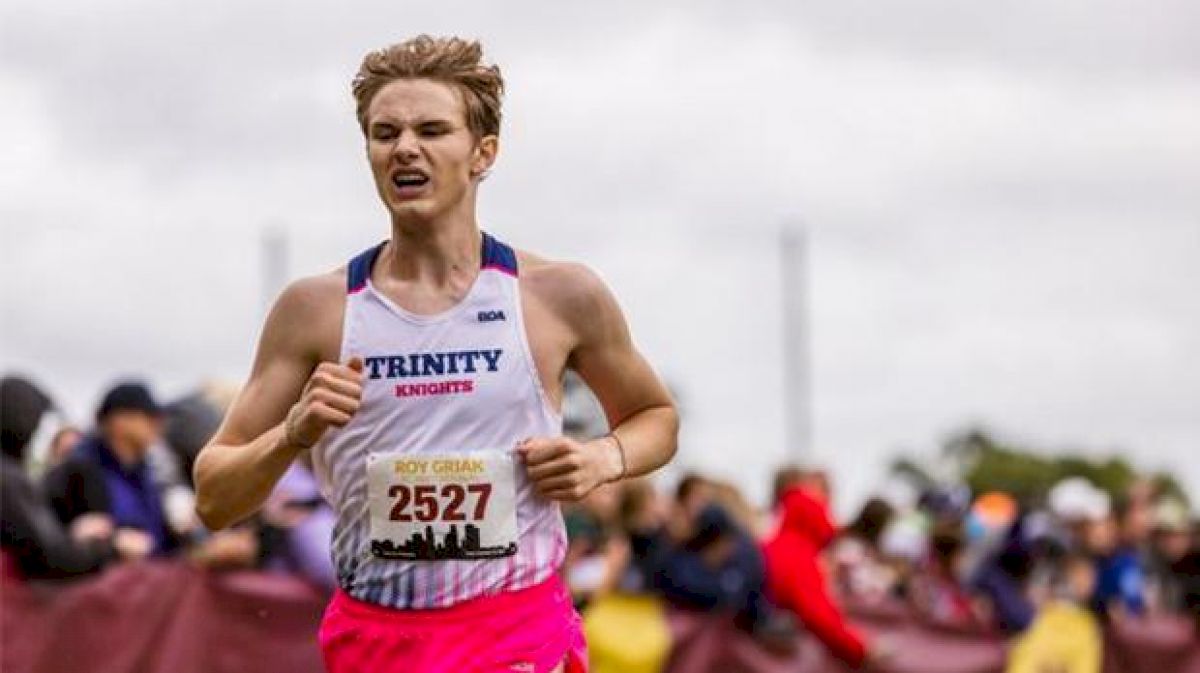 By now, there is no doubt that Northern Arizona is the NCAA's most dominant men's cross country program. After all, the Lumberjacks have won six of the last seven NCAA titles, including the past three.
The women's program, however, is on the upswing, too, having made the past four NCAA meets. The NAU women finished sixth at the 2022 meet, which was its best placement since 1991.
With most of the men and women returning next year and strong incoming recruiting classes, both programs are likely to remain at or near the top of the national rankings.
Still, head coach Michael Smith and assistants Becca Pflugrad and Jarred Cornfield aren't resting on their laurels.
They are actively recruiting high school stars.
Recently, the Lumberjacks received commitments from two of the top distance runners in the Class of 2024: Payton Godsey of Oaks Christian (CA) and Clay Shively of Wichita Trinity Academy (KS). Both runners began hearing from the NAU coaches last summer and the interest intensified as they each have had impressive junior years in cross country and track.
Godsey won the California Division 4 state title and the RunningLane Cross Country Championships last fall.
During the outdoor season, she has set personal-bests in the mile (4:44.13) and the 3,200m (9:57.77), which are U.S. No. 3 and U.S. No. 7 times. This past weekend, she finished second in the 3,200 (10:02.63) at the California state meet. She will also run the mile at the Brooks PR Invitational and the distance medley relay at the Nike Outdoor Nationals.
Godsey took an official visit to Northern Arizona in January and went on a long run with the team on its campus in Flagstaff, which is at an elevation of nearly 7,000 feet. She also visited UCLA, which is about a half hour from her home, and Oregon, a legendary program whose head coach, Jerry Schumacher, coached numerous Olympians as head of the Nike Bowerman Track Club.
Before making her decision, Godsey consulted with her parents, both of whom ran at California State University, Northridge and her brother Ethan, who is a freshman runner at the University of California, Santa Barbara. They all provided advice, but they also said it was up to Godsey to choose what she thought would be the best situation.
"All three of those options that I came down to were all very amazing schools," Godsey said. "Ultimately, NAU checked most of the boxes, if not all of the boxes, of the things that I was looking for. Just the chance to live and train in Flagstaff is a dream to me, being up in the mountains and being able to experience seasons and all of that just kind of really set it apart."
She added: "I couldn't pass up the opportunity to live there and train there. And I really enjoyed being with the girls on the team and the coaches and I knew that I would be able to continue chasing my dreams there."
For Shively, running at NAU was a dream, too.
When Shively was a freshman, one of his friends encouraged him to watch a FloTrack documentary, "NAU: Running With The Boys," a series that followed the Lumberjacks' men's cross country team during the 2019 season. At the time, Shively was in his first year as a runner, having played football, baseball, soccer and other sports growing up.
"Honestly, (the documentary) was one of the things that made me really start to love this sport," Shively said. "Just seeing the culture and the hunger on their team, it's something that inspired me before I ever even thought about going to a NCAA Division 1 college to run."
Shively began getting on major college coaches' radars as a sophomore, especially after finishing fifth in the mile in 4:10.02 at the HOKA Festival of Miles. He has taken it to another level this year.
He won the Kansas Class 3A state cross country title in 15:26.11 over the 5K course. During the indoor season, he ran 4:04.95 in the mile, breaking legendary distance runner Jim Ryun's state record. That was the U.S. No. 6 mile time and the fastest for a junior.
"Honestly, (the documentary) was one of the things that made me really start to love this sport. Just seeing the culture and the hunger on their team, it's something that inspired me before I ever even thought about going to a NCAA Division 1 college to run."
"I look up to (Ryun) a lot," Shively said. "He's one of the greatest athletes of all time. To say that I broke one of his records just doesn't really feel real. I'm super grateful for it."
This outdoor season, Shively has set personal-bests in the 800m (1:51.94), mile (4:07.92) and 3,200m (8:50.75), which are the U.S. No. 13, No. 3 and No. 10 times, respectively, in the junior class. This past weekend, he won the 800m (1:54.50) and 1,600m (4:12.60) at the state meet.
He will also run the mile at the HOKA Festival of Miles on Thursday night and the Brooks PR Invitational on June 14.
In November, Shively attended the NCAA cross country meet in Stillwater, Oklahoma, about two hours from his home.
He saw NAU win the title via a tiebreaker over Oklahoma State.
Unlock this video, live events, and more with a subscription!
Get Started
Already a subscriber? Log In
In recent months, Shively visited NAU, Oklahoma State, North Carolina and Wake Forest. He said he was impressed with all of the schools, but the Lumberjacks stood out.
"After the first day (at NAU), I just felt like part of the team and really connected with a lot of the guys, some of the freshmen guys who I spent a lot of time with and then also some of the older guys," Shively said. "Before that, I really didn't have any connections, but since then I've been in touch with a lot of them and even some of the guys in the class above me who are committed there. All I can say is it's a really solid group of guys."
Shively is just the latest top recruit to sign with the Lumberjacks, joining former high school stars Nico Young, Colin Sahlman and many others. NAU's incoming freshman class includes Aaron Sahlman of Newbury Park (CA), Ford Washburn of Iowa City (IA) and Zack Munson of Sehome (WA).
Shively is the first boy from the high school Class of 2024 to commit to NAU, a distinction that relieves the pressure of making a college decision.
"I've always thought it would be really nice, just to kind of be able to have my whole senior year to focus on my races rather than having to figure out official visits and the commitment timeline," he said. "I don't know I always intended to have it done this early, but I'm really grateful that I do."
Related Links: