NCAA
The USTFCCCA National Coaches Poll: Preseason Top 25 Men's Teams
The USTFCCCA National Coaches Poll: Preseason Top 25 Men's Teams
The preseason top 25 is out for the NCAA men in cross country, and here are which teams made the list.
Aug 31, 2023
by Cory Mull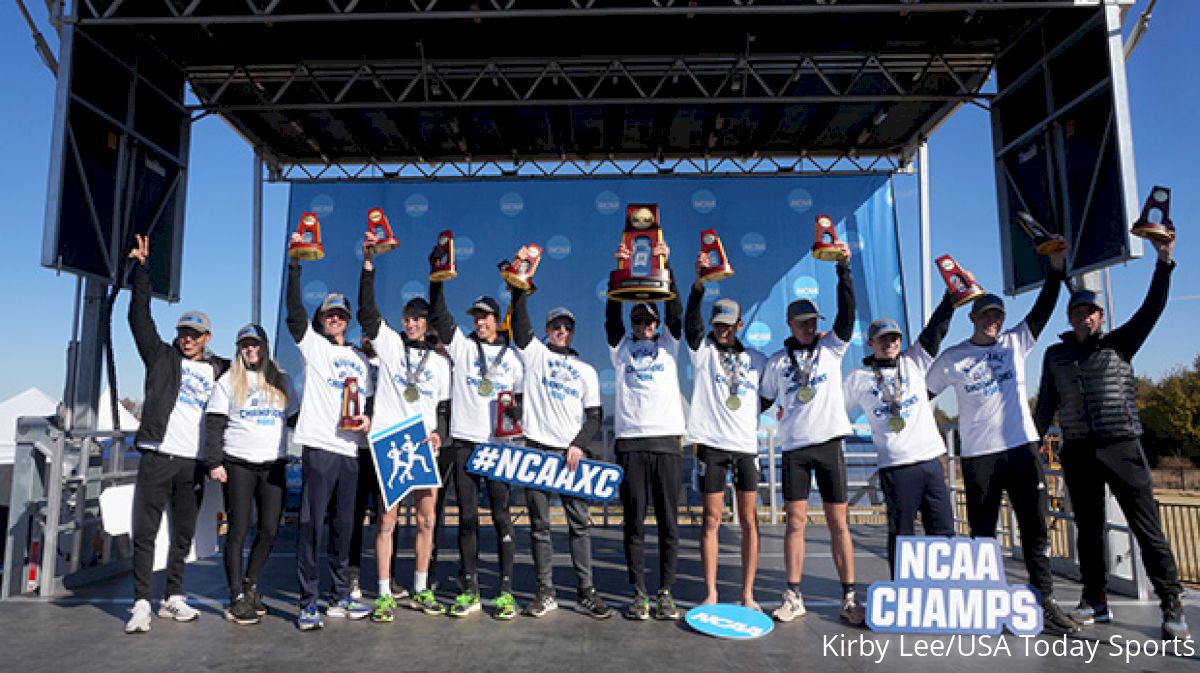 To be No. 1, you have to dethrone the champion.
And right now, Northern Arizona is the team to beat. The Lumberbacks have won six out of the last seven national titles, including the last three straight. So, will this dynasty continue in 2023?
That will be the question as the race for a national title begins toward Charlottesville.
The national coaches poll was conducted by the United States Track and Field and Cross Country Coaches Association. NAU grabbed the top preseason spot with 327 points, followed by Oklahoma State (319) and then BYU (307).
Stanford, which was the sexy pick to potentially steal the crown last year, lands in fourth after the Cardinal came up short an in fourth-place in 2022. Portland, which did not reach NCAAs last year, is the highest team ranked without that distinction and they come in at ninth.
How does the national coaches poll differ from FloTrack's rankings? Well, for starters, we have Arkansas in our top 10 (No. 8), while the coaches poll slots them in at 20. We also ranked Cal Baptist at No. 11, while the coaches poll does not have them in the top 25 (and at No. 28, officially).
The National Coaches Poll: Preseason Top 25 Women
---
The FloTrack XC Preseason Rankings: Men's List l Women's List l Individual Men's List l Individual Women's List
---
The National Coaches Poll: The Preseason Men's Top 25
| Rank | Teams | Points | 2022 NCAA Finish |
| --- | --- | --- | --- |
| 1 | Northern Arizona | 327 | 1 |
| 2 | Oklahoma State | 319 | 2 |
| 3 | BYU | 307 | 3 |
| 4 | Stanford | 295 | 4 |
| 5 | Wisconsin | 290 | 6 |
| 6 | North Carolina | 266 | 10 |
| 7 | Colorado | 254 | 8 |
| 8 | Notre Dame | 232 | 15 |
| 9 | Portland | 211 | NA |
| 10 | Virginia | 201 | 22 |
| 11 | Syracuse | 198 | 12 |
| 12 | Villanova | 191 | 19 |
| 13 | Texas | 173 | 18 |
| 14 | Harvard | 170 | 17 |
| 15 | Oregon | 166 | 16 |
| 16 | Tennessee | 165 | 20 |
| 17 | Air Force | 161 | 7 |
| 18 | Washington | 160 | 14 |
| 19 | Butler | 151 | 21 |
| 20 | Arkansas | 126 | 23 |
| 21 | NC State | 106 | 11 |
| 21 | Tulsa | 106 | 9 |
| 23 | Alabama | 98 | 27 |
| 24 | Princeton | 84 | 30 |
| 25 | Iowa State | 54 | NA |