World Athletics
Hansle Parchment Tops Grant Holloway In 110m Hurdles At Prefontaine Classic
Hansle Parchment Tops Grant Holloway In 110m Hurdles At Prefontaine Classic
Hansle Parchment of Jamaica pulled away late in the race to trump American Grant Holloway to win the men's 110m hurdles at the Prefontaine Classic.
Sep 17, 2023
by Joe Battaglia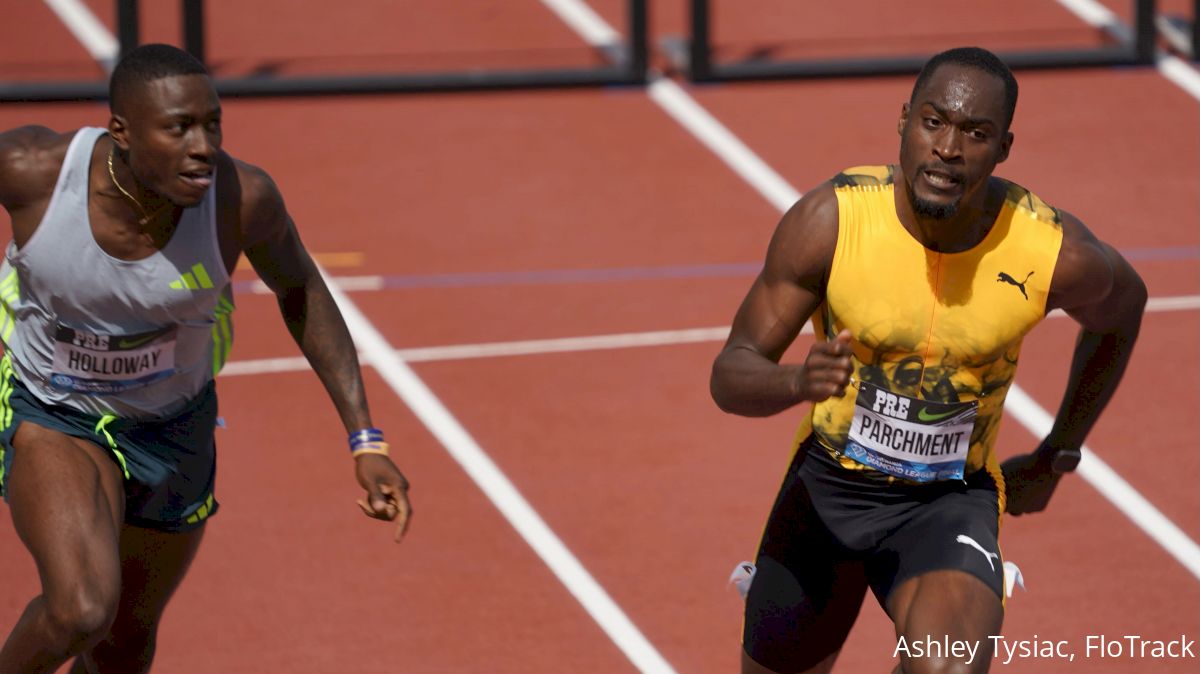 EUGENE -- It was the Olympic champion over the world champion to end the season.
Hansle Parchment of Jamaica, the Tokyo Games gold medalist, pulled away late in the race to trump American Grant Holloway to win the men's 110m hurdles in a world lead and personal best 12.93 at the Diamond League Prefontaine Classic at Hayward Field.
Holloway, who won his third consecutive gold medal at the World Championships in Budapest last month, finished second in 13.06, one-hundredth in front of compatriot Daniel Roberts.
Hansle Parchment with a NEW Personal Best in the Men's 110m Hurdles!

1⃣ Hansle Parchment | 12.93
2⃣ Grant Holloway | 13.06
3⃣ Daniel Roberts | 13.07

Presented by Rambler

📷 @howlao#PreClassic #EugeneDL 🇺🇸 pic.twitter.com/vEACadU9Ry

— The Prefontaine Classic (@nikepreclassic) September 17, 2023
The race played out in direct relation to the strengths of the two main protagonists.
Parchment enjoyed a decent start but was able to charge hard over the final four hurdles, as he is known to do, to take the victory.
"The start wasn't perfect, I was really thinking a lot about getting a better start to really be a little bit more competitive," Parchment said. "I think I still put it together mostly. Got the PR, got the win, so I'm very happy about that."
For Holloway, the takeaway in this matchup is clearly that if his start is less than superb and he is unable to distance himself from Parchment early, he will have his hands full at the end.
"The main thing was to just come out here and try to keep peak form," Holloway said. "I trained just to peak at Worlds and I ran my sub-13 performance there. Obviously Hansle ended out the year for an amazing PR and an amazing world lead."
Heading into the Olympic year there is a compelling rivalry brewing in this event.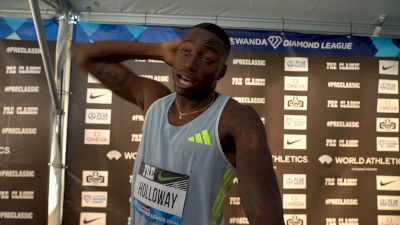 "We try to enjoy ourselves as well," Parchment said. "It's a friendly rivalry. We try to push each other every time we go there. He has a massive, ridiculous start. I try to learn from that every time I see him run. He looks up to me as well because I've been competing for many years before he started. So I think it's a good rivalry and really helps us to make the event more competitive."
Holloway added that he will continue to work on refining his race heading into next season.
"Just make a couple changes, figure out what we can do best, and go out there and go compete," he said. "You just gotta be really sharp. He's been running this whole season, start off a little slow but it's just like everything else, you finish strong."