2023 Prefontaine Classic
Armand Duplantis Soars To World Record In Men's Pole Vault At Pre Classic
Armand Duplantis Soars To World Record In Men's Pole Vault At Pre Classic
Armand Duplantis broke the men's pole vault world record for the seventh time in his career, soaring over 6.23m/20-5.25 at the Prefontaine Classic.
Sep 17, 2023
by Joe Battaglia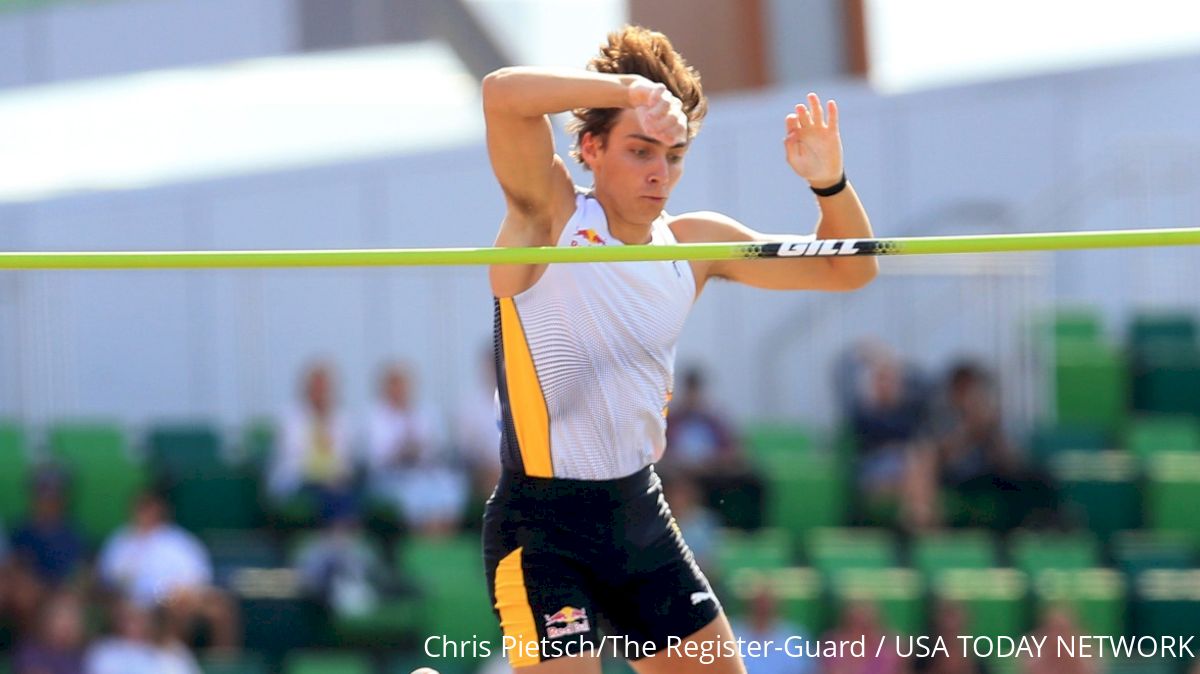 EUGENE -- Armand Duplantis continued to push boundaries in the men's pole vault, breaking the world record for the seventh time in his career, soaring over 6.23m/20-5.25 at the Diamond League Prefontaine Classic at Hayward Field.
The Swede added a centimeter to the world record of 6.22m/20-4.75 he set indoors seven months ago.
"The limit is very high, and I hope that I can continue to jump well and keep jumping higher than I did today, but for now I'm not really thinking about anything except enjoying this moment and enjoying what I just did," Duplantis said.
WORLD RECORD FOR MONDO DUPLANTIS!@mondohoss600 clears 6.3m to set a new world record and his reaction is INCREDIBLE.

📺: @nbc & @peacock | #EugeneDL pic.twitter.com/5Zgfn1MFzC

— NBC Olympics & Paralympics (@NBCOlympics) September 17, 2023
Duplantis' previous best outdoors was 6.21m/20-4.25, his winning height at the World Championships here last summer.
The previous meet record was 6.05m/19-10 set in 2015 by Renaud Lavillenie of France.
Duplantis needed just three jumps to win the competition, clearing 5.62m/18-5.25, 5.82m/19-1 and 6.02m/19-9 with ease on first attempts.
After Worlds silver medallist Ernest John Obiena of the Philippines missed his three chances at 6.02m, the 23-year-old Duplantis raised the bar straight to the world record height, which he took two solid cracks at in Budapest and really gave a scare at the Diamond League Memorial van Damme in Brussels last week.
This time, Duplantis brushed the bar but it stayed on as he plummeted down to the mat to the roar of the crowd.
After landing, he jubilantly wheeled toward the crowd in celebration and was mobbed by the other competitors. American Sam Kendricks, who finished third at 5.72m/18-9.25, lifting Duplantis up high. Duplantis was then congratulated by his parents and stood on the track soaking in the moment.
"For me, I just try to jump high," Duplantis said. "I love pole vaulting so much and I've loved it ever since I was just a little kid. If I'm able to take pole vaulting to another level and I can get as much eyes as possible watching it by jumping really high and doing some cool things, then that's a job well done by me. I like where I'm at, I'm gonna try to keep building on this."
Duplantis said that unlike at the World Championships, where he did a lot of time waiting out the competition which can be an energy drain, the shorter Diamond League finale format -- only the top six competitors in the standings compete -- helped with his stamina.
"For me it's very nice because it's a lot shorter competition and I think that it's a lot easier to be fresh at that world record height," he said. "And so I think the format of the Diamond League final is super nice for me to go out and attempt world record and in this case break it."
Duplantis was also quick to point out that he has benefitted from "Hayward Magic," and every little bit helps when attempting what no man has ever done before.
"I've been jumping pretty well here, though," Duplantis said. "And especially the new stadium, I'm two for two right now on world records coming here to Hayward. I think it's just a combination of everything -- it has absolutely everything. It has the history, it has the modern touch. The track is really fast, the crowd and energy is fantastic. Everything just building up to what I need to be able to break world record."