2023 Prefontaine Classic
Could Alan Webb's American Mile Record Go Down? Yared Nuguse Is Optimistic
Could Alan Webb's American Mile Record Go Down? Yared Nuguse Is Optimistic
It felt like the press conference of a boxing match. But when Yared Nuguse and Jakob Ingebrigtsen spoke on Friday, they offered some big ambition.
Sep 15, 2023
by David Monti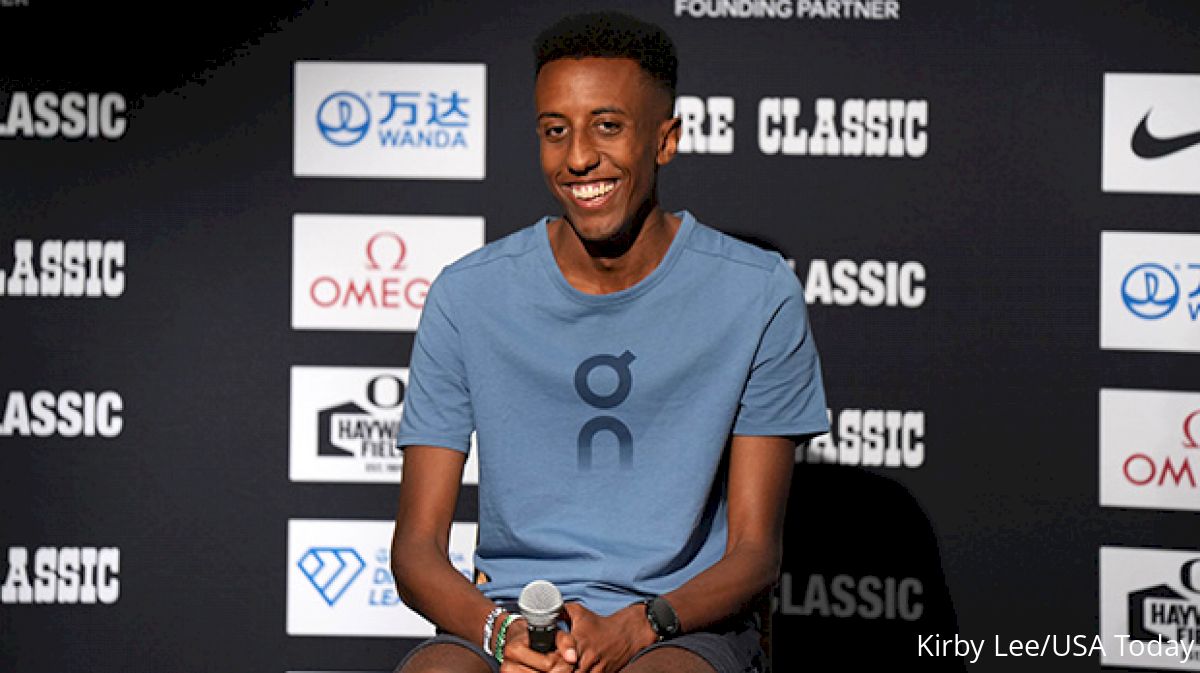 Yared Nuguse was only an eight year-old schoolboy on summer vacation when Alan Webb ran the still-standing American mile record of 3:46.91 at a small meeting in Brasschaat, Belgium.
But since then Nuguse, who last February set the USA indoor mile record of 3:47.38 at the Millrose Games, has thought about Webb's record a lot, first as a dream but now as an attainable goal.
Tomorrow in the Bowerman Mile at the Prefontaine Classic in Eugene, Ore., which serves as the Wanda Diamond League Final this year, Nuguse has the perfect opportunity to try for Webb's record.
He's in a fast field which includes three other sub-3:50 milers --Jakob Ingebrigtsen of Norway, Stewart McSweyn of Australia and George Mills of Great Britain -- and he will have the benefit qualified pacemakers and a packed house at Hayward Field which will surely be cheering him on. "Hayward Magic" just might happen for the former Notre Dame star in what will be his last race of the season where he has already set three American records.
"I've always been a big proponent of 'last one, best one' and just finishing it out with everything you have," said Nuguse, who was the U.S. 1,500m champion in July. "To be able to, one, come back to America to Eugene is really nice, and also just to finish in a mile. I think I've always been a little biased (but) the mile always felt a little more right than the 1500 did. It's just really exciting and really fun to come back and see what I can do to my mile PR."
Ingebrigtsen, the reigning World Athletics 5,000m champion, is doubling this weekend in both the mile on Saturday and the 3,000m on Sunday. However, the 3:46.46 miler said that the shorter race is his top priority.
Although he did not say what his goal was, it was obvious that he came to Eugene to run fast. The fastest mile of 2023 (outdoors) was a relatively modest 3:52.24 by Australia's Ollie Hoare in Melbourne back in February.
"First, I'm here to run the mile; that's the most important objective of this meeting," Ingebrigtsen told reporters. "First mile of the season, obviously the Diamond League Final, so hoping to bring (home) another trophy and hopefully a good time in the mile event."
Hayward Field has been the venue of choice in the USA when it comes to running fast miles. The 3:50 mark has been broken 27 times at Hayward, twice by Ingebrigtsen who ran 3:47.24 in 2021 (the meeting record) and 3:49.76 in 2022. Nuguse, whose 3:29.02 1,500m best converts to a 3:45.74 mile, could really benefit from having Ingebrigtsen ahead of him in the race.
But Ingebrigtsen cautioned that running fast at Hayward wasn't a slam dunk.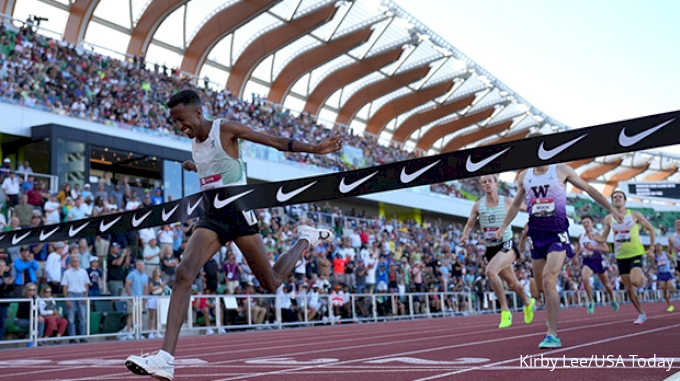 "I think it all depends on conditions," Ingebrigtsen said after refusing to reveal what pace he had asked for from the pacemakers. "I think we all know that Hayward Field is a difficult track to manage, to run fast, especially in distance events. With 300 meters to go there's always headwind. So, that can be little bit tricky. It all depends on whether we can get lucky for a couple of laps."
Nuguse, never one to overstate his objectives, listened intently to the Norwegian.
When asked whether there was a chance to break Webb's record, he said: "Yeah, I think so. I feel like if the race goes out nearly as fast as any other Diamond League has gone out, I'm sure that's something that could be managed."
Ingebrigtsen, never shy about verbally jousting with his rivals, shot back: "What do you mean by 'the race?'"
Both men laughed.
Nuguse then clarified: "A lot of it depends, obviously, on competitors, pacers and what not. I just feel like no matter what it's going to be a really fast race. It's like 3:46 high, or something. I would be excited to just go for it and see what I can do. I ran 3:47 indoors, so I feel like really confident that I'd be able to kind of just push it out a little further. They say outdoors is a little bit faster, so..."
Ingebrigtsen quickly jumped back into the conversation.
"Stick to me as long as you can and we'll get you sub-46," Ingebrigtsen said, drawing laughs from both Nuguse and the audience.
"We'll see, we'll see," Nuguse replied, "I might be closer than you think."
Fans aren't sure. A recent Twitter poll posted by Race Results Weekly, in which 407 fans participated, showed that 46.2-percent thought that Nuguse would get the record, while 53.8-percent believed he would not.
What is almost certain is that Nuguse will take down his personal best of 3:53.34, a time he called "pretty slow outdoors" today.
On Facebook on Friday, Alan Webb's wife Julia posted a video of Alan running on a treadmill in their home.
Webb, now 40, is the head coach at Ave Maria University in Florida. He didn't offer any comments about potentially losing his record, but Julia Webb wrote this:
"Can @yaredthegoose break this old man's 3:46.91?"
"Stick to me as long as you can and we'll get you sub-46," Ingebrigtsen said, drawing laughs from both Nuguse and the audience.