2023 Prefontaine Classic
A Revelatory Year For Cordell Tinch. He Credits His Roommate's Faith In Him
A Revelatory Year For Cordell Tinch. He Credits His Roommate's Faith In Him
Over the last year, the name Cordell Tinch has surprised some in track & field circles. But when 2023 ends, the Wisconsin native will be among World's best.
Sep 22, 2023
by Maxx Bradley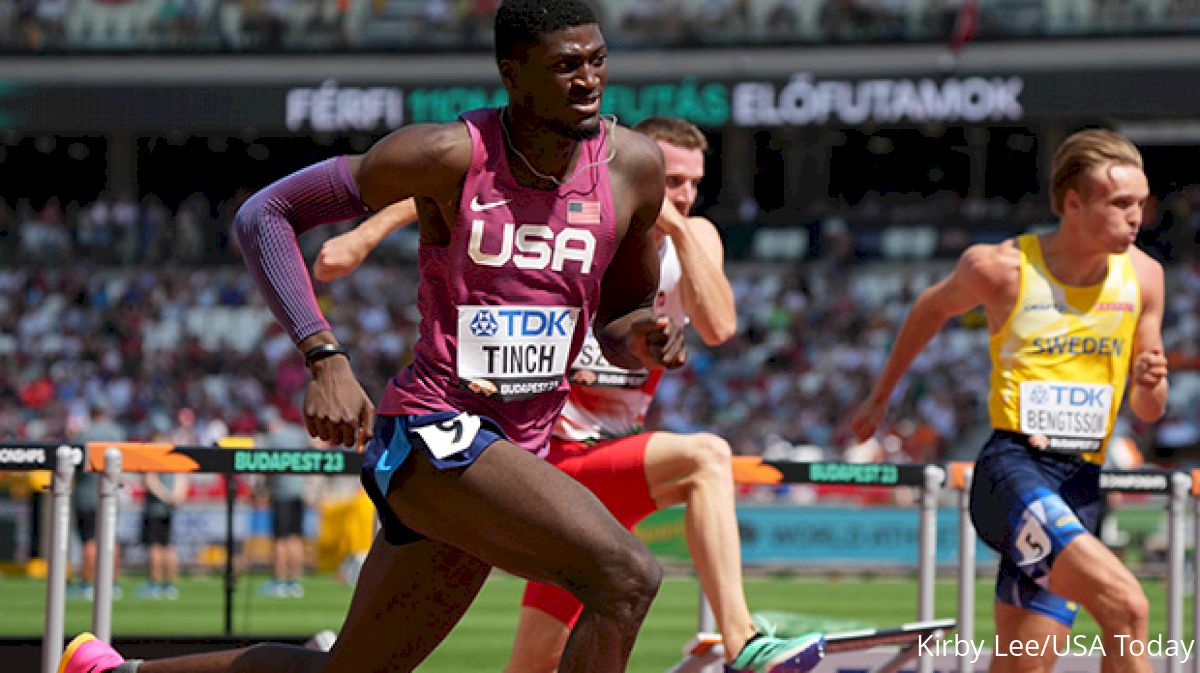 Over the last nine months, Cordell Tinch's journey from selling cellphones at US cellular to competing at the World Championships in Budapest has been anything but ordinary.
From being completely away from the sport, to running some of the fastest times in the world, it's been quite the year to remember for the Green Bay, Wisconsin native.
When he was younger, it was commonly known that Tinch was a freak of an athlete, boasting incredible athleticism regardless of what sport he was playing. Whether you wanted him to throw down a put-back dunk during the basketball season, or take a slant route to the house in football, he was your guy.
However, it was the world of track and field where Tinch excelled.
Out of high school, Tinch's plans didn't take him too far from home, as he planned on attending the University of Minnesota, where he was set to play on the men's football team, and then jump and hurdle in the spring.
However, due to the combination of summer exhaustion and his event coach heading west to the University of Kansas, Tinch made the decision to drop football all-together and transfer.
As a freshman, Tinch lived up to all of the expectations, and then some, for the Jayhawks. He won the Big 12 110mH title, as well as earning First-Team Big 12 honors in both the long and high jump. He even qualified for the NCAA championships as a freshman.
Unfortunately, he was not able to compete at nationals due to issues regarding his transfer from Minnesota months earlier.
The next winter, the eligibility problems persisted and with the global pandemic, Tinch decided just to head back home and take some time to weigh out his options. Instead of heading back Kansas, though, Tinch went to Coffeyville Community College in southern Kansas instead. He stayed only for the fall semester and focused on academics before heading back to Green Bay for the next two years.
During those two years, Tinch made a handful of decisions, including one where he decided he was stepping away from the sport and focusing on himself and his mental health.
Over those next two years, Tinch worked at Spectrum, where he installed cable, and worked for Georgia-Pacific, before joining the team at the US cellular store North of Green Bay.
Flash forward to to this winter. Tinch was now in Pittsburg, Kansas, on the cusp of what ended up being a historic outdoor season.
Tinch has given credit to his return to the sport to many people: His mother and the Pittsburg State coaching staff, for one, but perhaps the most important person was his roommate at both Kansas and Coffeyville, current Pittsburg State standout Treyvon Ferguson.
Thanks to Ferguson, Tinch stayed in contact with Pittsburg State after they reached out during his time at community college, but without Ferguson, the likelihood of Tinch coming back to the sport was slim.
"In all honesty, I don't think any of this happens without Trey. [ . . . ] He will always be that guy for me, as my support, whether I had good race or whether I had a bad race"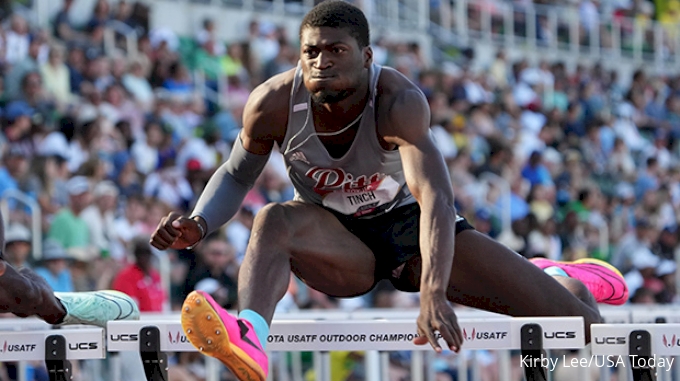 Now that he was back in business, it was time for the former Big 12 champ to re-adjust to life in track and field.
Keep in mind, Tinch hadn't cleared a hurdle, nor had he been consistently training since his days in Lawrence, so his expectations were not remotely close to where they were before.
But his indoor season went as well as he could have hoped for, as he won the 60mH and the high jump at the NCAA Division II Indoor National Championships. In the process, he also set the 60mH DII record.
Just for kicks, Tinch also ran seven of the ten fastest times in DII history. That spring, Tinch then won the 110mH, long jump and high jump at the DII national championships, which paired nicely with his DII record in the 110mH.
There were multiple times during the outdoor season where Tinch ran under 13.00, running 12.97 and 12.87 with illegal wind.
"In all honesty, I don't think any of this happens without Trey. [ . . . ] He will always be that guy for me, as my support, whether I had good race or whether I had a bad race"
Despite his flashes of success, Tinch never truly got the recognition he deserved, especially when he was snubbed from 'The Bowerman' semi-finalists list.
Even with the lack of acknowledgement to the spectacular athlete he was proving to be, though, Tinch continued to put in the work and hope for a wind-legal race where he could show the world what kind of athlete he was.
Just a day after not being named a semi-finalist for the most prestigious award for collegians, Tinch answered with a world-leading time of 12.96, which was an all-dates collegiate best, surpassing the current three-time defending world champion Grant Holloway and a long list of stars.
Finally, after months of being overlooked for the fact that he was in Division II and non-legal times due to wind that he couldn't control, Tinch was getting the recognition and respect he had earned.
This summer, Tinch competed at his first-ever USA Outdoor Championships, where he was going up against by far the deepest field of hurdlers any country in the world.
There, Tinch beat out Olympian Devon Allen and World Championship silver medalist Trey Cunningham to qualify for his first-ever global championship.
The culmination of Tinch's resurgence back into the track and field scene came in Budapest, where the the 22-year-old made it to the semi-finals, coming shy of a berth in the world final.
However, that wouldn't cap his first season back in the sport.
He found himself in the Diamond League Final at the Prefontaine Classic last weekend.
Finishing seventh in 13.21, Tinch was all smiles as he reflected on his last ten months.
"We had a goal coming in because of how I've been running, we hit that goal so I'm not upset as I should be," he said, "but I'm in a good mood and the season is over and I get to relax, and I'm just excited for next year."
Two Division II records, a world-lead and a world championship berth summarize his incredible re-introduction after completely leaving the sport.
He's put the world on notice.