NCAA
North Carolina Men Are Running With A Stronger Purpose, More Than You Know
North Carolina Men Are Running With A Stronger Purpose, More Than You Know
A nearly tragic moment shaped last spring within the UNC men's cross country team, but the Tar Heels haven't stopped dreaming about nationals.
Oct 9, 2023
by Cory Mull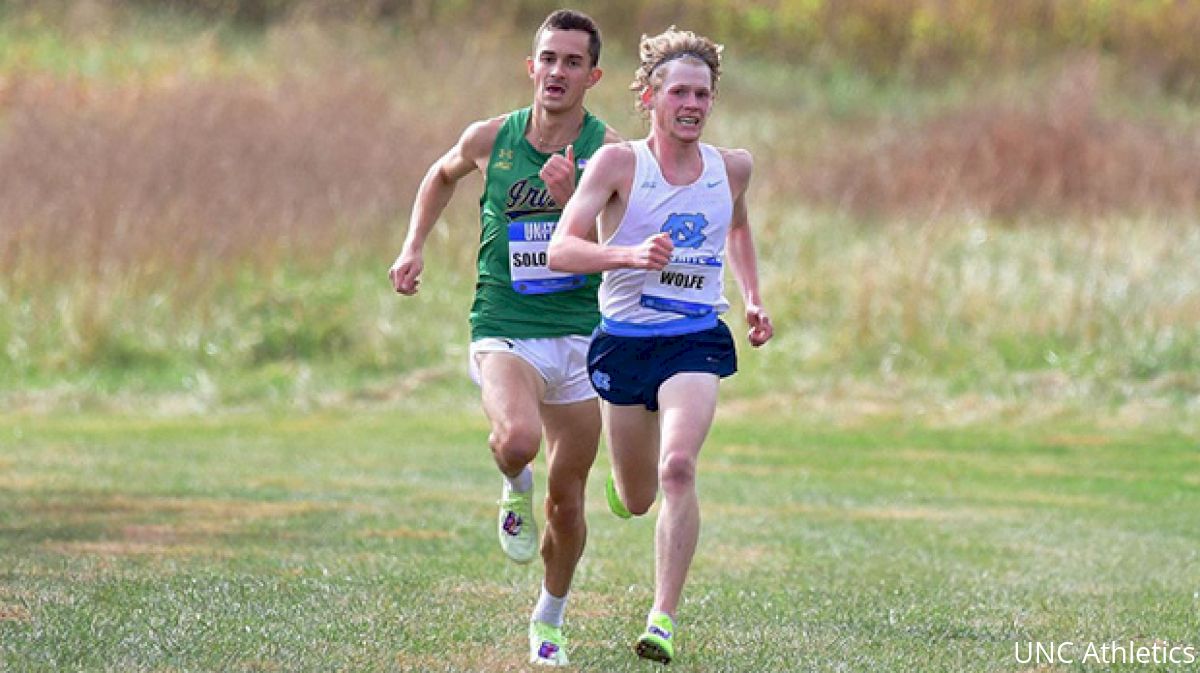 You might reference the finishes at NCAAs as proof to North Carolina's ascension in the men's ranks this cross country season. The proof is in the pudding, as they say, and the numbers don't lie.
In fact, over the last three seasons under Chris Miltenberg, who was hired as the Director of Track and Field and Cross Country in 2019, the University of North Carolina men have made the prohibitive leap into NCAA relevance in cross country, finishing 18th at the NCAA Cross Country Championships in 2021 and 10th in 2022. Junior Parker Wolfe, who was recruited out of Colorado, has formed into possibly one of the NCAA's very best runners.
That success is all the more stark when you consider the Tar Heels failed to qualify for NCAAs over the COVID-year in 2020 -- when nationals were in March of 2021 -- and came up seventh at the ACC Championships. The program was largely an also-ran.
But after a nearly tragic moment changed this team last spring, the Tar Heels were handed a bit of reality, the kind that changes the way you live and train and makes you grateful for the moments you do have.
"It's our super power this year," Miltenberg said. "It's perspective ... what we've gone through, we look left and right now."
This past spring, five North Carolina men's track and field athletes were traveling to practice in a car after the Raleigh Relays. It crashed, flipped and then landed in a ditch. UNC athletes Patrick Anderson and Will Coogan were in the car and both were seriously hurt, Anderson nearly dying from his injuries.
"Patrick was in the hospital for seven weeks," Miltenberg said. "He shattered every bone in his face. We thought he was dead."
Life halted for a moment, with the program clinging to the livelihood's of their two athletes. Both survived, but the men's team ultimately had to come to terms with what just happened. Two of their most important runners, their No. 4 and No. 5 last year, would be on the sidelines this fall. And from there, this: The Tar Heels were tasked with figuring out where to go with the cross country season, one where they were tabbed to be among the NCAAs best, ranked No. 6 in the preseason nationally.
"I'm not a football coach, so I never experienced (a player getting) concussions," Miltenberg said. "But that's the scariest thing I've ever seen."
What's clear now is that the Tar Heels have a lot more to run for this fall.
So far, they've channeled those emotions with brunt force. A rust-busting win at the Charlotte Opener began things before a third-place finish at the Virginia Invitational on Sept. 23 in Charlottesville, the home of NCAAs this November, gave credence to the fact that, yes, UNC may in fact be as good as advertised. The UNC men are currently ranked No. 5 nationally.
"We're fighting to be consistent," said Parker Wolfe, who is among the NCAA's top runners this fall and finished second at Virginia. "The way we train, the way we're set up, these early meets we're trying to be consistent."
Of course, that result came in September. UNC is heading to Nuttycombe this weekend in Wisconsin, and the stakes there will be a little bit higher.
The important stuff, though, are ACCs, regionals and nationals. UNC was third at ACCs last fall, won regionals and was 10th at nationals.
"We're putting in the work," UNC junior Ethan Strand said. "That's allowing us to get better. The more we race, the more ready we'll be come nationals. But we're not as ready as we'll be in two to three months."
Their two runners, Anderson and Coogan, also will not be with them. After multiple surgeries, Anderson is back on the sidelines in some form, though he will not run this fall. Coogan is not training with the program but "he's probably going to be back soon," Strand said.
In the meantime, the Tar Heels are figuring things out the 'Miltenberg Way.'
"It's really important to trust what coach Milt is doing for us," Strand said. "Coming in, his goal was always to have a logical progression in our training and to focus on how we handle everything day-to-day.
"I agree," Wolfe added. "Most of what coach Milt and I talk about is consistency. Making sure my bad days are B-plus days."
Wolfe and Strand are two runners the Tar Heels certainly can count on this season. Wolfe finished ninth at NCAAs last year, while Strand was 62nd, the pair finishing as the first two across the line for the team. North Carolina's last national champion in cross country was Jack Milne, who won the NCAA title in 1947 and ran four miles in 20:41.1.
"Patrick was in the hospital for seven weeks," Miltenberg said. "He shattered every bone in his face. We thought he was dead."
But after Anderson and Coogan went down and John Tatter graduated, Miltenberg was tasked with optimizing the lineup.
In years past, during his years at Stanford, he may have benefitted from a bevy of upperclassmen.
But today, there's a new hack for NCAA coaches, and it's in the form of graduate transfers. Miltenberg said he began to utilize that area of the roster build three years ago. His first group at UNC included Stanford transfers Thomas Ratcliffe and Alex Ostberg and then came Michigan's Jack Aho.
"We were intentional about grad transfers we would take," Miltenberg said. "I told them, 'You have to help us get things off the ground.'
In practice, what those three brought to the table was foundational. How to practice. How to train. How to lead. If those three taught the program anything, it was that.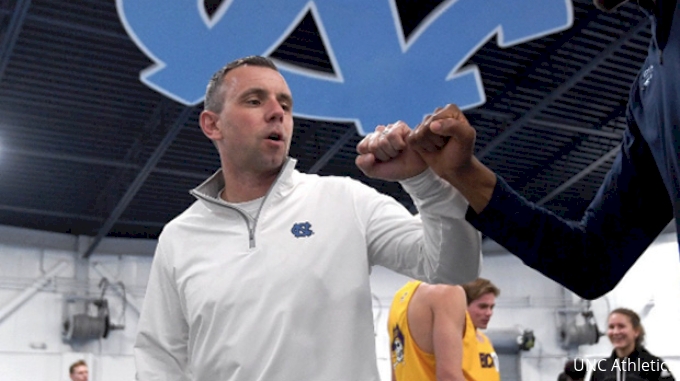 "There were two big things," Miltenberg said. "One, 'How do you go about this? We needed to operate every day at a super high professional level and be conscious of the way you go about your business ... the second part, I think, was 'you got to believe you're good enough.'"
Two years later, Miltenberg scored two more impact-laden graduate transfer performers: Jake Gebhardt, who ran at Indiana University; and Alex Phillip, formerly of John Carroll University, a Division III outlet.
Gebhardt ran 13:37.70 this past March, while Phillips won a NCAA Division III cross country title last year and was a multiple-time NCAA DIII champion and All-American.
"When we first started talking to him, we asked him, 'How did you wind up at John Carroll?' and he said. 'They were the only coaches who responded to me.'" Miltenberg said. "He's had an amazing impact on our guys. He's got a total blue collar mindset and wanted to be on the team. Truthfully, he's pushed Parker a couple times already. We've been waiting for that."
From there, North Carolina will need young runners like Aiden Neal (freshman), Gitch Hayes (freshman), Luke Wiley (freshman) and Colton Sands (sophomore) to step up.
Nearly a month remains until the NCAA Championships on Nov. 18.
What's more, this week's date with the NCAA's best men's programs at the Nuttycombe Wisconsin Invitational presented by Under Armour will be another reminder of just how much the UNC men have improved -- or perhaps how much is still left to go.
Of course, this team doesn't need reminded of that. After enduring a nearly devastating setback last spring, few teams will be competing with as much motivation over the last month. Anderson and Coogan will be watching the Tar Heels on.
"Just not having them around as often these last few months, it's been tough," Wolfe said.
Can North Carolina find a way?
"I think a lot of younger guys came into this team and they said to themselves, 'We have a solid five guys. We're deep,'" Wolfe said. "Then two are gone. OK, now you have to fill roles. Who's going to step up and help us out?"