NCAA
How A Change In Strategy Led To California Baptist's Emergence In NCAA XC
How A Change In Strategy Led To California Baptist's Emergence In NCAA XC
By recruiting and landing successful international athletes, California Baptist has tapped into a market that has paid big dividends.
Oct 24, 2023
by Cory Mull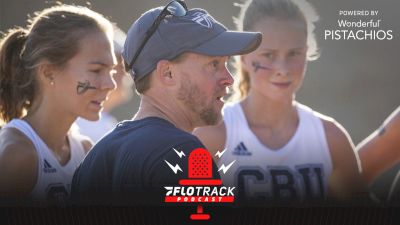 As the saying goes, running is universal.
But no program in the NCAA takes that idea quite to the max like California Baptist University, a 4-year university located roughly an hour east of Los Angeles which currently features cross country athletes from 21 different countries.
Five years since moving into the NCAA Division I, the Lancers are amid their most successful season to date, ranked No. 5 and 12, respectively, in the national men's and women's rankings, ahead of programs like Texas and Arkansas and Oregon and Michigan State.
It all begs the question: Can a mostly international team out of the Western Athletic Conference make a jump into the distance running elite this fall?
"At the end of the day, they come in and they are all here for the same reasons," said Adam Tribble, the 43-year-old head of the California Baptist program. "They want to accomplish the same things. It puts them all on the same page."
Since 2020, the program has finished no less than second inside the WAC conference.
But in 2022, that success grew larger when the Lancers pushed through to the main stage, qualifying its women's team for its first NCAA Division I Championships.
Both the men's and women's teams finished fifth at regionals, while the women entered NCAAs on an at-large berth. The success has been equals part recruiting strategy, training gusto, competition nerve and a lot of can-do attitude for this squad of international and U.S. athletes, 39 in all -- 21 on the women's side and 18 on the men's team.
--
Related Links:
USTFCCCA Division I men's XC ranking
USTFCCCA Division I women's XC ranking
---
"They've had some really good moments over the last few years," Tribble said.
So how did this all come to be?
We must first start with Tribble. His first men's roster included athletes from Kenya, Germany, South Africa and France, while the women's team had nine different countries represented.
Hired in 2018, the Georgia native had previously coached at Alabama, Oregon State, Arkansas and Georgia -- where he graduated in 2002. With California Baptist located in a cross country rich state like California and just a skip from the Southern Section of the CIF, Tribble's first thought was to dig into the dirt.
"When I first got here, I was planning on overpaying for California kids," Tribble said. "The plan was to maybe give a little more scholarship to a guy or girl that someone wouldn't.
"But it wasn't working," he added, "so we had to adjust."
Changing the strategy didn't take long. Tribble and his staff began to shift to an international approach quickly after his first season set in. Nine international recruits filled the women's roster in 2019, while 10 were on the men's team. He said he found recruits the ol' fashioned way: by manually searching results -- only this time, he wasn't just searching domestically.
"We're pouring over World Athletics all the time," Tribble said. "We're always looking and scouting at everything we can find."
It wasn't as easy as it looks now, with a nationally-relevant team, he said.
"We heard no 10 times as much as we heard yes," he said. "Maybe more than that. But we cast a wide net and we contacted thousands of people. We dug pretty deep."
Tribble is quick to point out that he still recruits athletes from the United States.
This year's men's and women's team, in fact, features eight total athletes from California, including Tyler Tickner, a former top runner for the Great Oak High School team -- the Wolfpack are considered a national power by high school standards.
But five years after first beginning this process, even recruiting is starting to change slightly.
"One thing that happened," Tribble said, "is that the level of athlete we're looking for is now higher and higher and now it's gotten more difficult to find that level of athlete, especially on the guy's side."
Success creates its own cascading wave of success, especially on the international side of things. The men's coaching staff at Tulsa, for instance, has credited good word-of-mouth from their international athletes as a pipeline for future recruits.
Some of that, in various ways, may be creating a cyclical flow for this team, too.
Of course, this would all be moot if California Baptist wasn't absolutely crushing it.
When did that inflection point actually come?
"On the guys side, that was two years ago," Tribble said, matter-of-factly. "What happened was we wanted to run a 10K and have as many guys as we could under 30.
"Then nine to 10 guys did it."
The specific meet he's talking about is the Ben Brown Invite, which took place in March of 2022 at Cal St. Fullerton.
Nine men, led by Florian LePallec (France) and Giedrius Valincius (Lithuania), ran under 30 minutes.
"The build up to that, that spring, we felt 'this guy's team could be something special,'" Tribble said. "The training was there. The work ethic and the way they bought into the lifestyle of being a good distance runner was there."
The ensuing fall, CBU followed with a men's and women's sweep at Roy Griak before consecutive fifth-place finishes at the West Region -- the men fell to Stanford, Gonzaga, Washington and Oreogn, while the women were fifth to Stanford, Oregon, Washington and Oregon State.
But after the NCAA Kolas calculator worked its way through the auto qualifiers and all the variables, the women were in and the men were (likely) the first team out.
"We ended up short," Tribble said, "but we'll try our best to rectify that this year."
All things being equal, both teams may have already done the legwork.
With their fourth-place finish in the men's race and their eighth-place finish in the women's circuit at the Nuttycombe Wisconsin Invitational, CBU has put itself in a good place.
"We got all the points we could possibly need and more," Tribble said. "Now we just have to be able to have a good, solid day at regionals and hope that no weird things happen. You have to take care of business at regionals."
You might wonder how someone like Tribble has dealt with coaching a team with a truly global approach.
After all, with 21 different nation's represented, that may also represent 21 different languages.
"We have a really good developmental English program at CBU," Tribble said, speaking to the school's intensive english program which features interactive curriculum. "It makes for a really neat situation."
Then again, there's also that thought we had at the beginning.
"What we do in running is pretty simple," Trimble said. "It's matter of working together. We've managed to get the message across."