NCAA Regional XC Championship Hub: Here's What Happened So Far
NCAA Regional XC Championship Hub: Here's What Happened So Far
NCAA Cross Country Regionals are taking place all across the United States on Friday, and the fate of NCAA Championship bids are at stake.
Nov 11, 2023
by Cory Mull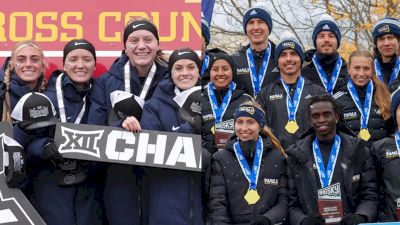 NCAA Cross Country Regionals are taking place all across the United States on Friday, and the fate of NCAA Championship bids are at stake.
FloTrack will be tracking all the results on Friday and providing up-to-date information when we get them.
Check our our updated auto-qualifiers list, along with breakdowns from each regional across the U.S.
Below, we'll recap action from each regional.
---
South Regional (Gainesville, Fl.)
---
Women's Race
The reigning NCAA Championship runner-up from 2022, Parker Valby, made quick work of the field during the South Regional on Friday at the Mark Bostin Golf Course, clocking a winning time of 17:59.6 for 6,000 meters.
That put her three seconds on Alabama's duo of Doris Lemngole, who was second in 18:02.7, and Hilda Olemomoi, who was third in 18:04.5.
It was a typical Valby outing. The NCAA star went out in front into the first mile in 4:56.4 before clocking a time of 9:17.4 just past the 3K mark, by then a full nine seconds on the next-best opponent.
But the Alabama duo made up time in the last 1,500m, closing on a 12-second gap that shrunk to just three and five seconds by race's end.
Tennessee, meanwhile, locked in its automatic qualifier, winning the South with impressive depth behind a 7-8-9 finish from Ashley Jones, Jessica Secor and Jillian Candelino. The trio were identical across the line, separated by just two-hundredths of a second in 15:02.2, 15:02.3 and 15:02.4.
Valby's Florida teammates, meanwhile, locked in the other auto-bid with 75 points, securing their spot in the NCAA Championships. Alabama was third with 86 points, while Ole Miss was fourth with 105. Both squads will have to rely on their KOLAS points over the season to bump them into the tourney.
---
Individual Finishers:
1. Parker Valby, Florida, 17:59.6
2. Doris Lemngole, Alabama, 18:02.7
3. Hilda Olemomoi, Alabama, 18:04.5
4. Alyson Churchhill, Florida State, 18:39.7
5. Daphnee Lavassas, Miami, 18:49.7
6. Loral Winn, Ole Miss, 18:52.1
7. Ashley Jones, Tennessee, 18:52.9
8. Flomena Asekol, Florida, 18:53.5
9. Kiara Carter, Lipscomb, 18:54.4
10. Jillian Candelino, Tennessee, 18:55.0
Team Finishers:
1. Tennessee, 61 points
2. Florida, 79 points
3. Ole Miss, 95 points
4. Albama, 98 points
5. Lipscomb, 107 points
---
Men's Race
Another Alabama duo, meanwhile, dominated the men's race, as Hillary Cheruiyot and Victor Kiprop went 1-2 in times of 28:26.8 and 28:29.9 for 10,000 meters, respectively.
Tennessee's Yaseen Abdalla was third, registering a finishing time of 28:41.3 as he led the Volunteers to the title with 68 points, just three points on Florida State's second-place effort of 71. Those two programs both locked in their spots at the NCAA Championships.
Tennessee had four men in the top 17 spots -- Gabriel Sanchez was sixth in 28:56.8, Dean Casey was 11th in 29:15.6 and Eli Nahom was 17th in 29:30.6.
Alabama was third with 86 points while Ole Miss was fourth with 86.
---
Individual Finishers:
1. Hillary Cheruiyot, Alabama, 28:26.8
2. Victor Kiprop, Alabama, 28:29.9
3. Yaseen Abdalla, Tennessee, 28:41.3
4. David Mullarkey, Florida State, 28:45.0
5. Jason Bowers, East Tennessee State, 28:51.3
6. Gabriel Sanchez, Tennessee, 28:56.8
7. Brian Kiptoo, Middle Tennessee State, 29:05.2
8. Vincent Yegon, Middle Tennessee State, 29:09.8
9. Cruz Gomez, Ole Miss, 29:13.0
10. Abdirizak Ibrahim, Florida State, 29:14.4
Team Finishers:
1. Tennessee, 68 points
2. Florida State, 71 points
3. Alabama, 86 points
4. Ole Miss, 86 points
5. Lipscomb, 158 points
---
MOUNTAIN (Lubbock, Tx.)
---
Women's Race
It was onward to nationals for the No. 1 team in the country, the Northern Arizona women.
Can the Lumberjack women earn their first national title in 2023?
So far, everything has gone to plan, and on Friday it was another reminder that NAU has what it takes, as the squad took down a very good BYU team by 20 points on the Chaparral Ridge course in Lubbock, Texas.
Leading the way was regional winner Gracelyn Larkin with a win in 19:19.7, though NAU's top runner, Elise Stearns -- who was fourth at Nuttycombe -- sat out.
That probably makes this team even more dangerous. NAU and BYU both locked up their bids to nationals and will now face off against defending NCAA champions NC State, which won the Southeast early Friday morning.
BYU's Carmen Alder, who has quickly earned her stripes for the Cougars after winning the XC23 College Open -- on the Panorama Farms course -- was first for the squad in fourth, followed by Aubrey Frentheway.
NAU had four runners inside the top 10, while BYU had three. No. 20 Utah skirted past No. 13 Colorado to finish third, while the Buffaloes were fourth. Utah Valley, the 22nd-ranked team, was fifth and No. 27 Colorado State was sixth.
Individual Finishers:
1. Gracelyn Larkin, Northern Arizona, 19:19.7
2. Nicola Jansen, New Mexico, 19:25.1
3. Juliet Cherubet, Texas Tech, 19:26.5
4. Carmen Alder, Brigham Young, 19:30.5
5. Aubrey Frentheway, Brigham Young, 19:30.6
6. Aliandrea Upshaw, Northern Arizona, 19:44.3
7. Ruby Smee, Northern Arizona, 19:45.1
8. Sarah Carter, Colorado State, 19:45.9
9. Lexy Halladay-Lowry, Brigham Young, 19:47.1
10. Maggi Congdon, Northern Arizona, 19:47.5
Team Finishers:
1. Northern Arizona, 39 points
2. Brigham Young, 59 points
3. Utah, 120 points
4. Colorado, 131 points
5. Utah Valley, 136 points
---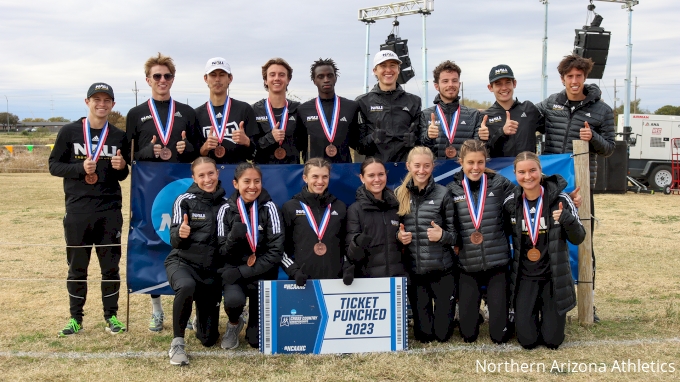 Men's Race
It was a tactile race through nearly 8,000 meters before things heated up over the final 2K.
A pack of 13 finally separated into that ninth kilometer, and from there New Mexico's trio of Habtom Samuel, Lukas Kiprop and Evans Kiplagat surged away, breaking away from the group.
Only Northern Arizona's Nico Young, the reigning NCAA runner-up from a year ago, held on over the last 500 meters, going toe-to-toe with Samuel.
Samuel won the day in 27:57.6, but Young showed fearlessness on his way to his second-place finish in 28:59.6. And moreover, Young's finish was the first placement in a dominating display for the Lumberjacks, the reigning NCAA Champions who took the region title with 40 points.
Kang Nyoak (5th), Drew Bosley (7th), Aaron Las Heras (8th) and Brodey Hasty (14th) finished out the scoring over the next 12 places, all within the top 15.
Brigham Young's first runner, James Corrigan, was 12th overall in 29:19.8, while he was followed by Kenneth Rooks, Lucas Bons and Joey Nokes as BYU scored 89 -- their fifth, Garrett Stanford, finishing things off in 26th place.
New Mexico, aided by three finishers in the top four placements, was third with 97 points while Air Force was fourth with 112 and Montana State fifth with 135.
The Colorado men, ranked No. 23 in the country, slipped to sixth overall.
As expected, it's a @NAUTrackFieldXC sweep in the Mountain region as the men win with 36 points.@BYUTFXC takes second with 89 points.

Star freshman Habtom Samuel (@UNMLoboXCTF) took the overall win in 28:57.6. pic.twitter.com/TCTM4IWHan

— FloTrack (@FloTrack) November 10, 2023
Individual Finishers:
1. Habtom Samuel, New Mexico, 27:57.6
2. Nico Young, Northern Arizona, 28:59.6
3. Lukas Kiprop, New Mexico, 29:00.0
4. Evans Kiplagat, New Mexico, 29:03.9
5. Kang Nyoak, Northern Arizona, 29:10.0
6. Luke Combs, Air Force, 29:10.3
7. Drew Bosley, Northern Arizona, 29:12.2
8. Aaron Las Heras, Northern Arizona, 29:12.5
9. Victor Kibiego, UTEP, 29:15.4
10. Ben Perrin, Montana State, 29:18.1
Team Finishers:
1. Northern Arizona, 36 points
2. Brigham Young, 89 points
3. New Mexico, 97 points
4. Air Force, 112 points
5. Montana State, 135 points
---
SOUTH-CENTRAL (Fayetteville, Ar.)
---
Women's Race
It was an Arkansas-led race, with Sydney Thorvaldson, Mia Cochran and Mary Ellen Eudaly doing much of the early work before securing finishes of first, second and sixth while the No. 11 Razorbacks locked in the South-Central Regional win with 36 points.
Chaos reigned after that, as Tulane -- which received a few votes for the most recent USTFCCCA national rankings -- fell to fifth and Texas A&M jumped up to second, locking down their spot at NCAAs, a major domino and a ridiculous result.
The Aggies women haven't qualified for the NCAA Championships since 2000.
LSU was third with 129 points, while Tulane was fourth with 139. The Texas women finished fifth, tied with SMU.
Individual Finishers:
1. Sydney Thorvaldson, Arkansas, 19:52.0
2. Mia Cochran, Arkansas, 20:14.8
3. Matro Jepkemboi, UT-Arlington, 20:15.8
4. Ella Chestnut, LSU, 20:18.4
5. Rahel Broemmel, Arkansas State, 20:20.7
6. Beth Ramos, Texas, 20:29.1
7. Gracie Morris, Texas Christian, 20:33.7
8. Madison Brown, Texas A&M, 20:40.2
9. Laura Taborda, Arkansas, 20:42.3
10. Maddie Livingston, Texas A&M, 20:51.5
Team Finishers:
1. Arkansas, 36 points
2. Texas A&M, 90 points
3. LSU, 129 points
4. Tulane, 139 points
5. Texas, 143 points
---
Men's Race
Pack running was the name-of-the-game for the No. 9 Texas men, which won the South-Central division with 34 points, using strong outings from graduate transfer Devin Hart (third), Rodger Rivera and Haftu Knight
Hart and Rivera began to make their move at 5K, taking the lead at 1-2, before Hart moved away over the next 2K, forming a four-second lead on Arkansas' Kirami Yego and Patrick Kiprop. Hart held on through 8K, but fell to third at the finish.
Still, the Longhorns were strong, logging finishes of 3-4-5-9-13 to push through to NCAAs.
Arkansas, meanwhile, followed comfortably in second without Ben Shearer and registered 52 points. Tulane was third with 77 points and Incarnate Word and Arkansas State tied with 157.
Individual Finishers:
1. Patrick Kiprop, Arkansas, 28:38.8
2. Kirami Yego, Arkansas, 28:43.0
3. Devin Hart, Texas, 28:44.6
4. Rodger Rivera, 28:59.5
5. Isaac Alonzo, 29:18.5
6. Bradley Makuvire, Tulane, 29:25.1
7. Jack Jennings, Tulane, 29:27.1
8. Eric Casarez, Texas A&M, 29:29.4
9. Haftu Knight, Texas, 29:39.0
10. Victor Neiva, North Texas, 29:41.7
Team Finishers:
1. Texas, 34 points
2. Arkansas, 52 points
3. Tulane, 77 points
4. Incarnate Word, 157 points
5. Arkansas State, 157 points
---
MIDWEST (Stillwater, OK)
---
Women's Race
The first 3K was all DePaul. The last 3K was all Oklahoma State.
The Cowboys finished strong over the second half on Friday in Stillwater, Oklahoma, and claimed the Midwest Regional win with 30 points, outlasting Iowa State, which followed with 75 and Northwestern, which was third with 155.
DePaul's two-some of Olivia Borowiak and Nina Amicon started out hot, taking out the first 2K in 6:05, but by 3K they were hurting, and that's when Oklahoma State's Taylor Roe stepped in.
Like the veteran that she is, Roe claimed the lead and then the threesome of Roe, Molly Born and Billah Jepkirui packed together before unleashing a deadly kick over the final 1,000 meters.
Jepkirui earned the win in 20:28.4, Roe was second in 20:29.1 and Born followed in fifth in 20:35.4.
Individual Finishers:
1. Billah Jepkirui, Oklahoma State, 20:28.4
2. Taylor Roe, Oklahoma State, 20:29.1
3. Lona Latema, Kansas, 20:31.2
4.Madelynn Hill, Iowa State, 20:35.4
5. Molly Born, Oklahoma State, 20:36.1
6. Yonca Kutluk, North Dakota, 20:36.4
7. Brooke Mullins, Drake, 20:40.4
8. Ava Earl, Northwestern, 20:42.3
9. Kalea Bartolotto, Northwestern, 20:43.4
10. Cayden Dawson, Oklahoma State, 20:43.9
Team Finishers:
1. Oklahoma State, 30 points
2. Iowa State, 75 points
3. Northwestern, 155 points
4. Minnesota, 184 points
5. Kansas State, 241 points
---
Men's Race
Just how good was No. 2 Oklahoma State on Friday at the NCAA Midwest Regional?
The Cowboys were just four points shy of perfection, scoring 19 points behind finishes of 1-2-3-5-and-8 and a 46-second spread over 10,000 meters.
No. 20 Iowa State, which finished second with 56 points, had a 48-second spread but were 31 seconds behind on average to Oklahoma State, which saw Denis Kipngetich, Brian Musau and Fouad Messaoudi take over shortly after 4K and never look back.
Tulsa, which started the year at No. 21 in the national rankings before dipping out in Week 4, was third with 131 points while Loyola (Il.) was fourth with 131.
Individual Finishers:
1. Denis Kipngetich, Oklahoma State, 29:39.2
2. Brian Musau, Oklahoma State, 29:49.2
3. Fouad Messaoudi, Oklahoma State, 30:03.5
4. Said Mechaal, Iowa State, 30:11.5
5. Adisu Guadia, Oklahoma State, 30:12.4
6. Chandler Gibbens, Kansas, 30:21.2
7. Sanele Masondo, Iowa State, 30:23.7
8. Alex Maier, Oklahoma State, 30:26.1
9. Max Murphy, Iowa, 30:27.6
10. Jack Roberts, Illinois, 30:27.6
Team Finishers:
1. Oklahoma State, 19 points
2. Iowa State, 56 points
3. Tulas, 131 points
4. Loyola (IL.), 131 points
5. South Dakota State, 196 points
---
MID-ATLANTIC (Bethlehem, Pa.)
---
Women's Race
Eyes were fully on the Georgetown women, who entered Friday's regional as the only nationally ranked team from the Mid-Atlantic and at No. 4 overall.
But the Hoyas did not disappoint, scoring 48 points to secure their regional title and move on to NCAAs.
With four women inside the top 10, Georgetown hardly broke a sweat, as Melissa Riggins was second in 19:35.6 and Kelsey Swenson was third with a time of 19:46.8.
Villanova's Sadie Sigfstead claimed the overall win by just a hundredth-of-a-second over Riggins, who made up an eight-second difference over the last 2K.
Penn State earned the other auto bid with its second-place finish with 79 points, while Penn was third with 104 and West Virginia was fourth with 120.
Individual Finishers:
1. Sadie Sigfstead, Villanova, 19:35.5
2. Melissa Riggins, Georgetown, 19:35.6
3. Kelsey Swenson, Georgetown, 19:46.8
4. Emma McGill, Villanova, 19:49.2
5. Olivia Morganti, Penn, 19:50.2
6. Abby Herring, Marshall, 19:52.4
7. Maggie Donahue, Georgetown, 19:55.1
8. Maeve Stiles, Penn, 19:57.1
9. Chloe Gonzalez, Georgetown, 19:58.6
10. Alexander Carlson, Rutgers, 19:59.8
Team Finishers:
1. Georgetown, 48 points
2. Penn State, 79 points
3. Penn, 104 points
4. West Virginia, 120 points
5. Villanova, 128 points
---
Men's Race
Princeton and Villanova had last seen each other at Nuttycombe.
That result on Oct. 13 -- in a massive field including over 20 ranked teams -- went the Wildcats' way, with Princeton four spots back from 'Nova.
Regionals, however, was a different story.
No. 16 Princeton strung together an 18-second spread over 10,000 meters and finishes of 4-6-8-11-12 to sting No. 11 Villanova and claim the Mid-Atlantic title with 41 points.
It won't be the last matchup between these two, though. Villanova was second with 73 points and locked in the other automatic qualifier, pairing with Princeton through to NCAAs.
Georgetown, meanwhile, will have to wait and see. The Hoyas finished third by an agonizing 77 points, just shy of that automatic placement.
Penn State was fourth with 122.
Villanova's Liam Murphy earned the regional title with a time of 29:05.5, as he created a nine-second gap over the final two meters from his teammate, Haftu Strintzos, who was second in 29:14.7.
Individual Finishers:
1. Liam Murphy, Villanova, 29:05.5
2. Haftu Strintzos, Villanova, 29:14.7
3. Murphy Smith, Navy, 29:22.7
4. Nicholas Bendtsen, Princeton, 29:29.2
5. Luke Henseler, Pittsburgh, 29:30.2
6. Jarrett Kirk, Princeton, 29:31.2
7. Matthew Rizzo, Georgetown, 29:31.4
8. Connor Nisbet, Princeton, 29:31.6
9. Parker Stokes, Georgetown, 29:36.6
10. MacCallum Rowe, La Salle, 29:40.7
Team Finishers:
1. Princeton, 41 points
2. Villanova, 73 points
3. Georgetown, 77 points
4. Penn State, 122 points
5. Navy, 133 points
---
SOUTHEAST (Spartanburg, SC)
---
Women's Race
A deep race that saw eight women under 20 minutes ended the way that was expected, a Katelyn Tuohy win.
The defending NCAA champion didn't make her move until late in the race, moving 12 seconds past the next-best-runner to win in 19:29.8, while the NC State women, without Kelsey Chmiel, won the Southeast with a comfortable 52 points.
Samantha Bush, Grace Hartman, Gionna Quarzo and Jenna Schulz rounded out the scoring for the Wolfpack, who compiled a 61-second spread.
Furman, no stranger to regional success, was second with 82 points to hold out Virginia from an automatic berth to NCAAs. The girls of Greenville went 13-15-16-17 in the team scoring, an impressive flood of pack running.
Wake Forest was fourth in 147 as freshman Brooke Wilson led the way in 10th, while North Carolina was fifth with 154 points.
Individual Finishers:
1. Katelyn Tuohy, NC State, 19:29.8
2. Amina Maatoug, Duke, 19:41.0
3. Margot Appleton, Virginia, 19:48.9
4. Judy Kosgei, South Carolina, 19:48.9
5. Gladys Chepngetich, Clemson, 19:52.0
6. Samantha Bush, NC State, 19:56.0
7. Jenny Schilling, Virginia, 198:56.5
8. Grace Hartman, NC State, 19:58.6
9. Fatima Alanis, North Carolina, 20:00.3
10. Brooke Wilson, Wake Forest, 20:04.5
Team Finishers:
1. NC State, 52 points
2. Furman, 82 points
3. Virginia, 123 points
4. Wake Forest, 147 points
5. North Carolina, 147 points
---
Men's Race
What can the No. 5 North Carolina men do at NCAAs?
For the third straight year under Chris Miltenberg, the Tar Heels have booked their trip to NCAAs, only this time they claimed a Southeast Regional title, scoring 38 points behind four finishes inside the top 10.
Led by Parker Wolfe and Alex Phillip, who went 2-3, the Tar Heels -- 10th last year at NCAAs -- put together a 40-second spread, erasing any doubt.
No. 28 Eastern Kentucky, fully into the national picture by Week 2, finished second overall with 72 points, locking in their position as well.
NC State was third with 106 points, while Wake Forest, ranked No. 29 nationally, was fourth with 137, on the outside looking in as the KOLAS now takes over.
Individual Finishers:
1. Dylan Schubert, Furman, 28:51.2
2. Parker Wolfe, North Carolina, 28:53.3
3. Alex Phillip, North Carolina, 28:53.3
4. Nickolas Scudder, Charlotte, 28:55.3
5. Luke Tewalt, Wake Forest, 28:59.7
6. Ethan Strand, North Carolina, 29:02.8
7. Will Anthony, Virginia 29:03.7
8. Nikodem Dworczak, Eastern Kentucky, 29:12.4
9. Jake Gebhardt, North Carolina, 29:15.5
10. Taha Er Raouy, Eastern Kentucky, 29:19.2
Team Finishers:
1. North Carolina, 38 points
2. Eastern Kentucky, 72 points
3. NC State, 106 points
4. Wake Forest, 137 points
5. Virginia, 140 points
---
GREAT LAKES (Madison, WI)
---
Women's Race
Notre Dame standout Olivia Markezich led the way for a regional win in 19:55, as the lone runner under 20:00.
Markezvich was followed by Ohio State's Addie Engel (20:07) and Michigan State's Katie Osika (20:15) and Makenna Veen (20:16).
The team title went to the Fighting Irish very comfortably, beating out Big 10 runner-up Wisconsin, 39-71.
Notre Dame squeezed five in the top twelve finishers, pulling away with a 25 second spread between their 2-5.
Wisconsin had themselves a day and got some sweet revenge, edging out Michigan State for the final automatic spot.
The Spartans, Michigan and Ohio State rounded out the top five teams, scoring 82-150-188, respectively.
Individual Finishers:
1. Olivia Markezich, Notre Dame, 19:55
2. Addie Engel, Ohio State, 20:07.2
3. Katie Osika, Michigan State, 20:!5..9
4. Makenna Veen, Michigan State, 20:16.8
5. Leane Willemse, Wisconsin, 20:18.1
6. Erin Strzelecki, Notre Dame, 20:19.9
7. Daniella Santos, Ohio State, 20:29.6
8. Kayla Windemuller, Michigan, 20:35.5
9. Andrea Markezich, Notre Dame, 20:38.0
10.Lauren Freeland, Michigan State, 20:41.8
Team Finishers:
1. Notre Dame, 39 points
2. Wisconsin, 71 points
3. Michigan State, 82 points
4. Michigan, 150 points
5. Ohio State, 188 points
---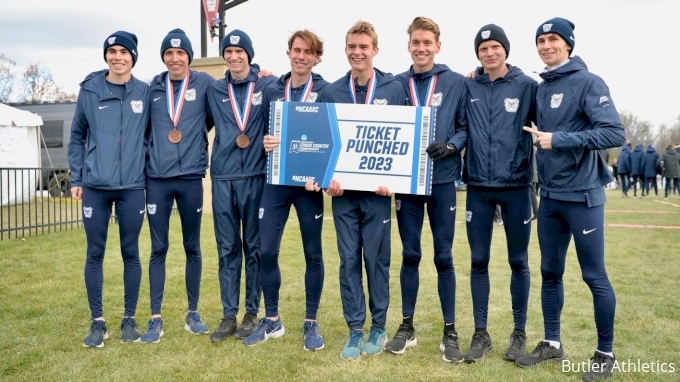 Men's Race
The Bulldogs just keep on winning!
After upsetting Villanova a few weeks ago at the Big East Championships, Butler kept the good times rolling, this time taking down #5 Wisconsin in convincing fashion.
Individually, it was a familiar sight, as Wisconsin's Bob Liking and Jackson Sharp went 1-2 for the third time this season, running 29:40.9 and 29:41.2. Michigan's Tom Brady was right there in 3rd, less than a second back of Sharp in 29:41.8. #12 Butler had a low-stick duo of their own, with Florian LePallec and William Segarski clocking 29:43.8 and 29:44.1.
Despite the first three Badger men going 1-2-6, the Bulldogs were all in the top fifteen, going 4-5-9-10-15, posting a 25 seconds spread and putting five ahead of the Badger's four. When the dust settled it was 43-70 in favor of the Bulldogs.
#25 Michigan had themselves a day, and put themselves in a favorable position for an at-large bid, beating #17 Notre Dame and Michigan State 93-95-127.
Individual Finishers:
1. Bob Liking, Wisconsin, 29:40.9
2. Jackson Sharp, Wisconsin, 29:41.2
3. Tom Brady, Michigan, 29:41.8
4. Florian LePallec, Butler, 29:43.8
5. William Zegarski, Butler, 29:44.1
6. Adam Spencer, Wisconsin, 29:47.8
7. Tyler Berg, Notre Dame, 29:50.8
8. Timothy Chesondin, Akron, 29:51.5
9. Matthew Forrester, Butler, 29:52.6
10. Will Minnette, Butler, 29:54.7
Team Finishers:
1. Butler, 43 points
2. Wisconsin, 70 points
3. Michigan, 93 points
4. Notre Dame, 95 points
5. Michigan State, 127 points
---
NORTHEAST (New York, NY)
---
Women's Race
Like they have many times in the past, the Syracuse women showed up and showed out, winning the regional title and punching their ticket to Charlottesville!
Led by Savannah Roark in 6th, the Orange put Rylie Lusk, Madison Neuner and Sophia Jacobs-Townsley and Olivia Joly in 16th, 19th, 22nd and 35th.
The Boston College women put up quite a fight and even had their five scoring runners before Syracuse, but they couldn't make up the ground in time. That's okay though! The Eagles came into the meet receiving two votes in the national poll, and left with a ticket to nationals.
Though it was Syracuse winning the team title, it was Harvard's Maia Ramsden claiming the individual title in 19:24.4, more than ten second ahead of the rest of the field. Kimberley May and Phoebe Anderson rounded out the top three finishers, running 19:37.3 and 19:46.2 respectively.
Along with the individual win, Ramsden most likely won't be heading to nationals alone, as the Harvard women are projected to get an at-large bid despite finishing three points back of Providence.
Individual Finishers:
1. Maia Ramsden, Harvard, 19:24.4
2. Kimberley May, Providence, 19:37.3
3. Phoebe Anderson, Columbia, 19:46.2
4. Abigail Hassman, Northeastern, 19:57.5
5. Hannah Prosser, Boston University, 19:58.1
6. Savannah Roark, Syracuse, 19:59.1
7. Chloe Thomas, Connecticut, 20:01.0
8. Emma Tavella, Boston College, 20:02.4
9. Ella Gilson, Harvard, 20:03.5
10. Grace Weigele, Stony Brook, 20:06.5
Team Finishers:
1. Syracuse, 98 points
2. Boston College, 109 points
3. Providence, 137 points
4. Harvard, 140 points
5. Columbia, 167 points
---
Men's Race
The Iona men had themselves a day as they took down two programs ranked ahead of them in #8 Syracuse and #15 Harvard 40-57-97. Iona didn't leave anything up for chance, putting four in the top ten and all five in the top 14.
Iona was led by the experienced duo of Damien Dilcher and Joshua DeSouza, crossing simultaneously in 29:40.1 and 29:40.8. Another factor that put them on top of the region was the way they've perfected the art of packing up. It took just 20 seconds for all five scoring Gaels to cross the finish line, which was quick enough to put all five before Harvard's fourth runner, and Syracuse's third.
Individually, Graham Blanks kept the season perfect, winning his fourth straight race. Blanks, who already won Nuttycombe last month, pulled away from the pack to win in 29:31.6, comfortably ahead of the rest. Iona's Dilcher and DeSouza were 2nd and 3rd, as Syracuse's Perry Mackinnon was 4th in 29:43.4, with Harvard's Acer Iverson close behind in 5th, crossing in 29:48.9
Individual Finishers:
1. Graham Blanks, Harvard, 29:31.6
2. Damien Dilcher, Iona, 29:40.1
3. Joshua DeSouza, Iona, 29:40.8
4. Perry Mackinnon, Syracuse, 29:43.4
5. Acer Iverson, Harvard, 29:48.9
6. Michael Morgan, Providence, 29:51.2
7. Benjamin Godish, Northeastern, 29:51.7
8. Ben Rosa, Harvard, 29:54.5
9. Abdel Laadjel, Providence, 29:55.0
10. Lachlan Wellington, Iona, 29:55.4
Team Finishers:
1. Iona, 40 points
2. Harvard, 57 points
3. Syracuse, 97 points
4. Providence, 145 points
5. Cornell, 161 points
---
WEST (Sacramento, Ca.)
---
Women's Race
Oregon State had two women inside the top three places and Stanford had all five of its scorers within 10 places of one another as the Cardinal scored the West Regional win in Sacramento.
Lucy Jenks led the way for the Cardinal in 11th, while the team's 2-3-4-5 went 14-15-16-21 to secure 77 points overall. Oregon grabbed the other auto-qualifier with 109 points, led by Maddy Elmore's fifth-place finish in 19:22.8.
Oregon State's Kaylee Mitchell won the regional in 19:08.4, while Grace Fetherstonhaugh was third in 19:15.7.
Washington and California Baptist finished third and fourth, as both will need Kolas points to secure at-large berths in the NCAA Championships.
Individual Finishers:
1. Kaylee Mitchell, Oregon State, 19:08.4
2. Greta Karinauskaite, California Baptist, 19:12.4
3. Grace Fetherstonhaugh, Oregon State, 19:15.6
4. Rosina Machu, Gonzaga, 19:15.7
5. Maddy Elmore, Oregon, 19:22.8
6. Brianna Weidler, UC Davis, 19:23.8
7. Laura Pellicoro, Portland, 19:24.7
8. Yasna Petrova, California Baptist, 19:34.1
9. Sierra Atkins, UC Davis, 19:36.2
10. Izzy Thornton-Bott, Oregon, 19:41.3
Team Finishers:
1. Stanford, 77 points
2. Oregon, 109 points
3. Washington, 115 points
4. California Baptist, 126 points
5. Gonzaga, 173 points
---
Men's Race
The last NCAA regional race on Friday brought the drama. There was unranked Gonzaga, which finished second overall with 98 points, and California Baptist, the nation's fourth-ranked team which finished fourth, and Oregon, which finished seventh.
Nothing quite went to plan, other than possibly Stanford winning the West region. The Cardinal scored 73 points and were aided by Ky Robinson's win in 28:55.6, Cole Sprout's fourth-place finish and Robert DiDonato's seventh-place nod.
Those points-scorers bumped Stanford into the top pecking order in Sacramento, while Gonzaga jumped up to second, helped in part by Will Smith's sixth-place finish in 29:14.1.
California Baptist avoided catastrophe finishing fourth, but it was by the skin of their teeth, just four points in front of fifth-place Washington.
Individual Finishers:
1. Ky Robinson, Stanford, 28:55.6
2. Matt Strangio, Portland, 28:59.5
3. Valentin Soca, CBU, 29:02.0
4. Cole Sprout, Stanford, 29:07.0
5. Nicholas Russell, Santa Clara, 29:14.0
6. Will Smith, Gonzaga, 29:14.1
7. Robert DiDonato, Stanford, 29:16.2
8. Davis Bove, Cal Poly, 29:18.5
9. Arturs Medveds, California Baptist, 29:21.2
10. Elliott Cook, Oregon, 29:22.7
Team Finishers:
1. Stanford, 73 points
2. Gonzaga, 98 points
3. Portland, 125 points
4. California Baptist, 125 points
5. Washington, 129 points
---
AUTO-QUALIFIERS
The 2023 NCAA Cross Country Championships received its automatic qualifiers on Nov. 10 as the nine NCAA Cross Country regionals crowned individual and team champions.
The nine regions included:
Great Lakes
Mid-Atlantic
Midwest
Mountain
Northeast
South
South Central
Southeast
West
The field for the championship races for the men's 10,000m and women's 6,000m include some of the best individual runners and teams in the nation.
The 2023 NCAA Division I Cross Country Championship is Nov. 18 in Charlottesville, Virginia.
How Do Teams, Runners Qualify For NCAA D1 Cross Country National Championship?
For men's and women's, the top two teams in each regional — there are nine in total — automatically qualify for the championships, which equates to 18 automatic qualifiers.
The NCAA DI Cross Country Subcommittee will then choose 13 at-large teams to fill out the 31 team field.
Individually, the first four finishers who do not belong to an automatic qualifier or an at-large team automatically advance to the championships. All four finishers have to finish in the top 25 within their region. Altogether, 36 individuals automatically qualify and two are chosen at-large, making 38 the grand total. The two at-large selections are the highest placing individuals at a regional that were not automatic qualifiers.
When Will The NCAA DI Cross Country Subcommittee Select At-Large Teams?
The Division I Cross Country Selection Announcement (31 teams / 38 individuals per gender) will happen at 5 p.m. EST on Nov. 11. It will stream on the NCAA's website.
When Is The NCAA D1 Cross Country Championships 2023; NCAA XC Championship Schedule
The Cross Country Championships are at 10: 20 a.m. (women's 600m) and 11:10 a.m. (men's 10000m) on Nov. 18.
Where Are The NCAA D1 Cross Country Championships 2023
The NCAA Men's and Women's Cross Country Division I National Championships are at Panorama Farms in Charlottesville, Virginia.
Here are where all divisions are being held:
Division I: Panorama Farms in Charlottesville, Virginia.
Division II: Tom Rutledge Cross Country Course, Joplin, Missouri
Division III: Big Spring High School, Carlisle, Pennsylvania
How To Watch The NCAA D1 Cross Country Championships 2023
The event for Division I is streaming on ESPNU. Division II and III are streaming on NCAA.com.
NCAA XC Championships 2023 Results Will Be On FloTrack
FloTrack will have the latest results and breaking news from Virginia on Nov. 18.
Where Are the D1 Cross Country Regionals 2023?
Here are where all the regionals are being held on Nov. 10.
Great Lakes (Host: Wisconsin): Zimmer Championship Course
Mid-Atlantic (Host: Lehigh): Goodman Campus Cross Country Course
Midwest (Host: Oklahoma State): Greiner Family OSU Cross Country Course
Mountain (Host: Texas Tech): Chaparral Ridge Cross Country Course
Northeast (Host): Columbia: Van Cortlandt Park
South (Host: Florida): Mark Bostick Golf Course
South Central (Host: Arkansas): Agri Park
Southeast (Host: South Carolina Upstate): Milliken Research Center
West (Host: Sacramento State): Haggin Oaks Golf Course
Where Is the The NCAA D1 XC Championships 2024
Next year's national championship meet is Nov. 23 with Wisconsin hosting. Missouri will host the national championship in 2025 on Nov. 22.
FloTrack Is Streaming Cross Country High School State Meets All November
November is also the month of high school cross country championship meets. Check the FloTrack schedule for a list of all the state championships streaming on FloTrack
Join the Cross Country Conversation on Social