2023 NCAA DII XC Championships
NCAA Division 2 Cross Country Championships 2023 Results
NCAA Division 2 Cross Country Championships 2023 Results
Here are the NCAA Division II Cross Country Championship results.
Nov 18, 2023
by Joe Harrington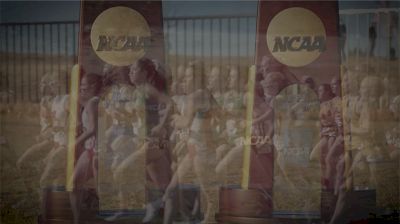 Winona State junior Lindsay Cunningham won the 2023 Women's NCAA Division II Cross Country Championship at Tom Rutledge Cross Country Course in Joplin, Missouri.
Cunningham, who became the fourth runner ever to run sub-20 minutes in the Division II championship, won the championship race with a time of 19 minutes and 30.1 seconds. She beat out second-place finisher Eleonora Curtabbi for West Texas A&M the title.
Grand Valley State won the team championship, snapping Adams State's three-year title run.
West Texas A&M Cross Country's William Amponsah Wins Championship
William Amponsah won the NCAA Division II Men's Cross Country Championship with a time of 29 minutes and 4.3 seconds to win the national championship. He beat Simon Kelati of Western Colorado by nine seconds to claim the championship.
Meanwhile Wingate won its first national championship, edging out pre-meet favorite Colorado School of Mines by nine points.
NCAA Division 2 Cross Country Championship 2023 Results: Women's Race
Lindsay Cunningham (Winona State): 19:30.1
Eleonora Curtabbi (West Texas A&M): 19:45.2
Natalie Graber (Grand Valley St.): 19:50.3
Brianna Robles (Adams State): 19:58.9
Khot Juac (Sioux Falls): 20:00.0
Sarah Koomson (West Texas A&M): 20:00.1
Kaylee Beyer (Winona State): 20:06.3
Klaudia O'Malley (Grand Valley St.): 20:07.6
Anna Fauske (UC-Colo. Spgs.): 20:09.5
Allison Beasley (Western Colorado): 20:10.3
Liz Wamsley (Hillsdale): 20:11.9
Kylie Anicic (Edinboro): 20:12.2
Leah Taylor (Western Colorado): 20:13.9
Anastasia Tucker (Grand Valley St.): 20:15.1
Lauren Kiley (Grand Valley St.): 20:17.7
Tristian Spence (Adams State): 20:21.3
Ava O'Connor (Adams State): 20:25.5
Holly Moser (Colo. Sch. of Mines): 20:26.3
Gianna Bomarito (Sonoma St.): 20:28.6
Jenna Ramsey-Rutledge (Colo. Sch. of Mines): 20:29.3
Hannah Rhem (Cedarville): 20:29.3
Katie Heck (Fort Lewis): 20:31.0
Kendall Kramer (Alaska Fairbanks): 20:31.2
Helen Braybrook (CSU-Pueblo): 20:31.4
Clare Peters (Colo. Sch. of Mines): 20:31.5
Peyton Weiss (Western Colorado): 20:32.5
Cassidy Walchak-Sloan (Saint Martin's): 20:34.1
Susanne Bruennig (Biola): 20:34.4
Morgan Hykes (Adams State): 20:34.4
Ashley Reeck (Western Washington): 20:35.3
Iresh Molina (Chico State): 20:36.1
Sophia Strange (Oklahoma Baptist): 20:37.0
Allie Arnsman (Grand Valley St.): 20:38.3
Aubrey Surage (Augustana (S.D.)): 20:38.4
Molly Maksin (Colo. Sch. of Mines): 20:39.4
Rosie Fordham (Alaska Fairbanks): 20:40.3
Della Molina (Chico State): 20:40.6
Savannah Ackley (Cedarville): 20:40.6
Linda Weigang (Fort Lewis): 20:41.3
Emily Schoellkopf (Adams State): 20:44.7
Liza Kellerman (Lee (Tenn.)): 20:45.3
Kayce Rypma (Grand Valley St.): 20:45.8
Mckenna Cavanaugh (Lee (Tenn.)): 20:47.1
Madison Clay (Catawba): 20:48.3
Bethany Mapes (Biola): 20:50.0
Margot Thomas-Gatel (CSU-Pueblo): 20:50.8
Elise Leveel (West Texas A&M): 20:50.9
Molly Miller (Colo. Christian): 20:51.5
Sophia Taarud (Winona State): 20:52.0
Margaux Basart (Colo. Sch. of Mines): 20:53.3
NCAA Division 2 Cross Country Championship 2023 Women's Team Results
Grand Valley St.: 59
Adams State: 86
Colo. Sch. of Mines: 121
Western Colorado: 150
Winona State: 216
West Texas A&M: 257
Augustana (S.D.): 260
Lee (Tenn.): 281
Wingate: 283
Cedarville: 299
CSU-Pueblo: 358
UC-Colo. Spgs.: 364
Chico State: 405
Western Washington: 414
Lewis: 442
Colo. Christian: 448
Biola: 454
Pittsburg St.: 479
U-Mary: 508
Fort Lewis: 526
Catawba: 533
Saginaw Valley: 543
Flagler: 555
Mississippi College: 566
Dallas Baptist: 577
Tampa: 596
Wayne State (Mich.): 602
Missouri Southern: 611
Charleston (W.V.): 672
So. Conn. St.: 849
Roberts Wesleyan: 957
Davis & Elkins: 1021
NCAA Division 2 Cross Country Championship 2023 Results: Men's Race
William Amponsah - West Texas A&M - 29:04.3
Simon Kelati - Western Colorado - 29:13.2
Matthew Storer - Colo. Christian - 29:14.5
Hamza Chahid - Wingate - 29:15.3
Andrew Amor - New Mexico Highlands - 29:18.0
Aspel Kiprob - East Central - 29:20.7
Jan Lukas Becker - Mississippi College - 29:22.9
Loic Scomparin - Colo. Sch. of Mines - 29:23.9
Ryan Hartman - Augustana (S.D.) - 29:32.9
Soheil Boufrizi - Wingate - 29:34.2
Duncan Fuehne - Colo. Sch. of Mines - 29:35.6
Noah Fisher - Findlay - 29:39.2
Ransom Allen - Wayne State (Mich.) - 29:40.2
Gidieon Kimutai - Missouri Southern - 29:46.3
Tyler Nord - Western Colorado - 29:46.4
Logan Bocovich - Colo. Sch. of Mines - 29:49.4
Johan Correa - Central Washington - 29:50.3
Cortland Ross - Illinois-Springfield - 29:50.7
Matthew Oglesby - Pittsburg St. - 29:51.8
Harry Louradour - West Texas A&M - 29:56.0
Amos Pkiach - East Central - 29:57.1
David Kibet - Washburn - 29:57.2
Paul Knight - Colo. Sch. of Mines - 29:58.2
Ricardo Barbosa - Wingate - 30:02.2
Dayton Brown - Adams State - 30:02.9
Cas Kopmels - Wingate - 30:04.5
Brayden McLaughlin - Chico State - 30:06.1
Donald Kibet - Washburn - 30:09.2
Titouan Le Grix - Wingate - 30:09.9
Aziz Mohamed - West Texas A&M - 30:10.7
Koby Fraaza - Grand Valley St. - 30:11.3
Awet Beraki - Adams State - 30:11.5
Oliver Kiptoo - East Central - 30:11.8
Drew Atkins - NW Missouri - 30:15.5
Peter Kipkemboi - East Central - 30:16.6
Reece Sharman-Newell - CSU-Pueblo - 30:17.1
Louis Moreau - West Texas A&M - 30:18.7
Caleb Futter - Grand Valley St. - 30:19.5
Kyle Partin - Western Colorado - 30:19.8
Sam Wilhelm - Alabama-Huntsville - 30:19.8
John O'Malley - Colo. Sch. of Mines - 30:20.0
Yonas Haile - Adams State - 30:24.4
Paul Korir - East Central - 30:26.8
Alexander Vance - Colo. Christian - 30:27.0
Jagger Zlotoff - UC-Colo. Spgs. - 30:27.9
George Couttie - Charleston (W.V.) - 30:27.9
Elias Bergman - Grand Valley St. - 30:28.4
Mario Giannini - Chico State - 30:28.8
Cal Yackin - Grand Valley St. - 30:28.9
Scott Nutter - Wingate - 30:29.6
NCAA Division 2 Cross Country Championship 2023 Women's Team Results
Wingate - 70
Colo. Sch. of Mines - 79
East Central - 108
West Texas A&M - 142
Western Colorado - 168
Adams State - 169
Grand Valley St. - 183
Colo. Christian - 292
Chico State - 309
Azusa Pacific - 317
Pittsburg St. - 370
CSU-Pueblo - 387
Fort Lewis - 445
Lee (Tenn.) - 470
Augusta - 484
Western Washington - 488
Charleston (W.V.) - 495
New Mexico Highlands - 536
UC-Colo. Spgs. - 537
Mississippi College - 537
Lewis - 549
Catawba - 556
Cal Poly Pomona - 571
NW Missouri - 582
Florida Southern - 595
Saginaw Valley - 605
Alabama-Huntsville - 668
Davis & Elkins - 674
Walsh - 723
Roberts Wesleyan - 823
Shippensburg - 824
So. Conn. St. - 848
Franklin Pierce - 904
Alaska Anchorage - 906
FloTrack Is Streaming Cross Country High School State Meets All November
November is also the month of high school cross country championship meets. Check the FloTrack schedule for a list of all the state championships streaming on FloTrack
Join the Cross Country Conversation on Social