2023 NCAA DI XC Championships
The Stakes Are Familiar, But NCAAs Never Get Any Easier For Katelyn Tuohy
The Stakes Are Familiar, But NCAAs Never Get Any Easier For Katelyn Tuohy
NC State's Katelyn Tuohy, Florida's Parker Valby and Northern Arizona's Elise Stearns discussed their feelings ahead of NCAAs on Saturday.
Nov 18, 2023
by Cory Mull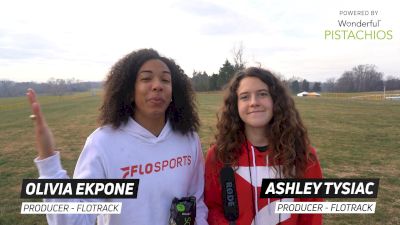 EARLYSVILLE, Va. -- Katelyn Tuohy's season is a perfect example of adaptation.
Heading into the fall, the reigning NCAA women's cross country champion had planned to race just once before nationals, that being conference.
Then the season tore off.
She switched it up and toed the line at the Nuttycombe Invitational in October, losing for the first time on grass since the NCAA Championships in 2021. She finished second to Florida's Parker Valby -- who lost to Tuohy the prior November at NCAAs.
There was the plan. But sometimes, you have to scratch that. Adapt.
"The girls were excited," she said Friday, just a day before her return to the NCAA Cross Country Championships at Panorama Farms. "I knew if I wasn't racing, I would be missing out."
Tuohy regrouped, then raced again at regionals when the squad needed her. "We decided to rest some individuals," she said, "so I decided to line up and race."
Tuohy's never been the type of athlete to sit on the sidelines just for the sake of it. She expressed several times Friday that racing alongside her teammates was her primary motivation.
"Your team goal is the priority," she said. "I go into each race, I'll put in my best effort for the girls, because they're doing the same for me."
By now, this all might seem like old hat. Saturday will mark her fourth -- and possibly final -- NCAA cross country race of her college career.
But the former New York prep great mentioned that, while the understanding of the stakes is familiar, preparing for the moment is never overlooked.
"I don't think it gets any easier," she said. "You get used to it and rely on your circle and your people to get through it. Experience does help, trying to manage our emotions this time of year. (But) the race itself, the process doesn't get any easier."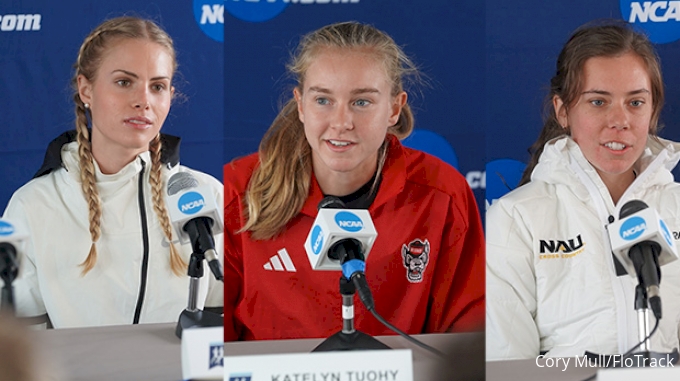 Stearns Set To Lead Northern Arizona Women To New Frontier
---
No one person can accomplish the mission alone.
But what Northern Arizona's Elise Stearns has realized this season, she said Friday during a press conference ahead of the NCAA Championships, is that competing alongside seven of your closest allies is a special kind of togetherness.
"Team cross country is about being something bigger than yourself," she said. "My individual success has been hand-in-hand with team success. It's really something that goes together. It's whatever I get is a product of what they're doing and what we're doing as a whole."
Stearns could lead the Lumberjack ladies into a potential historic moment on Saturday. The No. 1 ranked team in the country could win its first national title -- and if the men also win, it would be the first men's and women's sweep since 2004, when Colorado last achieved the feat.
Only Colorado, Stanford and Wisconsin have done it before.
Stearns is a contender for the individual title. The former Montana prep was fourth at Nuttycombe in October and is coming off a Big Sky conference win on Oct. 27.
---
Related Links:
NCAA Cross Country Preview Show
6 men's and women's storylines ahead of NCAAs
2023 Panorama Farms women's course
The gap year that engineered Graham Blanks' success in the NCAA
Oklahoma State coach Dave Smith, 'One Less Than NAU.'