2023 NCAA DI XC Championships
The Gap Year That Engineered Graham Blanks' Entry Into The NCAA, Plus More
The Gap Year That Engineered Graham Blanks' Entry Into The NCAA, Plus More
Harvard's Graham Blanks, NAU's Nico Young and Stanford's Ky Robinson sat down ahead of the XC NCAA Championships on Saturday.
Nov 17, 2023
by Cory Mull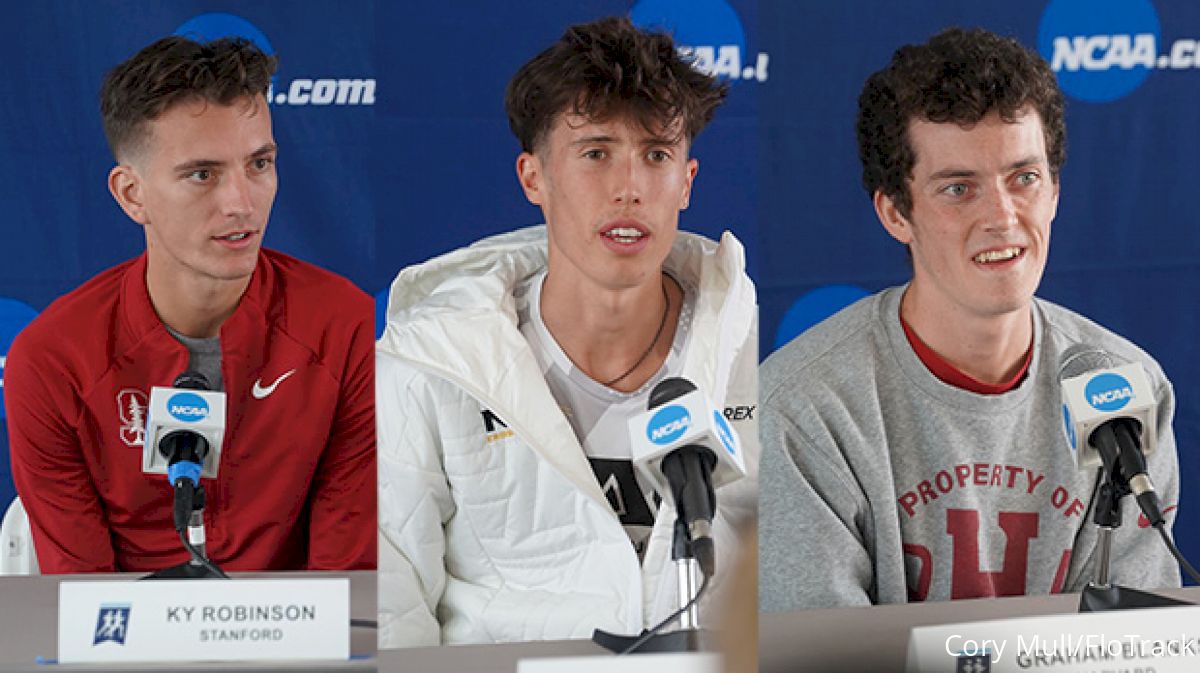 EARLYSVILLE, Va. -- There was a "weird attic" in Flagstaff, several over-capacity airBnb's with runner-friends and several weeks spent in Fort Collins.
This was Graham Blanks' gap year after his time at Athens Academy, the small private high school in Georgia where he graduated in 2020.
The year was 2021.
But Blanks said Friday, on the eve of the NCAA Cross Country Championships at Panorama Farms, that these moments and experiences ultimately fueled his growth ahead of his time at Harvard University, where he enrolled in 2022 following the re-integration of student life after COVID.
---
Related Links:
6 Men's And Women's Storylines Heading Into NCAAs
Every NCAA Division I XC Women's Champion Since 1981
Every NCAA Division I XC Men's Champion Since 1938
---
The reason?
"You can't use fifth-years at Ivy Leagues," he said. "When I signed up at Harvard, I wanted to use all four years in a Crimson uniform."
There was a chaotic-scramble before the deadline when Blanks submitted his deferment -- "that made for a stressful 12 hours with my parents," he said -- but the reason for the move was based on intel: He learned shortly before the period that all of Harvard's team had decided on it.
"I think we made the right decision to defer," he said.
The next year was spent traveling the U.S., with time spent in the Southwest. He ran and worked out often, with buddies and new friends. He saw professionals out West. He ran in races.
"Super privileged and super lucky," he said. "It was an incredible time."
Call it fortuitous, because over that stretch Blanks used his time resourcefully, becoming a better runner than he already was -- which saw him earn a 28th-place finish at Nike Cross Nationals his senior year, along with an NXR regional title and a Georgia state championship. He re-entered the world with a new outlook.
Blanks was an impact player almost immediately, finishing sixth last year at the NCAA Championships in Stillwater.
This year, he's a perfect 4-0 and, critically, won the Nuttycombe Invitational in October, which gave rise to the idea that he could be a national champion contender.
The last American to win at NCAAs was Conner Mantz in 2021. Blanks -- or NAU's Nico Young or Stanford's Ky Robinson -- could be the next man in line.
To do so, though, he's going to have to run tough in Virginia. But that's not an aspect Blanks said should be an issue.
"I do like this course," he said. "I would classify at as a true cross country course."
He used his pre-race on Friday to get acclimated.
"Definitely was harder than I thought," he said. "I was out of breath."
Next up is Saturday's race. Blanks says he's ready.
"Really looking forward to it," he said. "It might be my favorite course yet."
---
A Late Start Has Been A Buoy For Ky Robinson
Ky Robinson said he was one bid short of going to the World Championships this year for Australia.
It stung for a bit, then he talked with his coaches -- Ricardo Santos and JJ Clark.
"My build up was a little delayed," he said. "That's not necessarily a bad thing. I sat down with my coach. We discussed that I peaked a little too early last year. For us, we're peaking at the right time (this year). That's tomorrow."
It couldn't come at a better time. Robinson doubled at the NCAA Championships in June, winning both the 5K and 10Ks in Austin, Texas.
After his disappointment on missing out on his international duty, he began to hit the miles hard. He's gotten up to 95 miles before his taper into this weekend.
"I'm feeling more fresh this year than last."
Robinson has one thought about race day.
"I feel like the strongest guy, toughest guy will probably win it."
---
Nico Young Says He's Composed, Ready For His Next NCAAs
---
You couldn't find a cooler character on the press conference floor on Friday.
Northern Arizona's Nico Young looked as relaxed as ever heading into the NCAA Championships. A year ago, the NAU man was second overall to Charles Hicks.
He's also NAU's No. 1 runner and hopes to lead the Lumberjacks to their fourth straight title and their seventh over the last eight years.
"At this point, I feel like what we've been doing is well rehearsed," he said. "This year, we know how to talk about this in the right way. We do our best in that regard. We just have great communication from the top down. That's what allows us to do it."