2023 NCAA DI XC Championships
Oklahoma State Coach Dave Smith To NAU's Mike Smith: 'One Less Than NAU'
Oklahoma State Coach Dave Smith To NAU's Mike Smith: 'One Less Than NAU'
A tense exchange Friday saw Oklahoma State coach Dave Smith declare, "One less than NAU," as the amount of points needed to win NCAAs.
Nov 17, 2023
by Cory Mull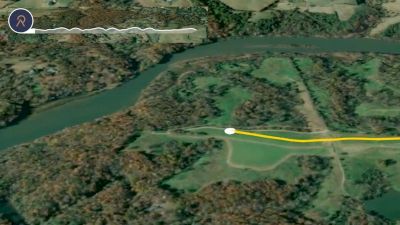 "One less than NAU," Dave Smith said.
The words hung in the air. A patter of laughter. The Oklahoma State coach looked to his left -- for a moment in the direction of Northern Arizona's Mike Smith.
If humor explains the world, then Dave Smith's declaration on Friday certainly said something, a fired shot in the direction of NAU's dominance.
"One less than NAU," can be read very clearly: Oklahoma State wants to take down the Lumberjacks. Just a year ago, the Cowboys lost the NCAA Championship on their home turf over a tiebreaker. A tiebreaker.
The NAU men are aiming for their fourth straight national title and their seventh out of the last eight. Oklahoma State has won four titles in its history, the latest in 2012 under Dave Smith.
Dave Smith went back to the well nearly a minute later.
What will it take to win?
"I think 75," he said. "Somewhere in that range?"
Again, a look.
"Right?"
"75, yep," NAU's Mike Smith replied.
"So 74," Dave Smith followed.
A tense laugh.
Of course, it doesn't end there. Just getting to the line will be a process, a series of questions and answers by the coaching staff's of 31 teams.
---
Related Links:
The gap year that engineered Graham Blanks' success in the NCAA
6 men's and women's storylines ahead of the NCAA XC Championships
The official list of all qualifying teams and athletes into NCAAs
---
Every coach goes through the ritual, deciding its final seven-man roster.
"Everything from spreadsheets to dart boards," Dave Smith said of his process.
At least Oklahoma State, which is ranked No. 2 in the country, has a benefit of riches. The Cowboys employ 10 men capable of performing at the highest levels of NCAA cross country. The team's two freshmen from Kenya, Denis Kipngetich and Brian Musau, were 1-2 at the Midwest Region. Kipngetich is a sleeper to win the whole thing on Saturday.
Still, it never gets easier.
"Honestly, I've got four guys I know I'm running," he said. "I have one guy I know I'm not running. I have five guys for three spots. Everyone one of those guys at some point this year have given me an indication they can be top 30 in this meet. Each one of those guys has also looked like they'll be 230th.
"So trying to figure out which of those guys we run and which we don't and ready body language. It's hard, hearing things they say, the tone of their voices ...I don't know. It's a hard process. At some point we have to make a call."
The NCAA gives teams a deadline: Final rosters have to be in 20-minutes prior to the race.
"I've been pushing for 10," Dave Smith added.