2023 NCAA DI XC Championships
6 Men's And Women's Storylines Heading Into The 2023 XC NCAA Championships
6 Men's And Women's Storylines Heading Into The 2023 XC NCAA Championships
Everyone will be watching Katelyn Tuohy vs. Parker Valby, but we have a few more storylines to pay attention to as the NCAA DI Championships get underway.
Nov 15, 2023
by Cory Mull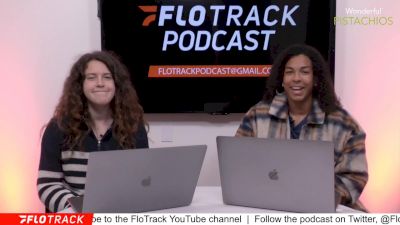 We are just three short days away from the NCAA Cross Country Championships, set to be held at Panorama Farms -- just a few miles outside Charlottesville, Virginia -- on Saturday.
Finally, it's the race to end all races.
It's time to throw down, 31 'A' teams in all on both the men's and women's sides over the 6K (women's) and 10K (men's) distances
After important entries like the Virginia Invitational (held at Panorama Farms) and Nuttycombe, the NCAA's best teams are ready to unleash their top rosters and peak-form.
Below are just a few of the tailor-made storylines working their way into Saturday.
---
6. Any Mystery Champions, Revealed?
It's no secret, there are the names and faces who dominate NCAA cross country right now. There's NC State's Katelyn Tuohy and Florida's Parker Valby, the dueling pair who went 1-2 last year (more on that later). On the men's side, there's defending runner-up Nico Young, third-place finisher Drew Bosley and 10th-place runner Ky Robinson, runners who are all back in 2023.
We're fairly certain all five will be in contention for a title on Saturday at Panorama Farms.
But as with anything, uncertainty is a dish sometimes more thrilling, and to be clear, there are some particulars who could come out of the oven hot.
We can't deny the impact of North Carolina's Parker Wolfe, who has finished no less than seventh all year long and is coming off a measured race at the Southeast Region. The last time a Tar Heel won NCAAs was 1947, so a win by Wolfe would be quite the story.
But how about this: How do we feel about Harvard?
And no, we're not just talking about Graham Blanks, this year's Nuttycombe Invitational winner. Blanks' teammate, Maia Ramsden, won the NCAA outdoor title in the 1,500m in June and finished sixth at Nuttycombe.
Could we get a Harvard double? How's that for some Ivy magic.
There's also the likes of Patrick Kiprop (Arkansas), Bob Liking (Wisconsin) and Liam Murphy (Villanova) to consider on the men's side. There's Elise Stearns for NAU on the women's side.
So much could go right, so much could go wrong and an out-of-nowhere winner could definitely happen on Saturday.
---
5. What Does The NC State Women's Cross Country Team Have Up their Sleeves?
The Wolfpack women are coming off a 30-point win at the Southeast Regional.
For the most part, everything went to plan.
There was a Katelyn Tuohy win alongside some really good outings from the likes of Samantha Bush, Grace Hartman and Gionna Quarzo -- runners who should make impacts during NCAAs.
But NC State did all of this without their No. 2 Kelsey Chmiel and got a DNF from Amaris Tyynismaa.
Was it all strategy?
Was it about Tyynismaa getting her paces in? The former Alabama star is a two-time top 10 finisher at NCAAs -- she was ninth last year for the Crimson Tide and third the year prior.
So many people have been overlooking her all year long; she has the potential to swing this championship like a tried-and-true Survivor blindside.
The Northern Arizona women beat NC State at Nuttycombe on Oct. 13 by 43 points. That's no small margin.
But with Tyynismaa, could she be the difference?
NC State, what say you?
---
4. Will Graham Blanks, this year's Nuttycombe Winner, Race To An NCAA Win?
We posted a quick little video on our Instagram feed on Wednesday. It was fun. It was light. It was a pick'em.
But one question elicited an insightful reply from the question 'Men's Individual title.' We offered three options. Ky Robinson, Nico Young and 'someone else.'
"Someone else is a funny nickname for graham blanks," wrote jwilliams.18.
Hey, JWilliams, you are not wrong!
Blanks is very much a contender here. While he's 4-for-4 on the year, no race was more important than Nuttycombe. Blanks dropped an 8K time of 23:23.4 and ran away from Nico Young, distancing himself by three seconds.
Blanks was also top 10 last year, finishing sixth. He was second in the 5K outdoors at NCAAs in June. And now he's here, right in that sweep spot, having been on a college program long enough to understand what it takes to win these big races.
The Harvard men also auto-qualified out of the Northeast Region, so that also helps.
---
3. Will The Lumberjack Men's Quest For Seven In Eight Be Interrupted?
A men's team breaking up NAU's dominance? That would be the talk of NCAAs if it happens.
It's kind of hard to say at this point.
Oklahoma State dropped a 19-spot at the Midwest Regional on Nov. 10, but the Cowboys really haven't run against anybody yet. Sure, they're ranked No. 2. But are they ready?
Maybe don't ask the Cowboys, who lost to NAU on a tiebreaker last year. Are they hungry? Yes, we're assuming the answer is yes.
There's Brigham Young University. The Cougars were the last team to dismantle NAU's streak in 2019, beating the Lumberjacks by 54 points.
Do we really think North Carolina or Texas or Wisconsin are there yet? The easy answer would be no.
So maybe it all comes down to these three teams. Maybe it won't even be a question. Maybe NAU's perfect on the day and watches as Nico Young, Drew Bosley, Brodey Hasty and Co. get the job done again.
Again, it's kind of hard to say at this point.
Maybe these teams will be best served by letting their actions do the talking.
---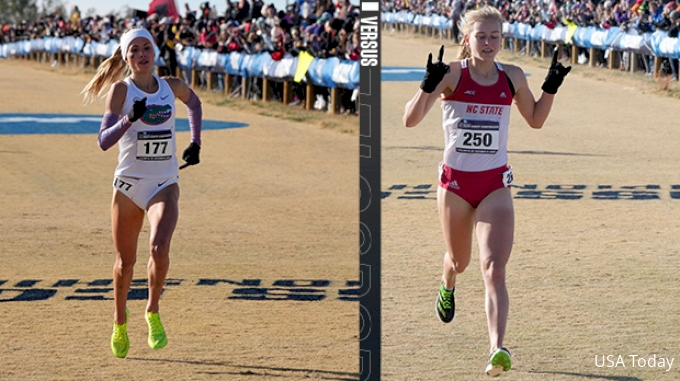 2. Parker Valby vs. Katelyn Tuohy: NCAAs, Round Deux
This is the most readymade storyline. Two powerhouse women going mano-a-mano in the NCAA final? Can't beat it.
A year ago, Valby stormed off and away from the field. She ran by herself for basically 97-percent of the race. Tuohy caught her, narrowly, and then won, claiming her first national cross country title in college.
We've been asking ourselves all year: Is a repeat of that race set for Saturday?
Will Valby, who's raced exactly the same every time out in 2023, try to out-gas Tuohy ... again? The better question: What are the odds that she doesn't?
20-percent?
Anyone who has watched Tuohy over the years knows she doesn't like to lose. She won three national XC titles in high school. She's the defending NCAA champion in cross country. She won national indoor titles in the 3K and 5K. Winning is in this girl's blood.
But she's not invincible. In June at NCAA outdoors, she decided to scratch the 5K and then finished seventh in the 1,500m.
Who knows what these two are thinking. At least they won't be alone. Both NC State's and Florida's women have qualified for NCAAs. Few teams are as strong -- inside and out -- as NC State. Strength in numbers, as they say.
---
1. Can The Northern Arizona Men's And Women's Programs Achieve History, Sweeping The Championships?
This leaves us with the NAU women. The Lumberjack ladies have finally caught up to the men -- both in the polls and perhaps spiritually -- grabbing a little bit of that Flagstaff mountain dust on the way to the NCAA Championships.
They finished sixth last year, about 140 points out from NC State's winning mark of 114.
Elise Stearns, the sixth-place finisher last year, is back. She's a potential championship contender.
Then there's a group of women who ran like absolute pros at Nuttycombe -- Gracelyn Larkin (8th), Annika Reiss (10th), Aliandrea Upshaw (12th), Keira Moore (18th).
Let's be clear: If the NAU women put five inside the top 20 again, there's nothing NC State can do to win this title.
Join The Cross Country Conversation