North Carolina State Women Claim 3-Peat, And By The Thinnest Margin
North Carolina State Women Claim 3-Peat, And By The Thinnest Margin
North Carolina State was without their No. 2, but somehow found a way to take down No. 1 NAU at NCAAs
Nov 18, 2023
by Maxx Bradley
Despite not having multiple time All-American Kelsey Chmiel on the line, the NC State women made huge moves over the last kilometer, eventually being able to hold off No. 1 ranked Northern Arizona, 123-124, at the NCAA Cross Country Championships on Saturday at Panorama Farms.
Behind the Wolfpack's No. 1, Katelyn Tuohy, who finished fifth in 19:23.00, and the 1-2 punch of Amaris Tyynismaa and Samantha Bush in 25th and 28th, the Wolfpack put together three All-American placements.
True freshman Leah Stephens was just outside of the top 40 in 43rd, while Grace Hartman capped the scoring as she crossed in 63rd.
A year ago, Florida phenom Parker Valby led for roughly 6,000m of the race in Stillwater, Oklahoma but ultimately was caught and passed by Tuohy.
This morning, Valby put her foot on the gas and never looked back.
After winning her first NCAA title on the track in June, Valby posted an undefeated season on her way to her first NCAA title on the grass. She broke the race wide open, at one point having over 20 seconds between herself and the chase pack.
Valby crossed in 18:55.2, both a championship and course record. The next three finishers came in waves, as Alabama's Doris Lemngole, Notre Dame's Olivia Markezvich and 'Bama's Hilda Olemomoi went 2-3-4 in 19:05.7, 19:10.0, and 19:22.1, respectively.
Hugs all around for the champs🏆#WolfpackXC - #GoPack pic.twitter.com/LKPn6asc2H

— Pack Track & Field and Cross Country (@Wolfpack_TFXC) November 18, 2023
The Lumberjacks put themselves in a great position to de-throne NC State, as Gracelyn Larkin, Annika Reiss, and Elise Stearns were all in the top 20, followed by Ruby Smee and Ali Upshaw in 54th and 57th.
However, when the dust settled, it was the two-time defending NCAA champions from Cary, North Carolina who were celebrating as they had officially went back-to-back-to-back.
The Oklahoma State Cowgirls were third, led by Billah Jepkirui in seventh, with Notre Dame and Florida rounding out the top five teams.
Here's a look at the women who earned All-American status, and the top 20 teams in the nation. You can find official results here.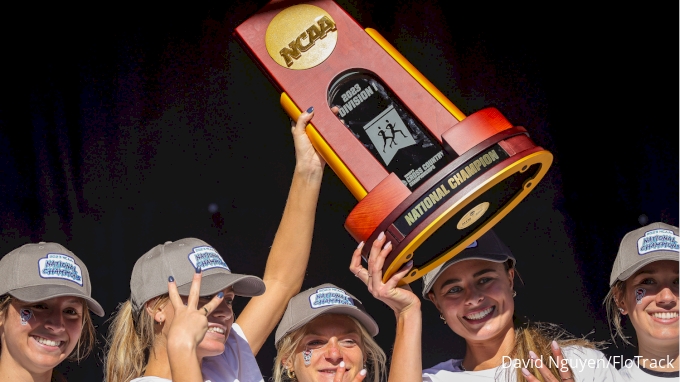 All-American Finishers
Parker Valby (Florida): 18:55.2
Doris Lemngole (Alabama): 19:05.7
Olivia Markezich (Notre Dame): 19:10.0
Hilda Olemomoi (Alabama): 19:22.1
Katelyn Tuohy (NC State): 19:23.0
Flomena Asekol (Florida): 19:26.9
Billah Jepkirui (Oklahoma State): 19:27.5
Chloe Scrimgeour (Georgetown): 19:28.4
Amina Maatoug (Duke): 19:29.9
Maia Ramsden (Harvard): 19:30.8
Sydney Thorvaldson (Arkansas): 19:33.8
Kaylee Mitchell (Oregon State): 19:34.1
Gracelyn Larkin (Northern Arizona): 19:35.6
Aubrey Frentheway (BYU): 19:36.5
Annika Reiss (Northern Arizona): 19:36.8
Rosina Machu (Gonzaga): 19:37.7
Greta Karinauskaite (CBU): 19:39.4
Juliet Cherubet (Texas Tech): 19:40.1
Judy Kosgei (South Carolina): 19:41.5
Elise Stearns (Northern Arizona): 19:52.2
Molly Born (Oklahoma State): 19:53.8
Alyson Churchill (Florida State): 19:53.9
Ryann Helmers (Ole Miss): 19:54.3
Gladys Chepngetich (Clemson): 19:54.7
Amaris Tyynismaa (NC State): 19:55.3
Mckaylie Caesar (Utah): 19:56.7
Ella Baran (Colorado): 20:00.1
Samantha Bush (NC State): 20:00.7
Phoebe Anderson (Columbia): 20:01.9
Katie Osika (Michigan State): 20:02.8
Brianna Weidler (UC Davis): 20:02.9
Fatima Alanis (North Carolina): 20:03.6
Annastasia Peters (Utah): 20:04.2
Taylor Roe (Oklahoma State): 20:04.7
Andrea Markezich (Notre Dame): 20:05.4
Nicola Jansen (New Mexico): 20:05.7
Erin Strzelecki (Notre Dame): 20:06.2
Lydia Miller (Lipscomb): 20:06.3
Jenny Schilling (Virginia): 20:06.4
Izzy Thornton-Bott (Oregon): 20:06.7
Top 20 Teams
NC State - 123
Northern Arizona - 124
Oklahoma State - 156
Notre Dame - 237
Florida - 268
Tennessee - 294
Alabama - 313
Washington - 323
Arkansas - 328
Oregon - 335
Lipscomb - 353
Stanford - 357
Utah - 375
BYU - 399
Virginia - 400
Michigan State - 410
CBU - 414
Georgetown - 419
Colorado - 446
Iowa State - 458