Oklahoma State, Graham Blanks Earn Statement Wins In Virginia
Oklahoma State, Graham Blanks Earn Statement Wins In Virginia
Harvard's Graham Blanks became the first ever Ivy League individual champion, and Oklahoma State put five in the top fifteen to beat NAU.
Nov 18, 2023
by Maxx Bradley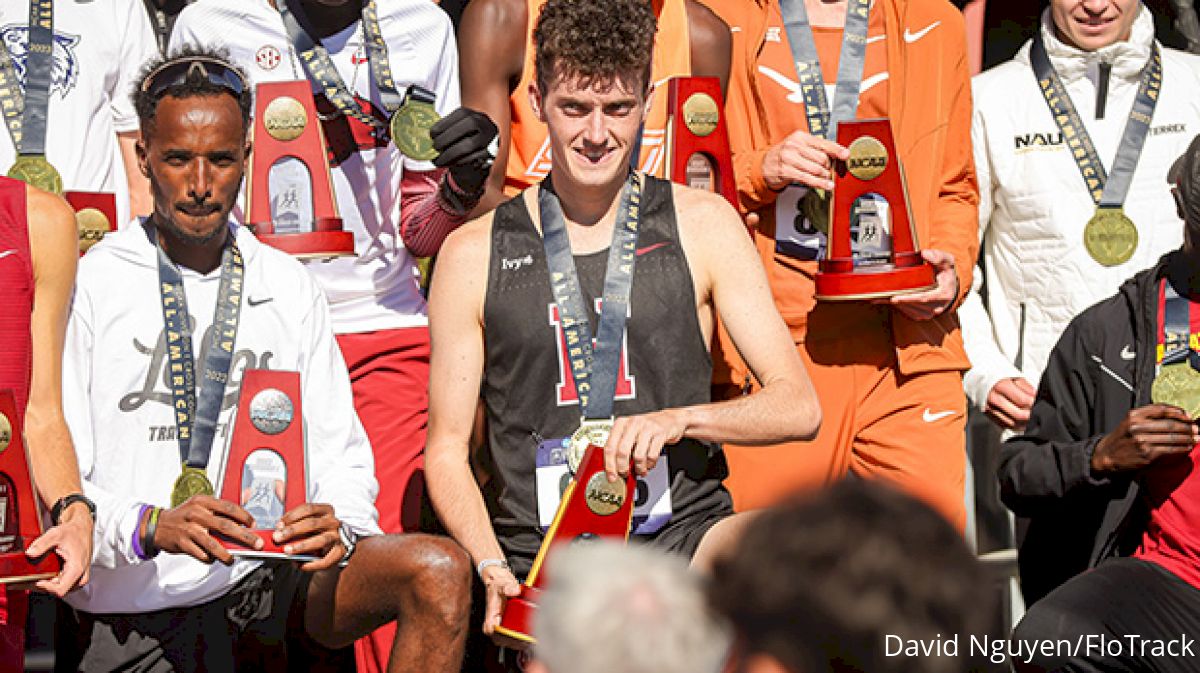 Oklahoma State was going to have to earn its national title on Saturday.
The Cowboys were faced with Northern Arizona, a No. 1 ranked program that had won six out of the last seven men's national titles. But these very two teams tussled last year and tied, with the Lumberjacks coming away with the victory.
Oklahoma State didn't forget it. Led by freshman Denis Kipnegetich in fourth, the Cowboys rolled through the finish in 8th, 10th, 12th and 15th, tallying just 49 total points. Brian Musau ran 29:11.0, Fouad Messaoudi clocked 29:13.3 and Oklahoma State veterans Victor Shitsama and Alex Maier ran 29:16.1 and 29:20.2 for the dagger, earning their fourth national title since 2009 under head coach Dave Smith.
Coming into today's championships, there were a lot of names in contention for the individual title, but none that stood out above and beyond the rest. Harvard's Graham Blanks, Stanford's Ky Robinson and Northern Arizona's Nico Young were some of the most mentioned names, but by 8,000m, the front pack looked a little different than some may have been expecting.
#NCAAXC Men's Top Individuals

1⃣ Graham Blanks (@HarvardTFXC) - 28:37.7
2⃣ Habtom Samuel (@UNMLoboXCTF) - 28:40.7
3⃣ Ky Robinson (@StanfordXCTF) - 28:55.7
4⃣ Denis Kipngetich (@run4okstate) - 28:59.7
5⃣ Drew Bosley (@NAUTrackFieldXC) - 29:03.8

— FloTrack (@FloTrack) November 18, 2023
Both Blanks and Robinson were right where they were expected to be, but they were soon joined by New Mexico's Habtom Samuel and Kipngetich. As the last 2,000 meters unfolded, a series of moves by Blanks and Samuel eventually left the pair alone up front, where it turned into a battle of the fittest.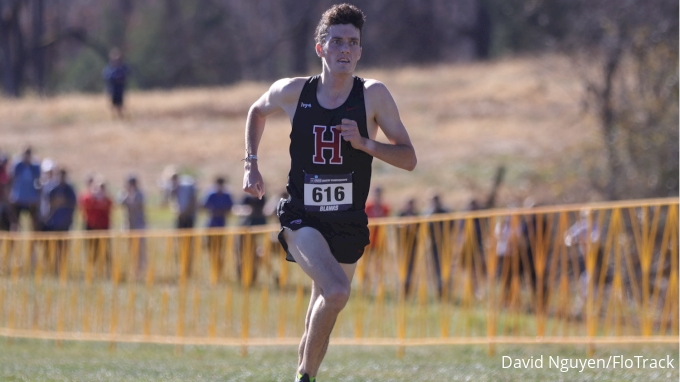 Ultimately, Blanks had just enough to pull away from Samuel, winning in 28:37.7 to Samuel's 28:40.7. Robinson held on for 3rd in 28:40.7, his third consecutive top-15 finish. Kipngetich. was 4th in 28:59.7, while Northern Arizona's Drew Bosley was 5th in 29:03.8.
NAU was runner-up with 71 points, led by Bosley and Nico Young in fifth and sixth. The defending champs still put all five runners in the top 25, which most years would have been more than enough to win.
The Brigham Young University men were a distant third with 196 points, as James Corrigan was the top Cougar in 32nd. Arkansas rounded out the podium with 211, and Iowa State rounded out the top five with 230. UNC, which finished 10th last year, was sixth.
Here's a look at the 40 men who earned All-American status, and the top 20 teams in the nation.
All-American Finishers
Graham Blanks - Harvard - 28:37.7
Habtom Samuel - New Mexico - 28:40.7
Ky Robinson - Stanford - 28:55.7
Denis Kipngetich - Oklahoma State - 28:59.7
Drew Bosley - Northern Arizona - 29:03.8
Nico Young - Northern Arizona - 29:04.2
Patrick Kiprop - Arkansas - 29:07.7
Brian Musau - Oklahoma State - 29:11.0
Parker Wolfe - North Carolina - 29:12.6
Fouad Messaoudi - Oklahoma State - 29:13.3
Devin Hart - Texas - 29:14.1
Victor Shitsama - Oklahoma State - 29:16.1
Kirami Yego - Arkansas - 29:17.2
Liam Murphy - Villanova - 29:17.5
Alex Maier - Oklahoma State - 29:20.2
Sanele Masondo - Iowa State - 29:22.1
Alex Phillip - North Carolina - 29:26.8
Aaron Las Heras - Northern Arizona - 29:29.1
Perry Mackinnon - Syracuse - 29:30.8
Victor Kiprop - Alabama - 29:31.5
Santiago Prosser - Northern Arizona - 29:32.6
Jason Bowers - East Tenn. St. - 29:32.7
Rodger Rivera - Texas - 29:33.0
Dylan Schubert - Furman - 29:35.5
Brodey Hasty - Northern Arizona - 29:36.3
Matthew Richtman - Montana State - 29:36.8
Tom Brady - Michigan - 29:37.1
Luke Combs - Air Force - 29:38.2
Nicholas Bendtsen - Princeton - 29:38.6
Nickolas Scudder - Charlotte - 29:38.6
Chris Devaney - Loyola (Ill.) - 29:39.7
James Corrigan - BYU - 29:40.1
Evans Kiplagat - New Mexico - 29:41.8
Sam Lawler - Syracuse - 29:42.5
Kenneth Rooks - BYU - 29:42.9
Timothy Chesondin - Akron - 29:43.4
Rodgers Kiplimo - Iowa State - 29:48.6
Haftu Strintzos - Villanova - 29:49.3
Austin Vancil - Colorado - 29:50.3
David Mullarkey - Florida State - 29:50.8
Men's Top Ten Teams
Oklahoma State - 49
Northern Arizona - 71
BYU - 196
Arkansas - 211
Iowa State - 230
North Carolina - 249
Texas - 262
Stanford - 291
Syracuse - 299
Wisconsin - 330
Princeton - 345
Air Force - 368
Montana State - 374
Notre Dame - 398
Harvard - 398
CBU - 430
NC State - 435
New Mexico - 466
Michigan - 472
Villanova - 477