2023 NCAA DI XC Championships
'Once You Go For It, You Go For It.'
'Once You Go For It, You Go For It.'
Anyone watching Parker Valby at the NCAA Championships saw a blitzing performance from the University of Florida superstar. She had other thoughts.
Nov 19, 2023
by Cory Mull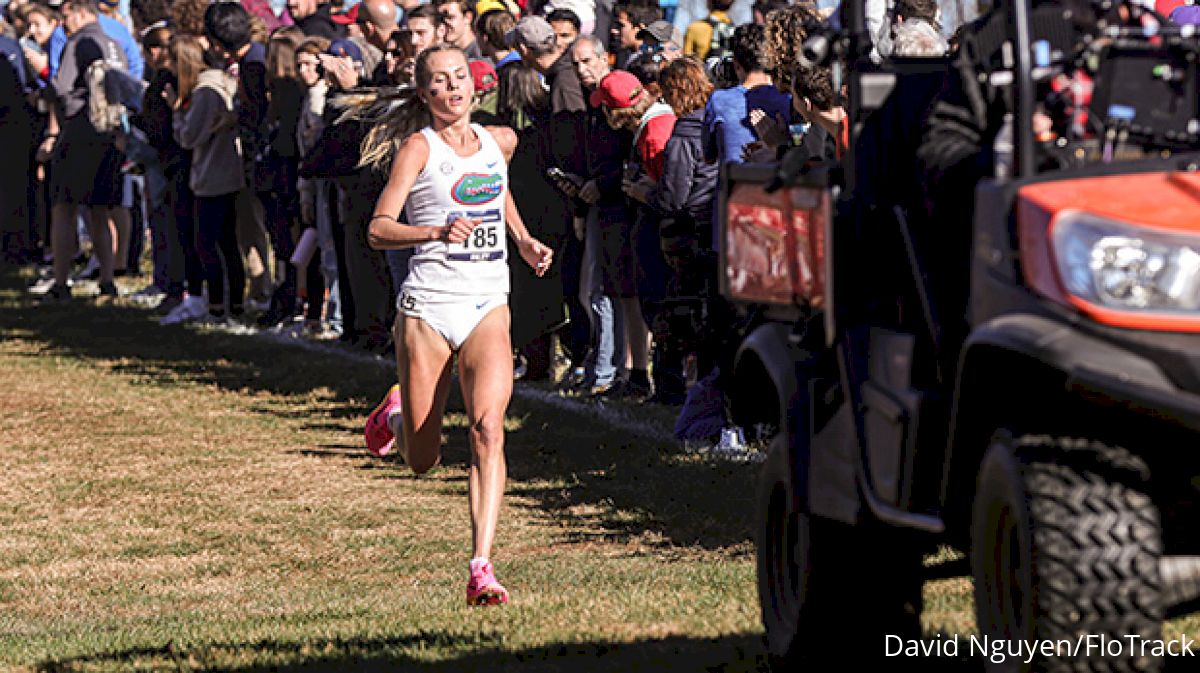 Most everyone had the same question for Parker Valby heading into the NCAA Cross Country Championships just outside Charlottesville on Saturday.
If the University of Florida star was going to make a major move in a national championship race again, much like the one she made last year in Stillwater, would it prove to work this time?
Maybe Valby even herself wondered it.
"My coach just said to trust myself and my instincts and trust that I'm fit," Valby said. "I lack the confidence. I didn't trust myself. He kept assuring me I was fit and I could do it."
Two days before the championship, Valby was inside a Charlottesville area recreational center. She went back to the arc-trainer.
Then, as if she didn't need any more motivation, she opened up her phone.
"Everyone online was like, 'No, she'll do bad on this course, this course doesn't favor her, this course is uneven ... I took that as motivation to prove people wrong," she said.
It wasn't much of a shock, then, to see Valby make that move again on Saturday, roughly 1,300 meters into the race -- on a downhill, no less. She surged hard. The lead grew.
At one point, roughly halfway through the 6,000 meter course, Valby had about 100 meters or more on the chase pack. Then, with a kilometer left and with no contender in sight, the signs were there: Valby had done it.
"No looking back," she said. "Once you go for it, you go for it."
Five months after claiming the NCAA outdoor title in the 5,000 meters, Valby doubled back with a national cross country title at Panorama Farms, crossing the line in a new meet and course record of 18:55.2.
"Very surreal after what happened last year," she said. "So excited for my team to get fifth."
Not far from the tape was Florida head distance coach Will Palmer or his wife, Samantha, the team's assistant coach -- Samantha was at the 5K mark shouting final instructions for a team that would finish fifth in the team standings.
"It was really incredible," Will Palmer said. "I felt the same as everyone did watching."
Few knew, however, how much work had been done behind the scenes to prepare Valby for that moment. For much of the season, the distance star's training had been much discussed on message boards and elsewhere.
Valby had commented on Friday that she had only run as much as 30 miles in a week this fall and had done much of her cross-training on the arc-trainer, a piece of aerobic equipment widely available in most gyms.
"I don't know if everyone believes it," Valby said. "You put that resistance up, you put that incline up, it can mimic hills. It's honestly harder to me. You're training against resistance. Then once you go up that hill, you go, 'Oh, this isn't bad.' I do that every day."
By November, Will Palmer was 11 months into the job at Florida. He had been hired over from Alabama after the departure of Chris Solinsky.
Tabbed to oversee Valby's somewhat atypical approach, Palmer became her steward. But by June, all cylinders were firing as she scorched the track in Austin, Texas, on the way to a 5,000 title.
This fall, Palmer said he worked mostly with Valby on approach. On Saturday, he discussed with her on what to do when certain situations presented themselves.
"Her plan was just to ready things as it came," he said. "That was the decision she made today. We didn't script things super tight."
Palmer expressed a flexibility with Valby that might have made the difference.
"It's kind of like working with a quarterback who has the option to call an audible," he said. "If she has a bunch of plays in her playbook, eventually she figures out a way to use them."
That play on Saturday was a move so devastating, it left most in the dust. By the 5K mark, much of the field was bruised from a hard-nosed course, a series of ups and downs and slanting foot-strikes.
Valby looked as cool as a ship on the high seas.
"I think a lot of people have asked questions about her cross-training and I think it can overshadow her ability," Palmer said. "She's incredibly determined, a really tough racer and she's got some intangibles that I think make her really special."
One among them was Valby's change in expectations.
"It's kind of like working with a quarterback who has the option to call an audible," he said. "If she has a bunch of plays in her playbook, eventually she figures out a way to use them."
She came into nationals last year as confident as ever before being knocked off the mantle by NC State's Katelyn Tuohy.
It made her more aware of the stakes.
"If it makes any sense, I had more confidence going into last year than I did this year," she said.
But she later added, "Not every day is going to be your best day."
Reading between the lines, it was clear: Valby knew she had that winning effort in her.
And then it was. A measured set of expectations, along with a driven plan, finally got her over the hump on Saturday.