#6 Saratoga Springs: The Kranick's from an insider's perspective
When reporters ask Linda Kranick what makes the Saratoga Springs High School running team so good, you can almost guarantee she will say, "we just hard work." That was never exactly the answer reporters were looking for. They would usually press on, trying to think of more clever questions to unravel a secret. Everybody works hard, they'd think. There's gotta be something more.
Don't worry though, readers. Being a former athlete of the Kranicks at Saratoga, I have the inside scoop.
Although Mrs. Kranick's answer was short and simple, she was being completely honest. Her and Art Kranick have coached at Saratoga since 1985. Right away, their teams were state championship contenders, and by 1993, they were recognized as a national powerhouse. I can vouch for Mrs. Kranick, though. There were no secrets. We just worked hard every single day.
The Kranicks hold practice 365 days a year. On Sundays and throughout the summer, when high schoolers are banned to attend official athletic practices, the Kranicks coordinate runs and workouts for people of all ages under the Kinetic Running Club. It's optional, but kids show up. The Kranicks' dedication to the sport tends to be contagious.
They got me hooked the summer I started running for their club when I was entering the 7th grade. Mrs. Kranick drove me to and from practice every day because my parents worked and she didn't want me to miss out. It was really the drive home that I looked forward to the most. We'd talk about practice, and Mrs. Kranick would tell me how impressed she was with my workout. What kid doesn't love hearing how good she is?? I'd get out of her car feeling all beefed up, run inside my house and tell my mom how Mrs. Kranick said I was going to be the best runner EVER! Maybe that's their "secret"...getting kids to dream big. It sure worked for me.
Let me tell you what else worked. Bagels and cream cheese after long runs. Watermelon Wednesdays. Smoothie Saturdays. Popsicles after every summer practice. And now, Mrs. Kranick tells me they're upgraded to waffles, pancakes and crepes with different syrups and fruits after long runs and tough workouts.
Let me continue... trips across the country to beautiful places like San Diego and San Francisco. Going to the zoo. Taking surfing lessons. Shopping at every mall (Mr. Kranick loves his malls).
Many people wouldn't guess how much fun we had at Saratoga because we always had an intense game face on at meet sites. Mr. Kranick would set up a tent far from the spectators and other teams where we'd hang out and "focus." They didn't want us goofing off and making friends with other teams. I understand it now, but I didn't then. It was all part of making us tough and keeping us competitive, then letting us be kids after we got the job done.
When recruiting cross country kids, Mrs. Kranick admitted that she's not as successful as Mr. Kranick. "I tend to look for athletic bodies," she said. "Art looks for personalities. Competitive kids who aren't afraid to step on the line." She told me that's why I peaked his interest right away.
Although I was a pain in the butt sometimes, goofing off at practice and cutting runs, I was extremely competitive no matter who I ran against. The Kranicks credit my personality, but I credit their coaching. Whether it was a workout or a race, they always encouraged me to do my best. It was that simple. I never got a race plan. I was never warned about other top dogs on the starting line. Mrs. Kranicks would simply say, "Go get 'em Termite," and Mr. Kranick would yell at me throughout the race to "Pick it up!" So I just did what I was told.
Mrs. Kranick said, "some kids who get really nervous need a race plan to help them focus." But in general, she said it's best to just let the kids go without thinking too much.
There have been rumors about the Kranicks retiring, but I assure you it won't be any time soon.
"I asked Art, 'are we going to retire?'," Mrs. Kranick said. "He told me, 'when I'm in my grave'."
I don't know any other person as dedicated to coaching as Mr. and Mrs. Kranick. It actually drove me nuts when we'd celebrate a snow day and assume no practice until Mr. Kranick called and said to meet at the school later in the day after he plowed a 400m. straightaway in the parking lot for a workout. What a party pooper! Looking back now, though, I can really appreciate everything the Kranicks did for us kids. That's why we were so good.
And of course we'd complain about running in rain, wind and snow storms. Running when it was 105 degrees and when it was below zero. But to be completely honest--I absolutely loved it. I was just as crazy as the Kranicks. All of their athletes are because the Kranicks share their passion, and you can either handle it or you can't. And if you can handle it, nine times out of ten you'll be successful.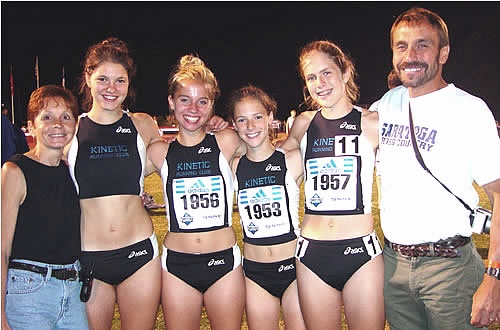 2002 Kinetic Runnin Club, a.k.a. Saratoga Springs NY: (From Left) Coach Linda Kranick, Kristen Hornbach, Jamie Sweeny, Nicole Blood, Ruby Solomon, Coach Art Kranick (pic from Dyestat.com)